'Ravenswood': All The Details on The New 'Pretty Little Liars' Spinoff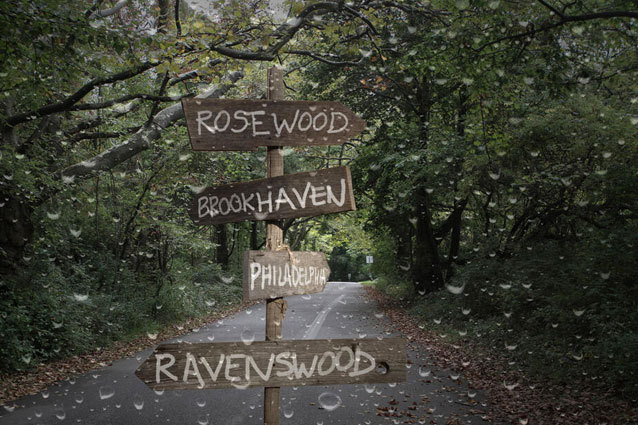 Did you feel that?? The earth shook today with the squeals and shrieks of excitement as millions of teenage girls (and those who share their TV viewing habits with teenage girls) took to Twitter, Facebook, Tumblr etc. to share the huge secret that ABC Family's top-rated series Pretty Little Liars has been renewed for a fifth season, and its very own spinoff, Ravenswood, is joining the network family later this year.
RELATED: 'Pretty Little Liars' Spinoff In The Works: Welcome To 'Ravenswood'
From the creators and executive producers of Pretty Little Liars, Ravenswood will center on a small town in Pennsylvania — not too far away from the infamously drama-prone PLL setting, Rosewood — that has suffered under a deadly curse for generations. And the curse is about to strike again.
The one-hour drama will center on five strangers who suddenly find themselves connected by the fatal curse. The group must ban together and dig into the town's mysterious and terrible history before it's too late for all of them. Ooh! It sounds twistedly terrifying — and we already love it!
"We are proud to be able to grow the 'PLL' franchise in two ways — both by adding additional seasons of the original and by extending the storytelling into a spin-off. Ravenswood, will become another 'must-tweet-TV' series for us," ABC Family President Michael Riley announced today in a press release.
Kate Juergens, ABC Family's Executive Vice President of Original Programming and Development, added, "Pretty Little Liars has maintained the #1 spot in its cable time period in all core women demos since its premiere in 2010 with fans who are passionate, loyal, social and mobile. Ravenswood will have plenty of mystery, drama, friendships and suspense that will inspire the same dedication from its fans. We are very excited about both series."
RELATED: 'Pretty Little Liars' Boss Spills Season 4 Secrets: Could [Spoiler!] Really Be Red Coat?
Ravenswood will premiere this October following Pretty Little Liars' annual Halloween special — and knowing ABC Family, the new drama will definitely be worth the seven-month wait.
Are you dying for more details? So are we! The clever ones at ABC Family have dropped clues all over the Internet's most popular social networking sites. To make life easy and we've gathered up all the dark and delightful GIFs, pictures, and clips we could find and placed them all here in one pretty little place.
Check out the thrilling teaser trailer from the Ravenswood Facebook page to get a glimpse of all the drama and intrigue that'll soon take place in your new favorite town:
RELATED: 'Pretty Little Liars' Boss Spills Finale Secrets: A New Murder, Toby's Fate, And Who Killed Ali?
You can also start piecing the clues together with this eerie photo from ABC Family's Instagram, featuring a torn missing person's sign, as well as this ominous scroll from the Pretty Little Liars Pinterest page with the teasing words, "In every generation." We've already snagged the rain-speckled picture above from Pretty Little Liars' official Twitter page. And of course, no drama series would be complete without a creepy swinging gate GIF from Tumblr, right?
What are you hoping to see from Ravenswood? Are you dying that the premiere is still seven months away? How many times have you already watched the teaser trailer? Shout out your pretty little thoughts in the comments below!
Follow Leanne on Twitter @LeanneAguilera
[Photo Credit: ABC Family]
---
You Might Also Like:


Topanga's Revealing Lingerie Shoot: Hello '90s!


13 Most WTF Fan Tributes