'RHOA' Recap: The Actual End of Twerking (Season 6, Episode 3)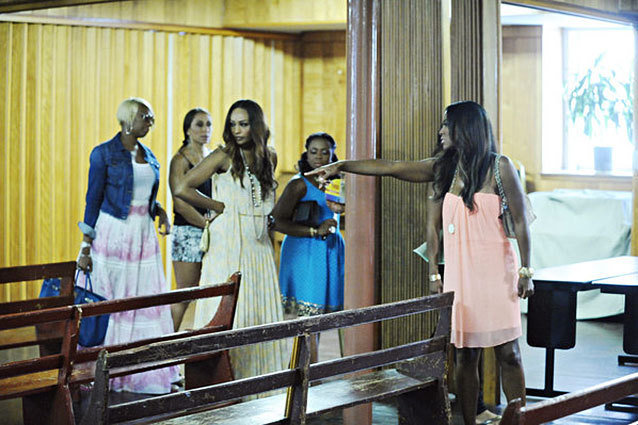 Bravo
Kandi Burruss reveals her studio has been redone since that unfortunate incident with the spin-off, The Kandi Factory. Now it showcases her "No Scrubs" gold record and horrible taste in bubblegum furniture. She assures her assistant Don Juan — that's his actual name, folks — that his job and their coins are secure. She also takes time out of her day to watch her daughter sweep the basketball court and use the magic of TV editing to make basketball shots. Meanwhile, she ignores her daughter's obvious discomfort about her marriage.
NeNe Leakes is not adjusting well to being relegated to Atlanta. The New Normal  was canceled, for obvious reasons. Glee has been pushed back due to the untimely death of Cory Monteith. In true Bravo shade, the producers cut to a shot of Nene saying, a beat after hearing about Cory's death, "I feel my life is over." It's not NeNe….it's not! The shadiest part of it all is NeNe is showing her Bravo loyalty by having the Top Chef cookbook in prominent placement in her kitchen. Way to show your loyalty, Bravo.
Cynthia Bailey is doing her best to milk remove her fibroids. It's great that she made it through surgery with flying colors. But if she has the energy to change out of her hospital gown into her pre-surgery ensemble she shouldn't feel like she was hit by a train, bus, car and bike. She gets hit by a whammy when she thanks Peter for taking care of her and he tells her that she was mean because they weren't having enough sex.
Porsha Stewart is lucky because her mother Precious Unctuous Diane, her half-sister, and her tiny toy dogs are on hand to help her trash her ex-husband, Kordell Stewart. He packed up all of her belongings including her wedding dress and damaged some of her belongings. In an interesting twist, Porsha and Kandi find out that Kordell may have held on to her anal beads. Porsha also confesses she may have been beaten shaken a few times. The gay rumor mongering is starting to border on homophobic. Porsha, you may want to stop before you anger the gods that control Bravo the gay community.
Speaking of divorce conflict family, Phaedra Parks and Apollo, God of Ex-Cons, are dealing with martial marital tension. At a photo shoot to commemorate their new baby, the couple have a spat about Apollo not getting to have his own life.
Meanwhile, in the Kenyaverse, Kenya Moore is getting evicted moving out of her house. Despite winning the suit against her landlord for slander, she still wants to rub it in her face. That includes twerking all over the house, singing songs off key, and wearing her landlord's wedding dress. Her landlord responded by calling the cops to have her removed. Her landlord doesn't miss the opportunity to give a description of Kenya as having a weave, contacts, and implants.
Philosophy According to the Housewives
Kandi on Economics: I love love and all but I love business and money, too. Hello!
Porsha on Homophobia: This is not something that a man would do, this is not something that a husband would do. This is something that a queen would do who is being dramatic and he wants to let me know, woman to woman, that he doesn't give a damn about anything we had together.
Phaedra on Race Relations: It was my idea to dress all in white because white is refreshing. And black people in white look like little black angels. I love it.
Cynthia on Feminism: Once a week is a pretty reasonable amount of time to do the damn thing with your husband. But if for some reason, we hit the lotto, and I don't have to work anymore, I am perfectly happy to just be a sex slave if I'm asked.