'Real Housewives of Atlanta' Recap: A Trip to Kenya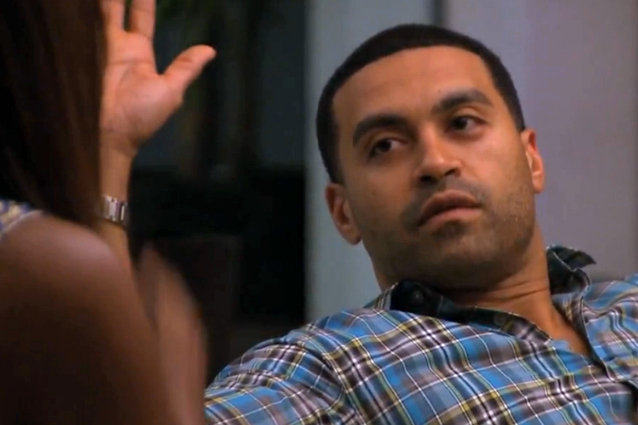 Bravo
Bravo has definitely promised more than it is delivering from the Mexico trip. Everyone is expecting some sort of Kenya-pocalypse due to her unfinished business with Apollo Nida. Instead, the show has been pretty tame, limiting us to Apollo's lingering glances at Kenya. But we need more!
This week, Kenya decides to take the ladies for a trip to "the caves." What better way to show you care than to take a bunch of high maintenance women to some underground ocean caverns? Todd Tucker and Kandi Burruss share a whole mess of drama with the people in the car. He keeps floating the fact that he may in fact leave because things don't work.
Once the gang arrives at its destination, the producers  showing Apollo staring at Kenya as often as he can. He is legit staring at her. He has a crisis of conscience about getting in the water until Phaedra Parks joins him. However, it's clear that he is all about getting a gold medal for running through Kenya. Phaedra might want to make sure her pre-nup is all set. 
Kenya takes NeNe, Cynthia Bailey, and Kandi Burruss to go to a fertility doctor. Apparently, magic spells are the perfect way to ensure a pregnancy with the Nigerian Prince. He may not really exist so magic is the perfect bonus to identity theft via the Internet. The ladies bond as Kenya deals with all of her issues with wanting to be a mother and her past relationship with a guy with no interest in marrying her. Meanwhile, Phaedra and Porsha Stewart decide to have a dip in the pool and spill some tea all over Ms. Moore. Talking smack in the pool burns twice the calories. 
Peter Thomas continues his campaign for shadiest girl on the show. It's unclear why he's getting into everyone's business. However, it may all be to keep his wife on the show. He takes Todd and Apollo to have a cigar, and who should come by but Kenya and Miss Lawrence. Kenya flirts and orders shots for the guys. Then the inevitable confrontation between Kenya and Apollo happens. Apollo stands by the fact that he and Kenya almost bumped uglies. Meanwhile, Kenya does not enjoy her name being dragged through the mud by Apollo. It's unclear who is in the wrong. Clearly, she's flirting with him and clearly he's interested. Regardless, these two seem a few minutes from sealing the deal.
Phaedra makes an appearance and BOOM! drama prepares to commence. It doesn't happen…sadly. Instead, Phaedra walks over and as cagey as Apollo acts she seems content with his response. Kenya and Apollo have a lot of chemistry but if Phaedra has anything to do with it that solution with be very, very volatile. We will have to wait a weak to figure out what happens. However, it seems clear that Apollo and Kenya are a match made in the motel on a Sunday afternoon. 
It looks like this trip is going to end with drama. Clearly, NeNe feels above the law, Phaedra has beef with Kenya, and Peter is dying for more attention on the show. After all, he doesn't want to have to change the name of Industry into For Lease.
Shaddiest Lines of the Night
"Even though I'm traveling far from home. I still have to watch my figure and watch what I eat. I don't want to leave here looking like Phaedra." – Kenya
"If you were to take the Porsha gift certificate to redeem it, it would be good for one coloring book." – Kenya
"Bats don't bother me at all, honey. As a matter of fact, we have a few bats and monkeys in our party already." – Phaedra
"Kenya says she found the fountain of youth. Well, she should have drank the whole damned pond." – NeNe
"I'm so glad I let my guard down and tied my weave down and got in this water." – Porsha
"I guess a witch would love a witch." – Phaedra
"I just know Marlo might show up in someone's luggage carrier. You know Marlo." – Phaedra
"Jump off a bridge with weights on your neck, honey." – Phaedra
"No one's buying it, Apollo. Like your DVD." – Kenya