'Real Housewives of Atlanta" Recap: Shade-Fu 101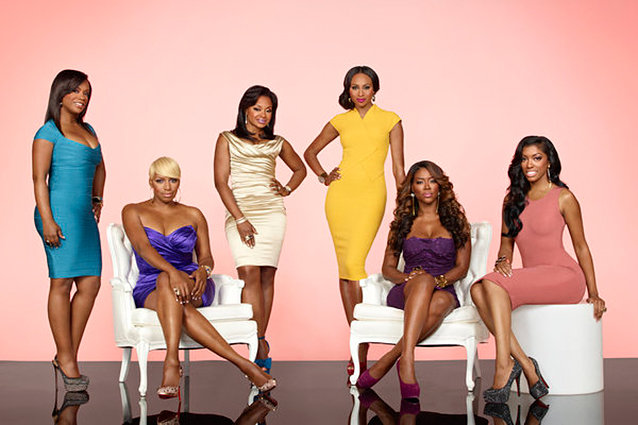 Bravo
The latest episode of Real Housewives of Atlanta is a big improvement on the last few. The library is open and the women are back to reading. The lack of Phaedra Parks the past few episodes and NeNe Leakes' petty squabbling with Marlo Hampton were a drag, no pun intended. If you've ever wanted to be a housewife, this episode is a master class in the martial arts of fighting… Real Housewives style. Call it Shade-fu if you will.
Lesson 1: The Verbal Backhand
NeNe and Cynthia Bailey go shopping for bathing suits for Mexico. Cynthia tries to gently bring up how NeNe's fight with Marlo ruined her event. But NeNe isn't having it. She ignores Cynthia's subtlety and finally says she will not talk about it. Like a lion swatting a smaller rival with its paw, NeNe tells Cynthia, "Don't f**king ask me about it!" and walks outside of the store without making eye contact with her again. This is reminiscent of how Peter Thomas usually talks to her. This is most effectively achieved when by a senior cast member with a junior one… because she can.
Lesson 2: The Real Reality Attack
Kenya Moore visits Marlo. They begin shecapping Cynthia's budget field day. Unlike past episodes, Marlo seems genuinely heartbroken. She breaks the fourth wall and launches into real-reality fighting stance. This is when a Housewife references something that happened off-camera. In this case, Marlo mentions a three-way phone call where NeNe and Cynthia yelled at Marlo. They probably threatened to not film with her if she keeps talking to Kenya. Her follow up move is to discuss NeNe's struggles with the cancelation of The New Normal. The kill move is real tears. They key is to keep it 100 percent real and use that authenticity to your advantage.
Lesson 3: Crouching Jaden Hidden Phaedra
Phaedra has a unique fighting style. Part of it involves having an amazing life with two beautiful children and a dead sexy husband. The other part is cutting with words. While her precocious little son is walking around making conversation, Phaedra is inventing words like hoodlicious. She isn't afraid to say anything even if referring to inappropriate behavior by her husband. She also will be above cursing in front of her children and in the next breath make a death threat. Phaedra's unabashed candor, wit, and complete shamelessness have made her a star.
Lesson 4: The He-Said/She-Said Battle
Kordell Stewart reappears to give his side of their divorce. Peter Thomas, probably trying to secure his wife's place on the show, stops Kordell's house. The key to this type of fighting is to reveal bizarre and shocking details. Kordell tells a story about coming home to find Porsha's mother eating a large pepperoni pizza on his bed. He reveals she lost her condo for not making payments. He also says he still loves her. Peter then confronts Porsha with what Kordell said. Porsha counterattacks Kordell by saying their relationship was an attempt to fix his "tainted" image. She continues to imply he's gay. Kordell wins this battle because he has specific examples and Porsha has been caught in between stories. The key is to make sure you give the audience juicy specfics.
Lesson 5: Kill with Comedy
The key to comedy fighting is that you have to be funny. Think Bethenny Frankel on RHONY. Example, while touring their new digs Miss Lawrence Washington does an impeccable impersonation of Gregg Leakes. Gregg works his own comedy angle by twerking by the pool. Cynthia also tells Porsha Kordell is going to show up… as a prank. The key to comedy is to get your funny moment aired on the show, make the entire audience laugh, and regardless of your deplorable behavior you will be loved.
Now you're a few steps closer to winning Real Housewives. May the shade be ever in your favor.
Best Lines of the Night
-"When it comes to traveling to Mexico on a trip that Kenya organized. Honey, I'd rather have Porsha take my Black History Month final exams." – Phaedra's double read 
-"The Bible says that the serpent was more crafty than any other beast in the field. In this case, that means that Rentley-having, no man having, harlot in Atlanta. Also known as Kenya Whore-Moore … More-Whore." –Phaedra 
"Mirror, mirror, on the wall. I'm the shadiest of them all." –Kenya 
"Hmm… so you brought Lawrence. Where's your invisible African prince? Or is he here and we can't see him?" –Porsha 
"We better have a good room. S**t, we never did anything to her." –Todd 
"Porsha sounds like a broke down Olivia Pope. This isn't Scandal! The truth shall set you free." –Kenya