'Real Housewives of Atlanta' Finale Recap: Kenya Moore's Costume Party Ends in an Afro Fight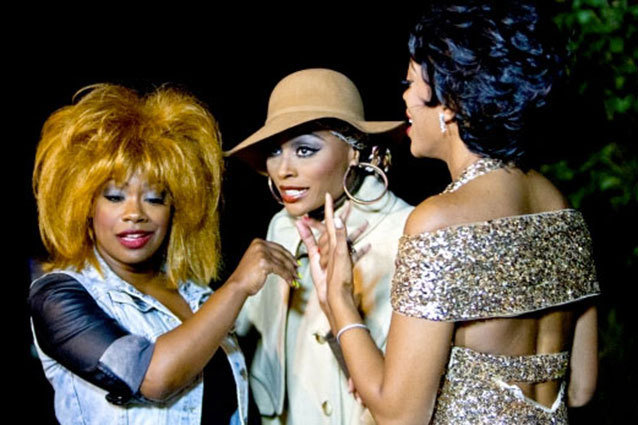 If you think about it, most of the season of The Real Wig Pullers of Lace Front Industries was spent with the women standing around in driveways fighting. That's really all they did. There was the fight in Porsha's driveway between her and Kenya and then another fight between them in the parking lot of a restaurant ("Bye Ashy!"). There was the infamous occasion where NeNe wouldn't let anyone into her house because they showed up three hours late and Kernya yelling at Kandi's assistant Don Juan in the driveway of Kandi's housewarming party. And finally, last night, we had Kernya Moo-ah hectoring Porsha in the driveway at her stupid "Iconic Female Icons of Blackness from Iconic Films or Films That Black Women Were In That Aren't Iconic or OK Maybe a TV Show Sponsored by Blackglamma" party. What a way to end a season! (Also, the best Housewives fight in a parking lot is the Melissa Gorga/Teresa Giudice throwdown from last season of Real Acid Tossers of Paramus Chemical, so they didn't even do it the best, they just did it a lot.
The whole thing started when Kernya Moo-ah met with four people to help plan the party. I believe one of the men, who remained silent and whose name was not put on screen, was the same party planner that Sheree Whitfield once asked who, exactly, was expected to check her, boo. I could be mistaken. This time around he had on glasses, like we wouldn't be able to tell Superman from Clark Kent. I think it was the same guy. Please, please be the same guy.
Oh, the one thing that had nothing to do with the party last night was Porsha's visit to Touchstone, which is where her psychiatrist lives. With a name like Touchstone you would think magicians lived there, and we are going to need a wizard to get any sense into Carvell, Porsha's husband who is a Cookie Puss come to life. He is also kinda awful. OK, he is entirely awful. And knowing that he filed for divorce just recently made this whole thing hurt more than getting a paper cut on your eyelid.
Carvell was really talking some nonsense. He wants Porsha to stay home and cook and clean for him and raise his children and not have a job. That is fine, if that is something Porsha wants too. It clearly is not. Then he says he wants her to have all that, but she hit the nail on the head saying, "You agree to it, but then you make it impossible to accomplish." I hate to say this, but maybe it's best that they got divorced. They never seemed like they were on the same team. The only time he came to her defense was at the fight when he got into a silly altercation with Kernya's main gay Brandon that made no sense and that was more because Brandon wasn't letting Carvell control the situation. He doesn't really defend her honor in any way, he just defends his honor in regards to how peopel are treating her. It's like Brandon was leaning on his car or something. The way Carvell treats her like a possession is gross. There's being protective and then there's carting something away like it's a statue that you bought at one of those stores in Manhattan that has been GOING OUT OF BUSINESS for the last 17 years. No one wants to live like that.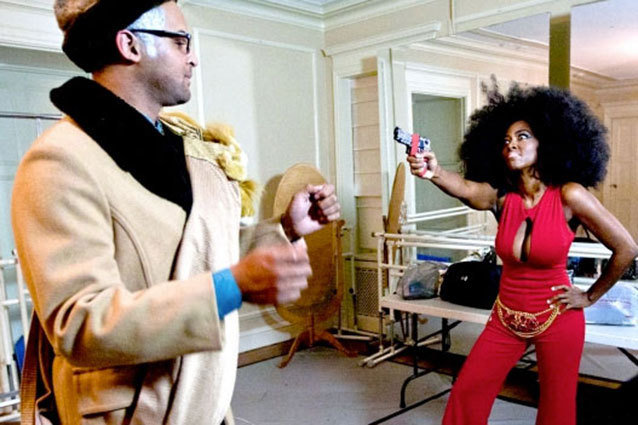 So, the party. Well, first, let's talk about everyone's outfits. Kernya Moo-ah absolutely killed it as Pam Grier. The wig, the body suit, even her face looked like a young Miss Greir. It was errrrrrrrrrrr-ything as the children would say. She might be awful on the inside, but there sure is some wonderful goodness on the outside (when she's not wearing too much foundation and her skin isn't broken out). Cynthia Bailey looked good as Diana Ross, but she should have gone with her shimmery caftan dress instead. We all know she has like seven Diana Ross wigs, so why she didn't wear one of them is beyond me. She looked like she could have tried harder. Her husband Peter looked great…if he was dressed as an asshole, because that's what he acted like all night.
NeNe Leakes got her gays to pull her together a Grace Jones look that would do any costume party proud but, I'm sorry, Grace is next to impossible to fully pull off and, well, she didn't quite. Kandi Burruss. Oh Kandi. You came and you gave without taking and we want to send you home to change, Oh Kandi. She looked like the the girl on the cover of the Tina Turner costume bag that you buy at Halloween Adventure where she looks like the celebrity she's supposed to be imitating, but everything is, well, just a little off and cheap. That wig looked like it used to be a homeless person's coat and it got so warn down someone combed it into a hairpiece. The rest of her costume was just, well. Not good. Phaedra Parks looked delightfully daffy as Eartha Kitt's Catwoman, but she was, you know, a TV character so it wasn't really applicable to the theme. That and some stun guns (I would like one of each of Phaedra's ridiculous products in a gift basket on Shop By Bravo Dot Come, please) were all Phaedra did last night. 
RELATED: 'Real Housewives of Atlanta' Recap: Kenya Moore and Phaedra Parks Are Both Working on Their Fitness
And then Porsha Stewart. Poor, poor Porsha. Now, Kernya wanted all the ladies to dress like iconic black women in film or iconic characters played by black women in film and then she was so bold as to tell each woman who she should come dressed as. Porsha's homework assignment was to come as Halle Berry from B.A.P.S., a movie that is not iconic and a role that is not iconic and, well, it was a way for Kernya to be mean to Porsha. Ms. Stewart, to her credit, tried on some B.A.P.S. looks at the hair salon and I think she actually looked really good. Like hoochie good, but still really good. Anyway her weave weaver convinced her that Kernya was trying to play a trick on her which, duh. Porsha was in a pickle. Go as Halle Berry according to plan and be a patsy or try something else? Well, the joke was on her no matter what.
Porsha shows up at the party dressed as Halle Berry not as B.A.P.S., but as Halle Berry as Dorothy Dandridge. So, basically she came as Dorothy Dandridge and you can cut out the Halle Berry part altogether. She looked good in a shimmery gold gown and a cute short 'do (maybe with all this divorce nonsense, she should change her hair and do this for real?). When Kernya saw her dressed as Dorothy Dandrige she flipped her afro wig and told Porsha to get out. She actually had security escort her out of the party because she wore the wrong costume. What sort of black souled beast is this woman? You know when you would leave the front door open as a child and your mother would say, "Were you raised in a barn?" What do you say to Kernya Moo-ah? "Were you raised in a Victorian orphanage where you were starved and beaten and all the love, decency, and manners driven from your heart?" Is that what you say? What can you say? You can say nothing. You can stand there and gape at her incredibly misconstrued sense of appropriateness. This was the grown up equivalent of packing up your toys and heading home.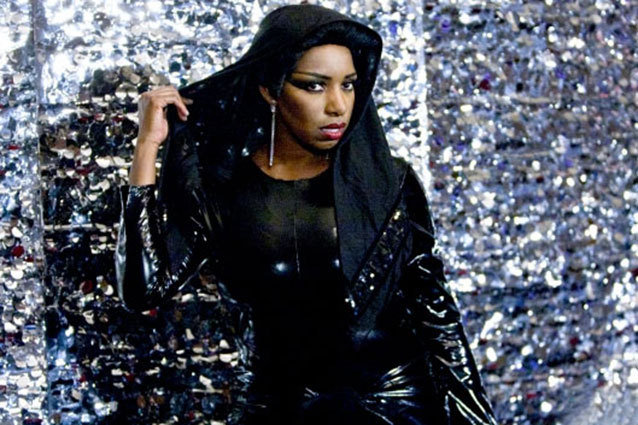 Now Porsha might have handled it a little bit better. She smiled and smugly said, "I didn't want to do B.A.P.S. I did Dorothy Dandrige." She could have tried to play it off a bit more. "Oh, I wasn't comfortable doing that and Carvell gets made if I show off my Flying Saucers to everyone else in Cookie Puss Village," or maybe, "I tried to get B.A.P.S. together and I just couldn't find the right thing but I had this lying around so I just threw it together at the last minute." Something like that to show she tried.
Either way it wouldn't have made much of a difference. Kernya had laid the perfect trap. If Prosha would have been humiliated if she showed up as B.A.P.S. (You know how if you say something absurd long enough it starts to sound kinda surd and then the absurdity of that surdity makes you feel like your brain is meling into a pile of goo and their is a half-eaten sugar cone sticking out of it? That's how I feel  about B.A.P.S. right now.) and if she didn't show up as B.A.P.S. then Kernya could humiliate her by throwing her out of the party. She even went so far as to pretend that she had some elaborate sketch planned for Porsha, but we all know that's a ruse. That's a scam. That's like that store in Manhattan that says it's been GOING OUT OF BUSINESS for 17 years.
RELATED: 'Real Housewives of Atlanta' Recap: Kenya Moore Wants to Kill Her Ex-Boyfriend
The rest of the Housewives did the right thing for a change and they all left the party together in protest.  Cynthia, usually Kernya's only ally, even told her that she went too far. Kenya was being stupid. She was being as ridiculous as her afro wig was big. She was being as insincere was her peephole cutout was well placed. She was being as rational as her party theme was totally overdone and annoying. The whole thing was laughably stupid. She had no real argument at all. "OH, I had to cancle the program." Oh, shut up Kernya. You made that all up. (PS-This is also why the Housewives should never go to a costume party. The only thing worse than grown women fighting is grown women fighting while wearing ridiculous costumes. Remember Vicki at the Bunga Party last year on Real Citrus Rinds of Limefruit Jungle? It's sort of like getting a call that your mother died and having a Sisqo ringtone.) 
But praise be to NeNe Leakse who showed up in a chariot drawn by two Nubian gods and she showed them all that, even though she is off in L.A., she is still the alpha female around here. People coaxed Porsha back in the party and NeNe told Kernya she better apologize or she was going to whip her to death in her Grace Jones costume. (However, NeNe shouldn't have gotten all up in that, "Never burn a bridge," line of reasoning when she and Kim had a falling out the way that they did.) Kernya did apologize and, while we all know it was a pile of iconic dung in film (probably from Weird Science) at least she did it and made it sound sincere.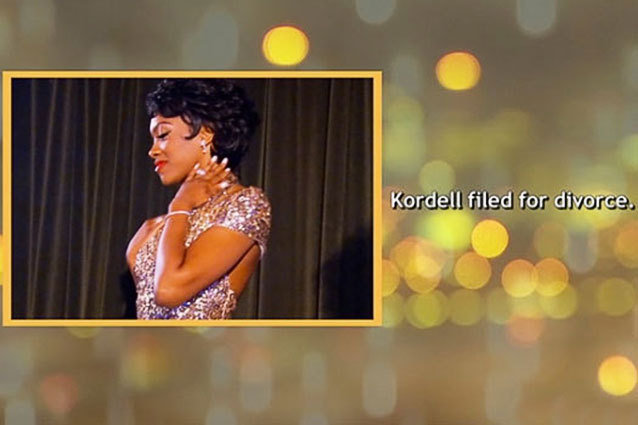 And with that the party ended. The season ended, and we found out everything that happened to all of the housewives in those humorous little end cards that have become a staple of the series. They are all light and jovial and full of little digs. But not Porsha's. No. Hers just said. "Carvell filed for divorce." Period. Send. That is all it said. No pun, no sparkle in its eye, no hope for the future. Just a funeral procession driving across your screen. It was like a woman crying in her car in front of her lawyers office, just straggling out there along letting everyone see its mascara run down its face. Poor girl.
Yes, the party was over, all the guests were gone, the tears were dried, the animosity tamped deep down so that the finale party could go off without a hitch. The cameras were switched off. It was really over. The workmen were stacking up the chairs and taking down the "step and repeat" and Kernya Moo-ah decided it was finally time to take off her wig. She held it in her left fist by the knap as she ran her right hand through her real hair, mussing it around and trying to get rid of that strange painful feeling you get in your scalp when your hair has been immobilized for too long.
RELATED: 'Real Housewives of Atlanta' Recap: Everyone Is Fighting About Strippers
She took a long walk over to the window and tried to look out at the night, but she just saw her reflection looking back at her, that gorgeous red dress and that hair that was crying bloody murder. Oh, how did she get here, she thought. What a year. All the fights and break ups and new friends and old wounds. All of this work and heartbreak and not anyone had seen it yet. "They're gonna love me," she thought about what was going to happen when the audience finally gets hold of this footage. "They are going to love me. They are going to do the Gone with the Wind fabulous twirl and they are going to buy my exercise video and they are going to be stealing my look and trying to be me. They're going to tell all the other women that they're wrong and they're gonna see, NeNe is gonna see, that the fans love me the most now. It's time for Kernya Moo-ah to arrive and she has, darling. Oh how she has. Just you wait. They're gonna adore me!"
She focused, not out on the stars and haggard trees beyond the pane but on her reflexion and, with her wig still in one hand, tried to shape the mess that was on her head. She got it to something she considered workable and then gave her best beauty pageant smile to the reflexion and turned around quickly on the balls of her feet. The dance floor was empty. There was no one to tell her if she was right or wrong, no one to tell her she looked good or a fright, just the parquet floor with a lone, green champagne bottle right in front of her feet. A workman rushed over and tried to pick it up, but Kernya said, "No, leave it." She kicked it slowly across the floor and followed behind it, kicking that empty bottle over and over again. She was soothed by its uneven rolling and bolstered by its little green glints sent off in every direction. But mostly she loved the sound it made while it rolled alone, completely hollow.
Follow Brian Moylan on Twitter @BrianJMoylan
[Photo Credit: Bravo]
---
You Might Also Like:


Topanga's Revealing Lingerie Shoot: Hello '90s!


13 Most WTF Fan Tributes