'RHOA' Recap: "Savann-No," Let's Not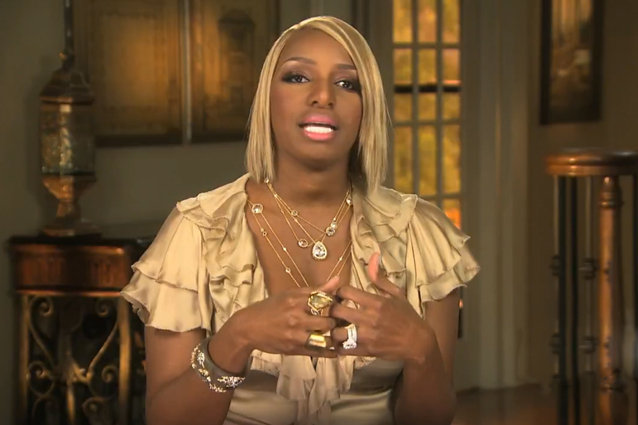 Bravo
This episode was the aperitif to whet your appetite for the drama of the girl's trip. Bravo Producers NeNe Leakes has planned a trip to Savannah for the ladies so they can bring their unique blend of ratchet glamour to a new area of the south. NeNe is packing and prepping while her husband, Gregg Leakes, walks around in the background trying on her shoes and accessories, to which NeNe replies, "Yes, Gregg is a Queen."
Kandi Burruss decides to have a powwow with Cynthia Bailey because Cynthia also had a storyline issue with her mother disliking her fiancé, Peter Thomas. Kandi bursts into tears and Cynthia does her best attempt at sympathizing (that's when models have sympathy with their eyes). Kandi complains about how her mother and her OLG (Old Lady Gang) took over her bridal fitting and threatened her friend, Carmen.
Meanwhile, across town, and to the left of the bail bondsman, Phaedra Parks is on Facetime with her son and husband, Apollo Nida. She hangs up on him unceremoniously because someone surprises her … Momma Joyce. Oh Momma, you have lost it! The conversation starts off like your average friend's mother asking a lawyer friend for free legal advice. But isn't this the same woman that was slut-shaming Phaedra for liking strippers? Either way, Momma Joyce has vital pre-nup questions to ask her friend Phadra. The conversation quickly degrades when Phaedra insists that Todd Tucker is a good fit for Kandi. Momma Joyce disagrees with her and vaguely mentions wanting to slit her throat. Did Momma Joyce forget to take her pills?
Porsha Stewart decides to go shopping, despite living with her mother. She has to decide between a $7,000 dollar and a $3,500 dollar pair of shoes. She chooses the $3,500 pair of gold spiked heels and quickly returns them the next day.
Kenya Moore starts packing for the trip with her male friend and singing her out-of-tune songs and twerking. She needs to do something interesting or she may join Shereè Whitfield, Lisa Wu, and General Zod in the Phantom Zone. Everything is boring, as usual, until she pulls out a gun. It just got real!
Kandi has a confrontation with Momma Joyce. This poor old woman doesn't have a leg to stand on. She keeps attacking Kandi's friends and fiancé, their character, and her daughter's choices. All this with no proof and not realizing that they are being filmed and all of this is available for repeat viewing. And yet, she is the one living in Kandi's old house, wearing her old clothes, and her old hair. She gives Kandi an ultimatum, if Kandi chooses Carmen and Todd over her she is done … until her mortgage bill comes.
The moment arrives for the ladies to leave for Savannah. NeNe has a little brunch planned and invites her friend Mynique Smith on the trip. The girls are expected at 11 am, since they are going on a road trip. At 11:30, Kenya arrives and begins complaining about being the only one there despite, being half an hour late herself. Cynthia arrives next an hour late. Kenya is fuming and trying to rowl up NeNe for a repeat of last season, when NeNe disinvited the girls to her dinner party because they showed up three hours late.
Speaking of three hours late, Porsha Stewart arrives, and by then NeNe has lost it and heads back home. Kandi arrives a few hours late because she had to stop at Chik-fil-a. How do you eat before a pre-trip brunch? Finally, 12 years later, Phaedra arrives and the girls board the bus.
On the bus, Kenya makes some pronouncements about lateness and what she deserves. They are quickly met with Kandi getting up and yelling. Sounds like this is going to be a good trip … for the viewers at home because these women will be yelling a lot.