'RHOA' Recap: Wine, Tea, and Shade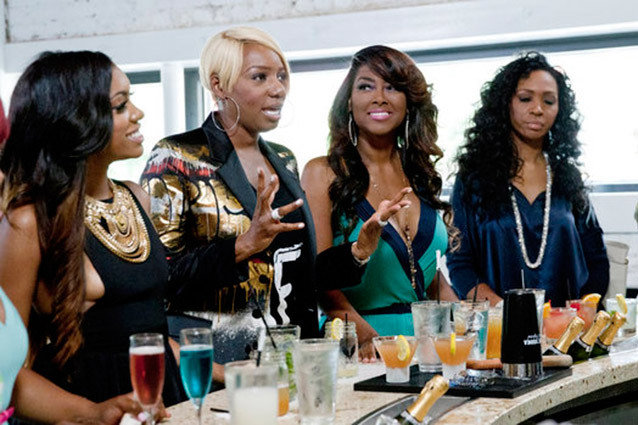 Bravo
This episode is all about tea. Everyone is spilling it and airing out truths, half-truths, and idle gossip. What more could you want from the lovely ladies of Atlanta? The highlight of the episode is that the seeds planted here will lead to some major blowouts later in the season. 
Cynthia Bailey and Peter Thomas celebrate their three-year anniversary with a free meal at Bar One. They meet up with Cynthia's friends Christopher Williams and his wife Natalie. They gratuitously randomly spill some tea on Todd Tucker. Apparently, when Todd dated one of Natalie's friends he cheated on her. Natalie, being a woman who has full use of her eyes, ears, and mental faculties, believes he's an opportunist. Although, she has yet to comment on Peter being an opportunist. They all retire to Industry where Peter has prepared a free meal of food from Bar One across the street. But Christopher surprises her with a song he wrote about their marriage.
Kandi Burruss has a meeting with her inner circle to confirm that Todd left the production. Kandi's assistant Don Juan, his real name, complains about some of the challenges of putting up a musical. However, Kandi in her infinite wisdom doesn't care because she figures believes knows she can make it happen. She visits the Rialto to check the space while Todd takes a call from another woman job. He decides to quit his other job and come back to the musical.
Kenya Moore has a powwow with her aunts, one of whom, Lisa, is the best Gayle King impersonator in Detroit. She decides to break the news that the best solution for her mommy issues is to become a mommy. Meanwhile, NeNe Leakes visits Porsha Stewart's expensive new abode. 
The ladies decide to go to a winery to drink themselves into friendship. But there is some pending drama on the table. Cynthia has invited Natalie who has spilled tea on Kandi. Kenya and Malorie Massie had some beef last week. Not to mention NeNe invited Marlo Hampton who is always good for some shade. Meanwhile, Kenya has decided to air out some of Natalie's dirty laundry. Allegedly, her husband has referred to her as a common-law wife. Team NeNe ride to the winery and start gossiping. Meanwhile, Team Kandi, Porsha, and Phaedra Parks discuss Phaedra's milk tanks.
At the winery, all the ladies have lunch and it all comes out. Kenya attacks Natalie's marriage to which everyone rightfully reminds her she's never been married, understatement of the year. Then Kenya calls out Natalie's gossip about Kandi that makes her squirm with discomfort. Kandi shuts it all down and completely eviscerates Natalie by taking all of her gossip as an epic compliment for how much Tom has come up. But the seeds of more discord have been planted. Kandi mentioned that she knows things  about Peter. Plus, Kenya has made a new enemy.
Tasty Tea from the Episode
I really need him. But every time we disagree on something he'd rather leave me for 5 or 6 months and go back to his little comfortable job. –Kandi on her relationship?
I can't help but think why would a single woman want to live in an 8,000 square feet house. –NeNe on Porsha's house.
Kenya's telling everybody she's dating an oil tycoon. :laughing: Let's laugh together. Where's the oil tycoon, honey? –NeNe on Kenya's African Prince
The relationship I have experienced with my mother has left me with a huge void in my life and having a child of my own will in some way repair that void. –Kenya having a moment of clarity
I have never seen Cynthia dish so much tea in one afternoon. Tell me more … :slurps: –Kenya
I'm trying to be supportive … a little bit. –Todd
As much as these ladies love to drink you'd think we'd be the first ones to know that Atlanta has a vineyard. –Cynthia
The one thing about me. If I'm going to hang out with all these girls I have to be a little drunk. I want all the alcohol. –NeNe
I would like to see that gift certificate. – Kenya on Natalie's marriage.