Real Housewives Need to Shut Up About Twitter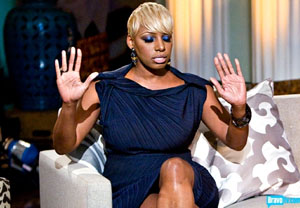 Last night, the Real Housewives of Atlanta reunion special part one of 17 million started a fight that has been raging with every Real Housewives franchise from here to Daytona Beach, Florida (which hasn't been invented yet, but give it a year or two). It wasn't about wine throwing, wig pulling, money making, shit talking, or any of the other inanities that Housewives fight about. No, this argument was about the number one thing that these reality TV ladies argue about: Twitter.
Oh, Jesus, enough with the [bleeping] Twitter already. @KimZolciak (376,317 followers) accused @NeneLeakes (693,905 followers) of tweeting about her children. @IAmSheree (225,715 followers) accused Nene of tweeting about her house. Nene accused @Kandi (655,200 followers) of throwing a "Twitter party" with dildos. And it's not only Atlanta. At the Real Housewives of Beverly Hills a whole fight broke out between Adrian Maloof and Lisa Vanderpump because of something silly Lisa said on Twitter. It's been popping up all over the other cities as well, like some sort of incurable cancer that spreads in 140 character bursts.
Seriously, ladies, we do not care one bit about your Twitter. We don't care about your DMs or PMs or who follows whom or who retweeted what or who doesn't retweet you. We do not care and you sound like a bunch of petty 14-year-old girls for arguing about it. Adults do not fight about things that happen on Twitter. Maybe things that happen by text message, Facebook, or GChat, but on Twitter? #HellNo.
Of all the social media, Twitter has the strangest relationship to the Real Housewives. All the women are on it (and rather popular) and Bravo has even started a "social edition" of the shows, where fans' tweets are embedded in the episode Pop Up Video style. And, as we've seen, the women interact with their fans and each other on there so much that it's become something for them to fight about when they put on their best weaves and flank Andy Cohen on some comfy couches.
Yes, Twitter is a real thing, but the problem is that nothing that happens on Twitter happens in the real world. It only happens on Twitter, which doesn't count. You can't film Twitter. You can't put Twitter on television. You can't have millions of people watch the same exact Twitter and form opinions on it. You can only follow a Twitter fight if you follow these women on Twitter and unless you want your day bombarded with them resending every bit of praise that comes their way, spamming you with their various and assorted business concerns, and saying "Goodnight, Tweeple. Much love!" then you really don't want to follow them on Twitter.
The events that occur on Twitter are like the events that occur in the deleted scenes on the DVD of your favorite movie or the 24-hour feeds that accompany Big Brother: they're for real fans to obsess over but shouldn't have any bearing on the main source of entertainment that the masses enjoy. Most of us don't have the time to follow them on Twitter (though I do follow my girls Sonja Morgan and Caroline Manzo, mostly because I'm afraid of what they'll do to me if I unfollow) and we don't want to have to take the time to research their Twitter when the fights pop up and we have to wade through all the "RT @LorettaBrown14: @NeNeLeakes Sheree want to walk n yo shoes
Follow Brian Moylan on Twitter @BrianJMoylan
More:
Lisa Vanderpump's Spinoff: Real Housewives React
Camille Grammer Exits 'Real Housewives' Cast
'Real Housewives of OC' Recap: The Mud Slide Brought It Down