'Real Housewives of Atlanta' Recap: Hot Messes and Messy Diapers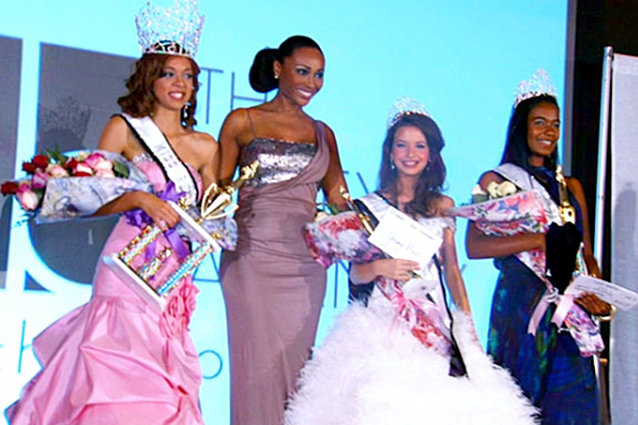 It's Miss Renaissance time in Atlanta! With the pageant just around the corner, NeNe in L.A., and Kandi trying to make it as a gospel singer, our favorite Atlanta ladies are all over the place this week in the worst kind of way. (Sidenote: Your regular recapper, Brian Moylan, is out on vacation — I'll be filling in for him this week. Expect him to return for more Atlanta shenanigans next week!)
This week, Kenya decided she really wanted to be a part of the pageant, because after all, she was Miss USA and doesn't that make her more qualified than literally anyone else on this show? She was all like, "let me be a judge" and Cynthia was all "say what now?" but let her do it anyway, because you can't say no to a woman who's celebrating her negative cancer diagnosis. But of course, all the former Miss USAs in the world couldn't stop Cynthia's show from being a disaster in the vein of Britney Spears circa 2007.
RELATED: 'Real Housewives of Atlanta' Recap: Kenya Moore Does Not Have Cancer
But more on that later. Meanwhile, Porsha's all bitter about getting fired from the pageant, and decides she wants to be a mom because who wouldn't want to have her as a parent? Of course, practice makes perfect so she cleverly decides to borrow her brother's baby to test her maternal skills. You know, to see how she can "maneuver a baby." So she brings home baby Jayden and, as expected, fails hilariously: she changes a diaper only to wind up covered in baby poop, tries to get her dog to be a babysitter, and at one point actually manages to lose Jayden in her own living room. Like, I get that your house is big, but really?!
And across town, self-described "urban artist" Kandi has decided to record a duet with gospel singer Marvin Sapp, who inexplicably flew halfway across the country to make the song happen. You do you, Kandi.
Later, it's finally showtime for the Miss Renaissance pageant, and Boris Kodjoe – as in, "If anyone can bring suaveness to a pageant, it's Boris Kodjoe" – isn't even wearing a suit. Spoiler alert: he's the worst. And course, Kenya's wearing her Miss USA sash because she definitely isn't living in the past at all. She says Miss Renaissance is great because she's reconnecting with all her old friends from the pageant circuit. Except everyone she's talking to is 12, so I'm not sure whether she's in denial or just really, really bad at aging.
RELATED: 'Real Housewives of Atlanta' Recap: Kenya Moore and the Swimsuit of Doom
Anyway, big shocker: from start to finish, the whole pageant's a hot friggin' mess. I mean, literally nothing went right, right down to Cynthia's weird rats'-nest-turned-chignon "updo" (and I'm using that term very, very lightly). Somehow the script got put out of order so Cynthia and Boris kept screwing up everyone's names. They also forgot an entire category of contestants, awkwardly strutted on the catwalk, and failed miserably at making it look like they had literally any idea what they were doing as pageant hosts. And of course, the camera kept cutting to Kenya on the judges' panel with her full Crazy Eyes on, looking scary gleeful at Cynthia's total incompetence.
But Miss Renaissance did have a happy ending, I guess, in that they actually got through the pageant and managed to crown a (correctly identified) winner. But maybe next time Cynthia decides to do something like this again, she'll actually try to plan it sometime before the day of the show…and maybe not hire Boris to co-host. Because seriously, he's the worst.
[Photo credit: Bravo]