'Real Housewives of Atlanta' Recap: Wail of the Banjee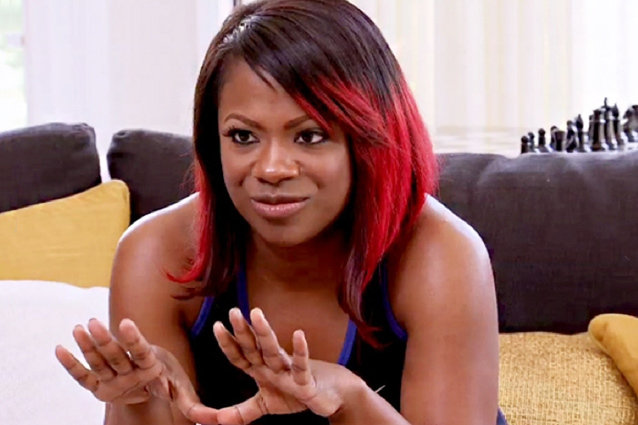 Bravo
The battle between Kenya Moore and NeNe Leakes has degraded into the question: Who deserves to be blasted into the sun more rapidly? Last season, NeNe was above it all. With her NBC series The New Normal canceled, she's back to stirring up drama with everyone. On the flip side, Kenya is getting an A+ in NeNe 101. She puts everyone on blast, runs into all the drama, and eeks by with a little likability. But it's kind of like NeNe 1.0 vs. NeNe 2.0. Kenya and the new NeNe do not have half the appeal of vintage Sheree-hating NeNe. Also, this new NeNe is starting to say things that can offend her gay following. As an honorary queen, you should never use queen in the negative.
NeNe and Gregg are recapping the fight with Peter Thomas. So are Cynthia Bailey and Malorie Massie. There really should be a name for the part of a Bravo series where people restate the obvious. Let's call it she-hashing. This is the least enjoyable part of watching Bravo. To add insult to injury, Kenya meets with Marlo Hampton to replay everything, too. These she-caps never tell us anything new and are never honest. The real story is, as alpha, NeNe must attack anyone who challenges her. But, she needs to be well liked and invited to everything. Cynthia needs NeNe to be her best friend to stay on the show. Kenya needs attention. The only interesting things that happen in the first 10 minutes are Gregg's toilet seat mug and a well-timed Zoolander reference.
Cynthia has a Jamaican themed surprise party for Peter, even though he was planning on not coming. She even goes out of her way to hire a Jamaican band… made up of two white guys. NeNe arrives believing she's well behaved but strolls in with a side-eye that could blind her. Marlo tries to mend fences but her friendship with Kenya is what's really getting NeNe steamed. Round 1 between Kenya and NeNe begins. On the one hand, Kenya was manipulative in trying to force a public détente with NeNe. But NeNe can never be bullied and is manipulative in her own right. She masterminds a ton of the drama on the show. She blames Kenya for the fight but she brought everyone with issues into one room, with little clothing, and tons of alcohol. Is the beef between NeNe and Kenya really about Kenya planning the Bravo-funded trip? Why can't they just admit Bravo's paying and they just pick a location?
Cynthia's Ratchet Bowl arrives. It seems like an excuse to wear matching T-shirts. Peter must own a print shop. NeNe has all of her bridesmaids on her team except for Marlo. Marlo joins Kenya's team and tries to confront NeNe about it. She is nothing but friendly but NeNe flings a bottle of water at her. NeNe storms off and Marlo follows her yapping and jumping up and down. This is starting to degrade into a bad movie: The Lesser of Two Evils.
Salty Lines from the Episode
"Yes, I pretty much stalked her to come. But if I would have known she was gonna come and give us Silence of the Lambs. Me and my little wig would have just let her be, child." –Cynthia on pushing NeNe to attend Kenya's ball
"She was modeling the whole time… with her face twisted… I don't know if it was supposed to be Zoolander or what." –Kenya on NeNe's entrance into a party.
"Women are the ones that gossip, and tote messages and hoppin' in each other's face. So in my opinion, Peter was giving me b**ch-assness." –NeNe
"I left NayNay downstairs. Didn't want to leave her in the car. She might get cold." –NeNe channeling Drop Dead Fred
"Well hello, Solid Gold!" –Kandi reading Kenya's outfit
NeNe: "Who's that?" (about Kenya)
Porsha: "You just got honored by her the other night." –Best inadvertent read of the episode
"I want Kenya to understand that I am not the one to play with. You want to play these games with the rest of these girls, that's fine… but I am not the one. I'm not the one."–NeNe's open letter to Morpheus from The Matrix
"Kandi is late. Cynthia should have told her we were going to start yesterday." –NeNe
"Team Kandi, y'all that came in late and now you're causing ruckus." –Derek J
"You have to kiss her ass to be her friend. And go get that f**king Donald Trump hair redone." –Marlo taunting NeNe