'Real Housewives of Beverly Hills' Recap: When Does The Action Start? (Season 4, Episode 1)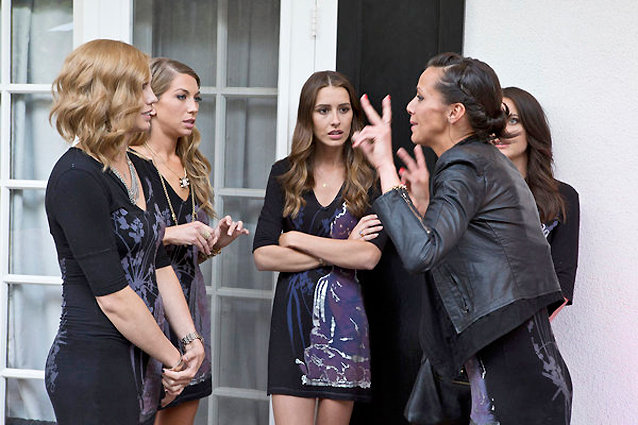 Bravo
The season 4 premiere of The Real Housewives of Beverly Hills opened with less of a bang and more of a pmmmfff, despite a half-naked teenager, the introduction of a witch and a floppy, dangling d**k.
So we saw a little more of the same, only with less drama and the introduction of two bland new characters: a mild mannered Brit and a Puerto Rican pageant queen.
The highlight came upon learning Carlton's children's names: Cross, Mystery and Destiny. Though Carlton's naming choices may be shaky, she isn't completely unlikable.
Meanwhile in the veteran's corner, Kyle drifted into the boring shades of "I-don't-care land" when her drama/life dilemma was joining the Chamber of Commerce and fighting the impulse to shop at her own store. Hold me down, I'm not sure I can take the thrills.
One could easily drift off during Kim's boring and half-baked attempt to show the audience that her life is truly "normal" with her dog. When will people realize that if we wanted to see normal people's lives, we'd just eavesdrop under our neighbors' windows?
In more interesting news, Lisa's fiery appeal is back – she's not moping around this season. Which is how we like to see her, on her feet and throwing passive aggressive digs at those that may have less honesty to share. Brandi was right there with her when she so politely asked Scheana "What is wrong with your tooth?" but really meant, "Go away you husband-f***king wh**e."
And finally, perfect Yolanda shows some imperfection as she struggles with Lyme Disease (nothing compared to Scheana's oral surgery, we're sure – unnecessary cameo). Who couldn't root for Yolanda to get back on her perfect feet again? Surely there is no realer housewife than the one that cooks her husband dinner and serves it on the side of a cliff in her own back yard, who walks in stilettos, rides horses, designs her own home, eats green sludge for breakfast, maintains 0% body fat, works out religiously, raises 3 children and earned her living long before her man.
Stick with it: we're sure the drama will return soon enough.