RHOBH Recap: Life's A Witch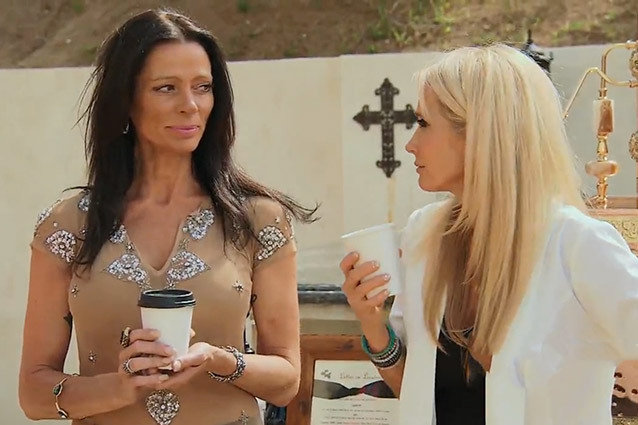 Bravo
Episode 3 opens up with a toned and tanned, naked Brandi getting into her bathtub. And then it ends. Oh wait, that's not right. But really, is anything else significant?
Joyce rambles on (again) about her Queen of the Universe pageant and somehow gets a Pretty Woman recap in the same jewelry store as the movie.
Yolanda continues to deal with the backlashes of Lyme disease. Her holistic healer fiddles with some needles and her blood while her oldest daughter talks about moving to New York to model (and of course pursue a degree in something completely unrelated) while nibbling on a salad.
Lisa was cut on Dancing With The Stars, but not without some drama. The faint debate has now continued through three episodes. Was it real? Was it fake? Was it real? Was it fake?
Happy to see Yolanda and Carlton hit it off. So far the two are the straightest shooters of the season (well let's not leave Brandi out.) There's a full scene where the pair gabs about genuine friendships, sans gossip – no wonder this season has fallen flat.
The girl gang arrives at Carlton's, and Kyle continues to do what she does best – piss off the hostess. Kyle pries into Carlton's witchiness to which Carlton responds with annoyance and an eye roll. Upon Lisa's arrival, the girls have a good laugh at her and her fancy faint's expense. She doesn't find it funny, and soon karma is delivered to Kyle when Brandi asks her about her wandering husband. Instead of leading to an honest emotional discussion, it leads to Kyle getting angry…cut to Kyle crying to the camera in a confessional.
Projections for episode 4: 
Lisa gets naked in front of Carlton, no touching though, because although Lisa supports gays, she doesn't participate in the activity herself.
Kim faints.
Joyce reminds us for the 4th time what an awesome lover her husband is.
Kyle's tear ducts dry up, Brandi dries out (not our preference), and they share a laugh about cheating bastard husbands.