'Real Housewives of New York City' Recap: Holla to the Brawler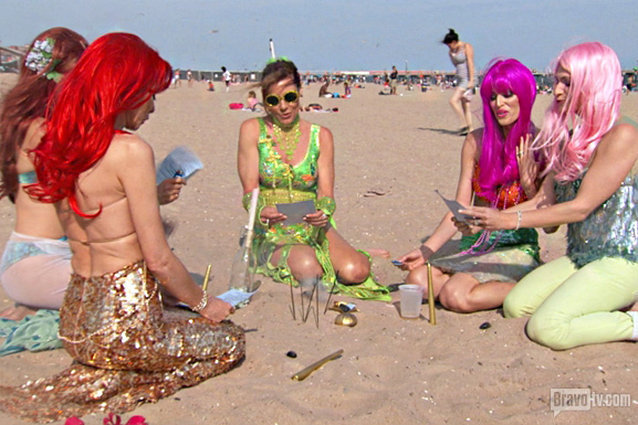 Bravo
In this week's episode of Real Housewives of New York City, the ladies head to the Hamptons to celebrate Sonja Morgan's cabaret burlesque poetry slam. When did doing improvised poetry in lingerie become an art form? More importantly, when did Sonja become J.P. Craigslist? She "hires" an entire free labor squad of teenagers. Hopefully they are film students and can document her madness in Grey Gardens II: The Wrath of Cans.
Aviva Drescher is fighting with Carole Radziwill over whose book is most worthy of the bargain bin. Heather Thomson will remind anyone who will listen that she used to work for P. Diddy. Meanwhile, this season's editors are the shadiest in Housewife history. Exiled housewife LuAnn "Desperate for Cash" Lesseps keeps getting called a drag queen within tongue-in-cheek edits. And Ramona Singer, a.k.a. Eye-lander the Last Original Wife, is in Africa delivering Pinto Grigio to starving children.
The ladies go to a barbeque at LuAnn's house. It's nice of them to keep her on the show since she lost her Jitney bus pass in her divorce and is hardly in the city. Aviva's "friend" and "image consultant," Amanda Sanders, tags along. Is she yet another woman Harry Dubin has slept with? Why is she there? She mentions decking Heather, and Heather gets into her face (let's applaud her for that). She's prepping for the release of her rap album under the name DJ Heather Tho. Her first single "Shove It In Yo Spanx" features lyrics like the following…
I'm chillin in the city and I'm Heather Tho
My Yummy Yummy Spanx will fix your camel toe. Holla!
Sadly, this is not the case…
Heather wants Amanda out, but the drunk girl insists on being inserted into Aviva and Carole's quiet discussion. Doesn't she realize their conversation is so boring that the camera crew has submitted to filming LuAnn serve cake? Plus, let's face it: Bookgate is a little ridiculous. Even though Carole probably had some significant help in writing her book, she was highly condescending to Aviva. On the other hand, Aviva came out of left field with her book deal and was doling out hearsay on reality television. Even if Carole's books are copies of Fifty Shades of Grey with her name written on them in crayon, it's a capital crime in reality TV to air out dirty laundry on television… at least without saying "allegedly" a lot.
Things get weird fast. A drunk Sonja is dancing around the table and claims to have peed. Her poor interns sit there knowing they'll have to clean her. Meanwhile, a conversation between Heather and Aviva escalates as Aviva's mild-mannered husband Reid randomly chimes in. Correction: yells in. NeNe Leakes may want to talk to him about entering women's business. Apparently, he was witness to "multiple sources" talking about Carole's book. He also said she was fat and had no friends and shops at Ross Dress for Less, so he may not be reliable. Aviva, Reid, and Amanda yell at Heather until she decides to ride dirty, delivering a cuss-filled tirade to Aviva. The entire cast treats Heather like some sort of gangster; she worked for Diddy and Beyonce's luxury clothing line, but they are acting like she shot Tupac. (Racism, anyone?) LuAnn asks everyone to leave because she has a lot of not-starring-on-the-show to do in the morning.
Aviva Drescher's Passive-Aggressive Book Tour
Aviva goes to brunch at Sonja's to recap the fight. Sonja loses a tooth, and possibly her mind. The two get a facial together, then she takes her children to a craft shop to be taken care of by a random woman while she and her husband have a conversation. Becky, the friend who cost Aviva her leg, emails her, probably to discuss the paperwork she had to sign to be discussed in Aviva's book. Aviva wants to pour salt on a 34-year-old wound by making this poor woman relieve this traumatic event. Aviva swears she doesn't hold a grudge but makes sure lay the guilt on thick. Either Aviva's expensive therapy is paying off or she has been drying her tears with her book advance check because she seems thrilled to discuss the events of that day. Meanwhile, her poor friend has to relive these memories on national TV.
The Mermaid Sisterhood and Crabs
Carole is being honored as the Queen of Coney Island's Mermaid Parade, and don't you forget it. All the ladies get ready for the parade but J.P. Craigslist strikes again. She has a random designer (a.k.a. student) arrive to help her make a homespun costume. The ladies show up including Kristen Taekman. Taekman is awesome and honestly feels like the new Bethenny because she is just a snarky witness to the madness. The ladies decide to ride with drag queens, and the LuAnn jokes keep coming. Finally, to prove she is above the whole Bookgate drama, Carole reads a poem. It's a poem she wrote… because she is a writer… and a better one than Aviva is. The ladies read the poem and Carole declares them part of the Mermaid Sisterhood. Would this be of the traveling pants variety?
They all say goodbye as LuAnn excuses herself to swim back to The Hamptons.
The Real House-lines of NYC
"Deck me, big bad girl. Bring it!" – More of Heather's freestyling lyrics
"She loud, she obnoxious, she got opinions about everybody. She's drunk. She's sloppy. So take your sloppy ass on home." – Even more of Heather's lyrics
"I just peed my panties and I don't have any on!" – Mother of the Year: Sonja
"You are full of empty bulls**t. Nobody likes you. Nobody wants to be around you. Don't tell me anything, mother f**ker. Don't mother f**kin' tell me nothin'." – Heather keeping it real
"I've been going to the Hamptons for a long time, and I have never heard anybody say that at a party." – Kristen proving she's the new Bethenny
"If anyone's going to understand losing a body part, it's Aviva." – Sonja
"Think abundance, have abundance. Oh my god, I got to hide the vibrator." – Sonja's morning prayer