'Real Housewives of New York' Recap: Choosing Sides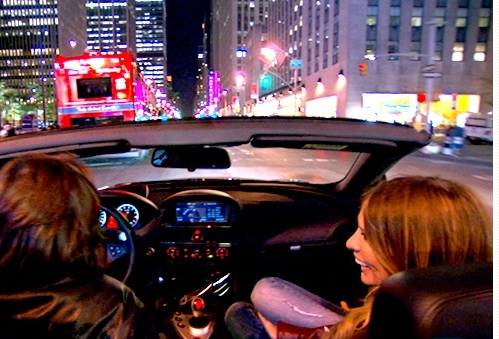 Much of the action on season one of The Real Housewives of Beverly Hills — a franchise far superior to the one we're currently watching — revolved around words said in an off-camera phone call between Camille Grammer and Kyle Richards that could never be confirmed, because both women refused to change their story. The personalities of those characters and the other plots driving that season made the never-ending war of the phone call fun to watch, but witnessing a similar event on an older franchise with women who have been fighting the same battle for years is another story. If LuAnn and Ramona keep circulating round this ridiculous, impossible to confirm phone call, Real Housewives of New York fans will soon be driven nuttier than Kelly "Top Five Nicest Celebrity" Bensimon.
That being said, last night's Central Park showdown gets a pass, but only because Ramona got so flustered that she offered up the most absurd non-sequitur I've seen in years. Also, hi — I'm Shaunna, and I'll be taking over for Housewives aficionado and UGGS enthusiast Brian Moylan as he gallivants through Canada or something. He'll be back next week, but until then let's dig in to whatever it was that happened on Housewives last night. Did anything happen? That's depends on your definition of "happen", but at least we found out that Heather is Jewish by injection.
As a fun little "getting to know you" exercise, Heather and the woman I will also refer to as Que Viva went on a double date with their husbands, where we found out three very important things: First, that Heather's husband is in fact not related to Oskar Schindler, the legendary German industrialist credited for saving 1,100 Jews during the Holocaust. I'm sorry, but if someone on the Bravo network was directly related to someone that selfless I think my brain would explode. We also learned that Heather is "Jewish by injection", which according to Urban Dictionary is a slang term for a Gentile who has had a lot of sex with a Jewish person. Raise your hand if you ever want to hear about Heather's sex life ever again.
Finally, we got to hear Heather's husband Jonathan say that Que Viva's ex-husband Harry slept with both Sonja and LuAnn. This was a total given for Sonja, who later flirted with Peter Griffin's handyman cousin and forgets to wear pants to her own parties. But LuAnn? I'm still not sold. The woman who wrote the lyrics "You can tell where someone's been, Without even asking him, He's either rude or has some style and panache" would never hook up with Sonja's toaster-cooked leftovers.
Actually, another big Housewives faux pas occurred as a result of Heather and Que Viva's dinner: Que Viva told the camera that she didn't approve of Heather's hands-free parenting style. This is fair, because Heather's son could totally date New Jersey's five-year-old psychopath Milania. Heather didn't hear Que Viva say this, but the following scene should prepare Que Viva for the consequences of insulting a Housewife's parenting style — Viva darling, you will be hearing about this for the rest of your life. Remember when Jill and LuAnn said something or other about Alex McCord's little terrors? Yeah, that went on for three years.
Anyway, Ramona and LuAnn met in the park to discuss the supposed blackmail incident, but it didn't go well because in Ramona's house no one talked, you see. They just yelled and screamed, so she has a hard time and LuAnn talks down to her and is not nice and not civil and Pinot Grigio and house parties and so on and so forth. It was really great seeing Ramona scream "you're not listening!" to LuAnn, who maybe got ten words in during their entire conversation. Ramona denied blackmailing LuAnn during the aforementioned off-screen phone call, and reiterated that LuAnn is an absentee parent who leaves little baggies of cocaine for her wayward children while Ramona takes mother-daughter knitting classes with Avery. This went on and on and on and my head started to block things out until LuAnn said, "What other dirty tricks do you have to pull out of your Pinot-filled ass?" At this point you could see Ramona's eyes do that thing, so she spit out some line about having no time to get a manicure, which had nothing to do with anything LuAnn had said and was awesome. "Actually, I do this new thing, it last three weeks. It's like a shellac. It's pretty good. Actually. Which is why." This is an exact quote.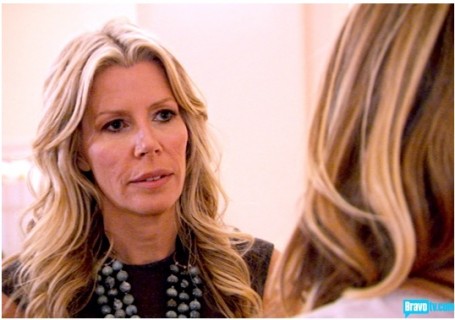 Next Carole met up with Que Viva, her number one fan, at an upscale vintage shop. There we learned that Carole has a no strings attached sort-of relationship with Russ Irwin, who tours with Aerosmith for months at a time. Carole was totally cool with it, and even hit on a 20-something model to prove just how easy-breezy her relationship was. She just doesn't keep track of "those types of things." (Which means she silently celebrates each month's anniversary, waiting for the gift that will never come.) Que Viva, for her part, would never. Her mouth said, "You're so cool," but her face said "the idea of being without my husband for a weekend is giving me anxiety." You guys — Que Viva's obvious neurosis are going to come out, and soon. 
We got to see just how totally awesome and cool and nonchalant and laid-back and "insert word for middle-aged people who want to act like 20-somethings here" Carole and Russ' relationship was when he picked her up for a late-night drive through the city, after an especially blah trip to Los Angeles. "You didn't miss anything in LA, because it's always the same," he said. "It's like Groundhog's Day." Deep. Their drive and the accompanying music reminded me of Taxicab Confessions, and now I'm embarrassed that I left New York for Los Angeles, because I care about what Russ and Carole think of me.
Let's get to Sonja: The poor, lovable floozy's house was in a state of disrepair. She hired some builders or fixers or whatever they're called to reduce the mess, and made a big show about Hurricane Irene and her intern's boobs to impress the "hot" handyman Rich — she wanted to cook for him in her toaster oven. I think that's a sexual thing. The main takeaway from this scene was that Sonja has her live-in intern call her "Mrs. Morgan." Let that one sink in.
Later, after terrible Heather threw a party for her VERY recently-deceased father in the Berkshires — which was touching, if a little strange — Que Viva officially joined Team Ramona when she joined the wailing wino for lunch. Viva didn't like it when LuAnn tried to get the newbies on her side by gossiping about Ramona behind her back, because she greatly prefers the kind of person who stabs you in the front. I do too, but Viva has absolutely no clue what she's getting herself into here. Befriending an honest, straightforward communicator is one thing, getting in bed with Ramona is something else entirely. Something dark; something that can only be understood after three and a half bottles and several hours of deep hypnosis. Anywho, Ramona stressed that LuAnn needed to get a job, because her YouTube "singing career" wasn't keeping her occupied enough to leave Ramona alone. Ugh, Ramona. The jealousy is crystal clear. Maybe Ramona can duet with Melissa Gorga at the next reunion.
Finally, it was time for a Housewives staple: An LGBT event, where Sonja was to present a prestigious award. Ramona finally got an opportunity to bond with Carole, and was very impressed when she learned that Carole was an ABC spokesperson. ABC spokespeople get to hang out with Peter Jennings and Diane Sawyer, and those are the top people. No, Ramona — don't you know what network you're on? Andy Cohen is the top people. Thirty lashes and five Hail Marys. Sonja was too busy living it up in the green room to make her cue, and this dramatic event was presented by Bravo as a commercial-break cliffhanger. Geez, where is Alison DuBois when you need her? Eventually Sonja made it, and adequately presented the award for… Best Outdoor Camping. No, seriously — that was it. Sonja congratulated herself on a job well done, danced with some drag queens, and the city went to sleep.
Be sure to check back for Brian's recap next week, because it looks like Mario might hit on Carole. Escándalo!
Follow Shaunna on Twitter @HWShaunna
[PHOTO CREDIT: BRAVO]
MORE:
Bethenny Frankel: I Want Mila Kunis To Play Me In My Movie
The New RHONY Cast: A Reason to Tune in Again
Bravo Considers Replacing Entire Real Housewives of NYC Cast