'Real Housewives of New York' Recap: Déjà Vu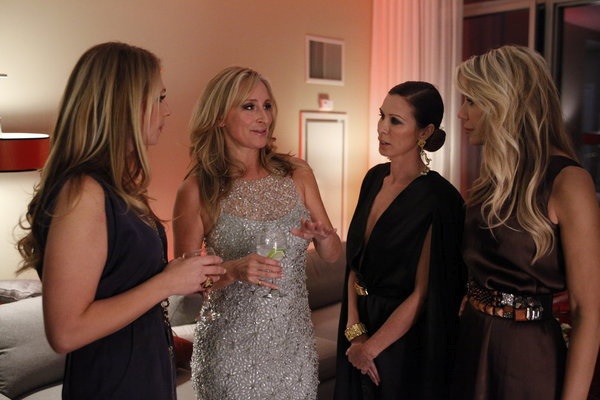 Maybe the Bravo folks were thinking that Independence Day isn't exactly the best time to air a vacation episode based in England, or maybe they were trying to beat the third season of Real Housewives of New Jersey for most unnecessary déjà vu episodes in one year. Because last night's installment of Real Housewives of New York City covered no new ground, and focused entirely on the exact same "problems" we saw last week: Sonja's horrifically hypnotic relationship with her interns, LuAnn's womb, ¡Que Viva!'s fears, and — most importantly, of course — the fact that Heather did not invite Ramona to her cool girls' trip to London. At the very least we got to see a touching, never-before-seen side of Heather, and learned that the unbreakable Carole Radziwill may be getting a television series based on her upcoming book, "The Widow's Guide to Sex and Dating." I think it's going to be called Cougar Town.
Once again, hello: This is Shaunna Murphy filling in for Brian Moylan, who has taken a job as Sonja Morgan's toaster-cleaning intern. We wish him the best of luck, and honestly saw it coming. Anywho, the episode began on a park bench during a lovely autumn day that was quickly ruined by Housewife-ian conversation. You see, ¡Que Viva! was still upset about Ramona being excluded from Heather's London trip, mostly because she didn't really know Ramona yet, and was starting to get paranoid that staying in NYC with only Ramona's company would put her on the bad couch during the upcoming RHONY reunion. Heather smiled and nodded as per the usual, but told the camera that her foreign investors would quickly shut their wallets if they were ever exposed to Turtle Time. I laughed because "foreign investors" sounds funny coming from a Housewife, but then I remembered that Heather actually runs a real business, so. "Come on Vie-Vies, sugar pie," Heather purred. "Just pop a few Klonopin, pull your head from Ramona's ass, and know that you'll always be picked first on my kickball team."
LuAnn only had one scene last night, because she was far too busy having lots and lots of sex to deal with meaningless conversations squeezed into boutique shopping trips. Lu headed to an acupuncture fertility specialist because after a year of copious sex, her womb was still as empty as a Jack Daniels bottle after a ladies' night viewing of Magic Mike. The acupuncture lady told Lu that she should consider all of her options, but Lu would rather drink a glass or two at dinner and go with the "have lots and lots of sex" route than go with an egg donor. And hey — I respect that. All I can say about acupuncture is that it certainly didn't cure my anxiety and anemia and insomnia and "insert problem here", but it did bring me to a very peaceful sleep for 20 minutes during my lunch break for about 6 months. So Jill Zarin can cackle all she wants, and LuAnn may not get acu-pregnant, but her naps will be divine. I promise you this.
Luckily Heather, who hasn't been shown in the most positive light thus far, got to have one touching, true-to-life scene before everything finally descended into London inanity. She took her six-year-old son Jax to his liver disease doctor for a check-in, because the closer Jax gets to his seventh birthday, the less likely it is that complications will emerge from his transplant. Jax seems like a sweet, happy kid — which is great considering he has to get his blood checked weekly, and wears hearing aids and a vibrating vest. Truly, this is a testament to Heather and her husband's parenting. I say "her husband" because no one knows what that guy's name is. (Gary? Steve? Help me out, here.) After receiving good news, Heather used some airtime to tell the doctor how much she appreciated her organ donor and his family, who selflessly saved many lives in the wake of their own personal tragedy.
Now before we get to the main "event" — Ramona's shopping trip meltdown — let's take a second to focus on Sonja and Carole's equally exciting career achievements. Sonja and her one-to-three interns had been hard at work getting "Sonja in the City" off the ground. Every day the gang deals with your typical start-up adventures, like organizing clothing racks, going to the bank to deposit checks for $1.45, and learning the difference between brain and poop pills. It may seem like an injustice that Sonja is the only one getting paid for all this, but don't worry — the kids get school credit. This is, after all, the "Sonja Morgan School of Hard Knocks." The hard knocks are the drunken ones at 5 a.m., when Sonja has returned from a night out with her own Gary or Steve and forgotten her keys.
But the days of $1.45 payments would soon be coming to an end — "Sonja's Toasters in Atlantic City" had its first client. This client was naturally Viva, who suddenly decided that she wanted to celebrate having a husband with 40-50 of their closest friends and some fresh-cooked toaster food. Laugh all you want, but Sonja T. Morgan's Mac N' Cheese muffins sound delicious, and I'm itching to see how the Countess gets out of going to this one. 
Over in unaccomplished land, Carole had a casual date with a younger man who I think was named Peiman, which also happens to be my doctor's name. Unfortunately for me, this guy was not my Peiman. He was a very sexy 31, and both myself and Carole had a hard time understanding him through his thick accent. Peiman wasn't exactly Carole's style — she likes guys with hair in their ears, not on their heads — but she was doing research for "Widow's Guide" and put on a flirty face for the sake of quality literature. I wonder who will play Carole and Peiman on the TV show? Can Connie Britton pull off a convincing New Yorker?
40 minutes into the episode, Ramona finally appeared for a pre-shopping pow wow with Carole, which was really just an excuse for her to flair her arms and shriek about Heather. Ramona went over the same old: Heather is crazy, Ramona is nice. Heather doesn't listen, Ramona could be a paid therapist. Heather is a maniac, Ramona is as calm as the ocean breeze. Carole dealt with this wonderfully: "You get to be you, and she gets to be her," she explained. Simple. The "I really don't want to discuss this" could not have been any more clear. But this got Carole nowhere. "I'm trying to appeal to Ramona's sense of logic and that was clearly a tactical error," she told the camera. God, I love this woman. Carole cooly sighed, admitted defeat, and brought up something she knew Ramona would love — princesses! Squeal!
Now, for the shopping trip. To be honest, I really don't know what happened here, but I'll try my best to sum it up: Heather thought Ramona was in a fashion rut. Ramona was confused as to why Heather was smiling and laughing with her, having not yet realized that Heather smiles even in her sleep. Using the smile as an opportunity, Ramona pulled Heather aside to discuss whether or not Heather was hurt by Ramona's "talk too much" remarks from eons ago. Heather said she was not, and suddenly everything became Aviva's fault. Aviva joined the circle, owned up to telling Ramona that Heather was upset with her, and faced Heather's wrath. Ramona then got in Heather's face, stared at her with those crazy-eyes, and excitedly declared that it was time to re-start the shopping. Then Carole came in with her TV series announcement to save the day, but this announcement was hi-jacked by Saturday Night Live's Penelope, who had recently sold her Pinot Grigio to Target.
Thankfully, it all came to an end. But Ramona had one more thing to say before she left: "Heather doesn't get it. She doesn't listen. Heather world is only about Heather, Heather, Heather. It's awkward. She's not real."
Next week: I think they actually go to London.
Follow Shaunna on Twitter @HWShaunna
[PHOTO CREDIT: BRAVO]
MORE:
'Real Housewives of New York' Recap: No One Gets the Message
'Real Housewives of New York' Recap: Doomsday Awaits