'Real Housewives of OC' Reunion: Who Won?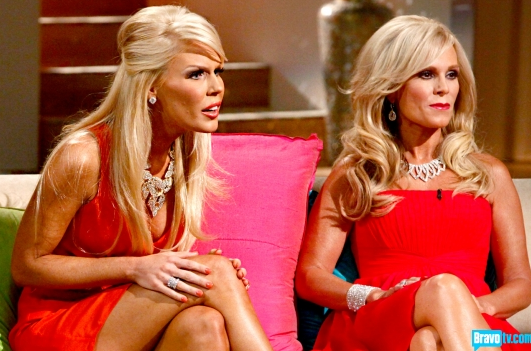 The problem with the Real Housewives of Orange County reunion is the same as the problem with all of these cacklefests: they're almost impossible to write about. How can you recap this? It's like trying to recap the noise you hear in a chicken coop that's been shaken by an earthquake. It's just flaps and squawks and posturing and pecking at any spot of blood that might appear between the feathers. No, reunions aren't about what happens — reunions are about who wins. They're about who the fans like the most, once the body glitter dust has settled and we all go into a coma to reassess our lives and our choices in television programming.
We all know who the big winner was. It was Tamra's hair. Hahaha! Just kidding. It was not. But it does look like Tamra won a free makeover at Tammy Sue's Set and Curl and Tablecloth Emporium in Branson, Missouri. God, what is up with her crazy Barbara Mandrel hair? Awful.
Let's look at some of the other altercations:
Vicki Vs. Tamra and Gretchen: I hate to say it, but Vicki looked like a crazy person when trying to talk about her and Tamra's relationship. She also lost the fight to Gretchen about whether or not she was a hypocrite. The problem with Vicki is that she is biologically incapable of admitting that she was wrong. If she ever does, her skin will bubble with green pus-like projections and just fall off of her body in giant patches. When Gretchen confronts her about Brooks and the child support issue, she needed to own up and say what she did to Slade was wrong. Either that or she needed to say, "I used to feel that way, but due to my circumstances now, my mind has changed and I'm sorry for the way I treated you." Is that so hard? Vicki really came off badly this season and she either is too stupid to realize or still being brainwished by her flim-flam man Brooks. Vicki did say something smart that she's said before: "None of us change. We're all our own people." More Housewives need to realize this. They can't change each other, they can't admit their faults, and they are often incapable of doing the right thing. If more people realized that and just moved on, there wouldn't be as many stupid fights (but then we'd probably stop watching). Vicki's hair totally wins for best hair though.
Victor: Tamra and Gretchen
Alexis Vs. Heather: I will watch Heather Dubrow fight with anyone because she is a pro. By far my favorite of this crew, Heather is just calm, rational, intelligent, and pretty damn cool and will just take you down point by point if you come for her. Also, she is honest so she never has to worry about lying about how many cars she has (Alexis), if she had her lips done (Gretchen), or if her love tank is full or not (Vicki). She's just straight up and you can't ever fight the truth. When Alexis, who is a lump of cotton candy that an eight-year-old put two balloon boobies on and then somehow brought to life, tries to argue about whether or not she's phony, she just sounds like a whiny child. It's probably because she is. Oh, I mean she is phony and she is a whiny child. She is everything. Heather, however, is a clear-headed adult and just mops the floor with Alexis. Then Alexis has to go and talk about how Vicki is flying "on a private jet" with her, just proving everyone's point that she's an awful, vacuous, materialistic harpy. It's also clear that Andy Cohen totally hates "Jesus Juggs" (as Tamra calls her) and totally steers the conversation to make her look bad. I knew I liked that Andy. Oh, and I totally believe that Alexis is awful to the crew and everyone who works at Nordstrom (that this is a plot point makes me want to hang myself from the ceiling fan with my shoelaces).
Victor: Heather
Andy Cohen Vs. The Bird: Oh, he was totally asking for it.
Victor: The Bird
Tamra Vs. Gretchen: As Andy Cohen pointed out (I seem to be making this as much about him as he makes it about himself), Tamra and Gretchen would always go after each other at the reunions. This was the first time they were a united front and it was actually quite nice. I don't know whether or not I entirely buy their friendship, but even Tamra admitted that they have to work on it. Tamra also said something quite smart about their fighting: "It's like we were fighting just to fight. It was a vicious cycle of nonsense." Understanding this is what has kept RHOOC fresh while other installments (Atlanta, New York) have gotten a bit stale. This is what got Jill Zarin and company fired. If they had just gotten over the stupid old squabbles and tried to find something new to argue about or how to form new alliances, they would probably still be on their respective shows. The Gretchen and Tamra fight became so convoluted and intractable that it was boring and impossible to watch. Their getting along is the only thing that made this season tolerable. Well, that and new drama.
Victor: Everyone
Follow Brian Moylan on Twitter @BrianJMoylan
More:
'Real Housewives of OC' Recap: The Party's Over
'Real Housewives of OC' Recap: Let Them Not Eat Cake