RHOBH Recap: Palm Spring Breakers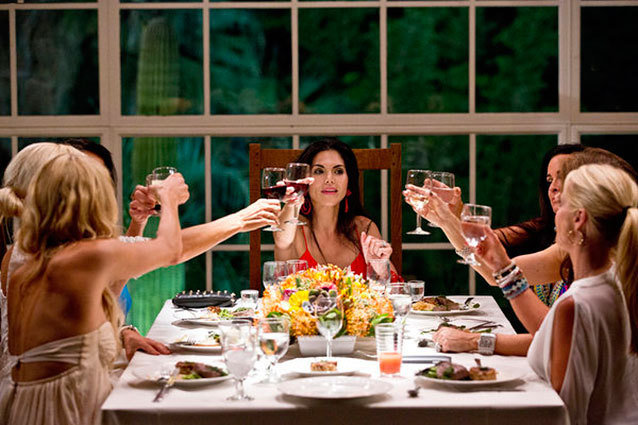 Bravo
Brandi opens the show welcoming everyone to her vagina. Thus continues this season's tradition of Brandi being the only reason to tune in. Her lifelong friends gather at her house to help her with some sexy research for her new book.
Kyle and Carlton go shopping together, also a regular occurrence this season. Perfect setting for Carlton to delve deep into her disapproval of Kyle's recent behavior. You know, there was that one time that Kyle asked Carlton if she was a witch. Then there was that other time that Kyle cut Carlton off mid-witch story … and of course, who could forget when Kyle talked smack about Lisa's nipple when Lisa wasn't around to defend it. Thank God they got that off their size DD chests. Now they can be friends!
Unfold the backdrop of Palm Springs.  Anyone who watches any Housewives show knows that nothing good, but almost everything entertaining, comes from the "trip" episode. The only thing hotter than the heat in Palm Springs was Brandi's body as she slipped out of her clothes and hopped in the pool. Carlton followed and managed to keep some of that bronzed bordering on orange glow on her skin.The girls start to day drink, but the only one who seems to feel the effects of the alcohol is, you guessed it, Brandi. Soaking up the sun in the water, she calls Joyce black which threw everyone for a loop. Brandi continues to poke fun at Joyce repeatedly calling her Jacqueline, "because it sounds more Latina."
Kyle tries to have a discussion with Yolanda over dinner. Nothing gets cleared up, or accomplished. Except that the girls continue to talk about high school like it was yesterday. To be continued…
Projections:
Brandi sobers up and wants to do more than just make out with Carlton. 
Kyle and her husband appear half-way through the show in a commercial for floss, because the only way to keep cavities away is to floss, twice a day!
Kim is still just as sober as she was five minutes ago.