Real Housewives Of Beverly Hills Recap: Brandi Gets Bullied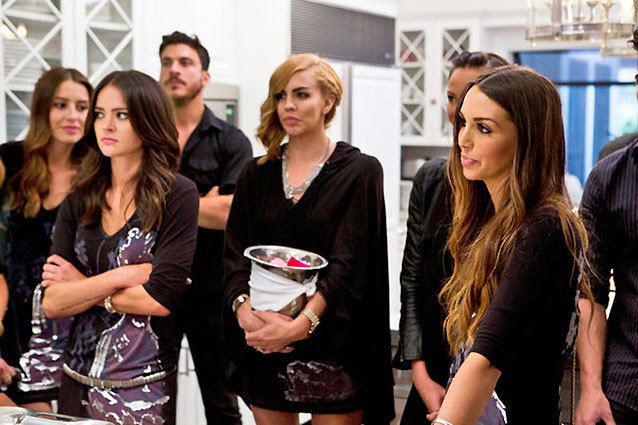 Bravo
Brandi starts the show less naked then last week, but still very sexy. Carlton and Brandi go shopping for lingerie. Carlton tries on a red corset number and we get a look at her bangin' body that has somehow been hidden this entire season. Kim takes the girls to cirque school so they can bond, leave any and all drama outside, she begs! These are the Beverly Hills ladies though, so get real Kim, and step aside.
Last week Brandi was bullied by the paparazzi. Who, oddly enough call Brandi a bully for her behavior on last week's episode. This is where the group splits. Lisa admits to flipping on sheets in the bedroom with her husband and Kyle only lets Carlton leap frog jump over her for fear of being stabbed with a stiletto. Not all the spinning on all the sheets in the world could clear up this problem. After Kim's team building exercise the girls gather on a roof top bar where Brandi continues to dispel her anger and sadness over being called a bully by the paparazzi in front of her children.
Kyle claims that it was not her or her non-existent pr people that called her a bully, yet she refuses to tweet that she didn't feel bullied by Brandi. Lisa then takes Brandi's side, which leads to Joyce attempting to come to the aid of Kyle. Asking Lisa to leave the group so they can chat, she admits that not only her, but also Brandi AND Yolanda have been trash talking Lisa! The reason? Lisa waved away Joyce's hair during a fix-my-weave party the girls had.
As if we couldn't love Carlton anymore she tells Joyce (to her face!) that she is just being dramatic. Joyce doesn't seem to know how to take this affront on her character, in the end chalking it up to PMS.
Projections:
Kyle's tweet never sent, Brandi continues bullying Kyle over sending the paparazzi after her and her children.
Carlton tries on a black corset-Brandi watches from a distance.
Kim and Joyce become best friends because they both think so much alike.