'Real Housewives' Taylor Armstrong's Husband Commits Suicide (UPDATED)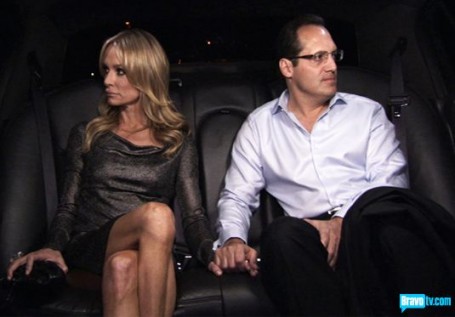 UPDATE: According to The Hollywood Reporter, Bravo executives will wait at least 24 hours to decide whether or not the series — which was to return on Sept. 5 — will be postponed.
Shooting on the soon-to-air second season has not yet finished, but it has been suspended for at least the remainder of the week.
The network has not yet commented extensively on the situation, other than to say Tuesday morning:  "All of us at Bravo are deeply saddened by this tragic news. Our sympathy and thoughts are with the Armstrong family at this difficult time."
EARLIER: Just as they were preparing for their big season premiere, the cast of The Real Housewives of Beverly Hills was hit with a tragedy. One of the housewives, Taylor Armstrong, just lost her estranged husband, Russell Armstrong, to suicide. He was found dead on Monday night and it is reported that the deceased did not leave a note. Though Ms. Armstrong was aiming to divorce her husband on grounds of physical abuse, this can't be easy news to hear. She and Mr. Armstrong have a 5 year-old daughter together.
It's unfortunate that the show's premiere is so close, because this is the time when Armstrong and her close friends and family really need time to themselves instead of putting everything on display to promote their new series. As of now, the show goes on September 5 on Bravo.