Reality Show Loopholes: How To Win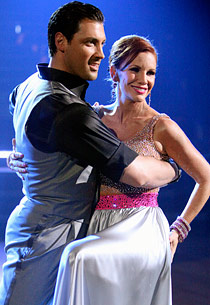 Reality show competitions have become a huge deal in the entertainment world. Ever since American Idol received such overwhelming praise right from its inception in 2002, networks have pulled out all the stops to deliver an endless array of similar reality shows, hoping to get the same kind of explosive results. They took the idea and ran with it threw everything they could think of at it, and the genre has become a staple in the television realm ever since. And while we can't help tuning in to see Bruno's ridiculous remarks on Dancing With the Stars, or those insane auditions weeks on Idol, these shows have developed a pattern throughout the years, making it easier than ever to be able to predict a winner.
Looking back on all the different seasons, we noticed a few reality show loopholes — a sort of how-to for winning reality competitions. Lucky for you (if your life goal is to win a single season of a TV show someday) we've lined up some tricks to the reality show trade:
Dancing With the Stars: Get Injured
While this probably seems like poor advice, this strategy has worked out well for some dancing competitors in the past. Of course, you don't want to get hurt to the point where you can no longer dance anymore — and thereby totally defeating the purpose of competing in the first place. However, being able to power through a dance performance in spite of an injury has proven to garner a great number of sympathy votes throughout the past seasons (including this one). Hines Ward and Kym Johnson ended up winning the Mirrorball Trophy shortly after Kym's painful neck injury sent her off to the emergency room during Season 12. Seeing the way they managed to overcome the incident and still pull off a brilliant performance was nothing short of awe-inspiring. Who knows if the votes would've help up the same way if that injury had never occurred?
American Idol: Be From the South
There's much to be said about Southern charm, and it seems to go over quite well with Idol voters. Six out of the ten Idol winners have been from the South — that's more than half the winners on this show. Not only that, but those contestants have turned out to be some of the bigger stars to find actual success after the competition is over. Texas born Kelly Clarkson still remains a huge contributor to the music industry and has developed a monumental fan base throughout the years. So if you want the best shot possible of sticking around on this competitive show, you might want to think about relocating to the good ole South. The odds would certainly be more in your favor.
Next: How to lock in True Love on The Bachelor.
The Bachelor/Bachelorette: Be Caucasian
As the recent lawsuit against ABC has demonstrated, the network tends to gravitate toward picking good-looking, Caucasian males/females to be apart of these popular dating shows. As long as you're an attractive white person (who isn't allergic to roses) then you stand a good chance of making it far in these types of competitions. Just keep smiling and drinking as many appletinis as possible — you can't go wrong. Love may be blind, but this show's selection process doesn't seem to be.
The X Factor: Be On Simon's Team
I know this show has only been in the U.S. for one season, but that was enough to tell me that all a potential winner has to do is to be on Simon Cowell's team. This guy is a sore loser and he basically runs the entire show, so you know he's not going to have his contestants be shown the door right off the bat. In fact, he was even allowed to have an extra person on his team just because he changed his mind about sending her home (oh, and she just happened to be the winner of the competition). Cowell was also the judge who went the longest without having a contestant from his group eliminated. Coincidence? When it comes to this media mogul, everything is done intentionally. Trust me, stick with him and you'll go far.
Big Brother: Be a Stark-Raving Mad Lunatic
For those who are familiar with Rachel Reilly from Season 13, I think you'll agree with this sentiment. But if that's not enough to convince you, then maybe this is:
Next: Survivor winners' secret weapon: acting?
Survivor: Have a Sob Story
There is more than one way to garner a sympathy vote. Many contestants on this show have used an sob story from their past to help earn some favoritism among the group. Whether there was a tragic death in your family or you overcame a serious illness, fans and fellow contestants will find it a lot harder to vote you off if they're too busy feeling sorry/admiring you. If you're looking to participate in a competition like this, my advice is to sign up for an acting class and just let the waterworks overflow.
So You Think You Can Dance: Be a Contemporary Dancer
While ballroom dancing and ballet moves can be beautiful to watch from time to time, the general rule of thumb on this show is to stick with contemporary dance numbers if you want to achieve any notable amount of popularity. And if you're able to pull off the oh so-popular booty shorts while kicking your legs up over your head then you'll automatically be a crowd favorite (especially among the male population).
Project Runway: Be the Underdog
The craziest part about this competition (apart from all the outrageous designs) is that the winner is never who you think it will be. Everyone thought Daniel Vosovic from the second season was the sure one to win, but he ended up getting nudged out by Chloe Dao. The decision came out of nowhere shocking many of the show's viewers. It's a strange concept to wrap your mind around, but in this competition being favored to win isn't necessary a good thing — in fact, it could be your undoing. It's true what they say: everyone (even former adviser Tim Gunn) loves the underdog.
More:
'DWTS' Injuries Rank Amongst TV's Scariest
'The Bachelor' Lawsuit: How ABC Is Poised to Right the Wrongs of Reality TV