MTV Movie Awards: How Did Rebel Wilson Do?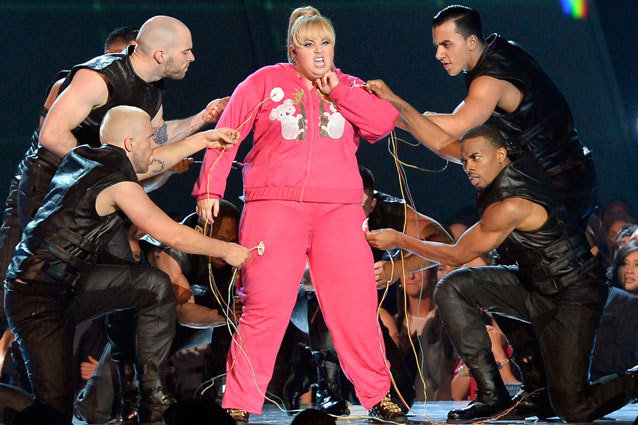 MTV has officially become an Amy Poehler-I'm-a-cool-mom parody of itself — and Sunday night's iteration of its Movie Awards seemed to prove just that. We're not in the 80s anymore. But in an attempt to hold onto that young demographic with all of its might — while still portraying an image of hipness — they recruited current comedy it-girl Rebel Wilson to host the event.
With an opening number featuring some of her Pitch Perfect costars (following an Iron Man and James Franco-featured opening video), the Aussie made sure to push the boundaries of edgy humor all night with talk of extra nipples, pubic hair (so much pubic hair), Australian kisses (like a French kiss…down unda! Zing!), underage drinking, and more. There was truly no limit to what the comedian would skewer.
It was a night filled with awkward speeches, spotty musical numbers, and all of the iconic/trailblazer/genius/whatever awards the show could afford to create in order to get celebrities in the seats. But how did Rebel handle it? That's where you come in. We want to know — did you dig Rebel's hosting style, or were you cringing the whole way through? Take our poll below and sound off in the comments!
Follow @AliciaLutes on Twitter
More:
Where the MTV Movie Awards and The Oscars Intersect
Best Kisses from 'Twilight' Movie Award Wins
The 9 Strangest Hosts of the MTV Movie Awards
---
From Our Partners


Jessica Alba Bikinis in St. Barts (Celebuzz)


Which Game of Thrones Actor Looks Least Like His On-Screen Character? (Vulture)