'Red Widow': Drug-Filled Delight or Mobster Mess?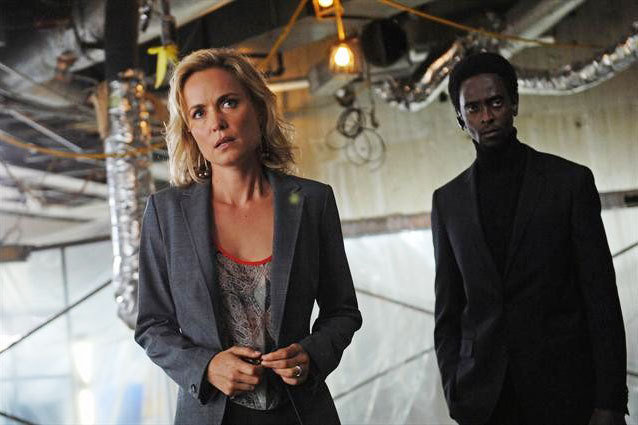 Marta Walraven never thought she'd get into the family business, considering the family business is organized crime. But the wealthy, stay-at-home mom ends up fraternizing with mobsters anyway after her husband is murdered in a drug deal-gone-wrong and she must repay his debt. So begins ABC's brand-new drama, Red Widow, premiering Sunday, March 3 at 9 PM. Should you give the new show, based on the Dutch series Penoza, a shot? Check out our dossier for all the scoop on the series:
Actors you'll know: You'll recognize the titular widow, Aussie Radha Mitchell, from any number of movies. Take your pick: Silent Hill, Surrogates, Finding Neverland, Phone Booth … I don't know your taste! But you've probably seen her in something. Everyone's favorite Croatian ER doc, Goran Visnjic, plays the crime boss wronged by Marta's husband. Chances are you'll recognize perennial "that guy" Clifton Collins, Jr., too, but you might have to just hit up his IMDb page to find out from where because that dude might have actually been in every movie ever.
RELATED: 'Red Widow': 'Weeds' With a Brutal Twist
You'll like it if: You miss The Sopranos, but wish the accents were less Jersey and more foreign.
Top 5 Reasons You Might Want to Watch: You're into take-charge women (and who isn't?). You're too impatient to wait until Hell on Wheels returns for Season 3, so Anson Mount as Marta's soon-to-be-murdered husband is good enough for you. You don't have HBOGo, and thus must find your organized crime programming elsewhere. You miss Nancy Botwin, but wish she was a little more likable (and a little less funny).
Reasons You Might NOT Want to Watch: Um, Anson Mount dies in the premiere. You hate when TV actors attempt Russian accents. You're picturing Luka as a family man in Boston with Abby, not killing people in San Francisco. You're bummed that Zero Hour is already kaput and can't take even the possibility of another quick cancellation.
Love it, or Leave it? Love it if you're in desperate need of a kickass female role model. Leave it if you get attached quickly, because ABC sure doesn't. (RIP Last Resort and Zero Hour.)
Follow Jean on Twitter @hijean
[PHOTO CREDIT: ABC/SERGEI BACHLAKOV]
---
From Our Partners:


Justin Bieber Celebrates 19th Birthday, Loses His Pants (Vh1)


60 Celebrity Bikini Bodies: Guess Who! (Celebuzz)