'Red Widow': Think 'Weeds' With a 'Brutal' Twist — VIDEO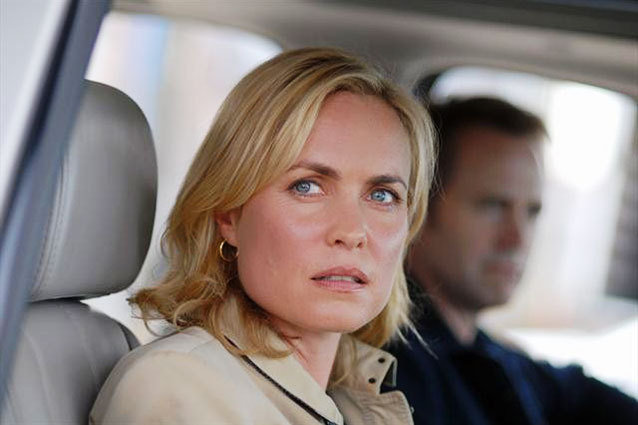 There are a ton of layers to ABC's new crime drama, Red Widow, so let's have star Radha Mitchell explain the plot herself: "Red Widow is a family drama slash crime story about a woman called Marta Petrova who is a Mafiosa child who has tried to turn herself into a San Franciscan housewife," the leading lady tells Hollywood.com on the Red Widow set in Vancouver, Canada.
RELATED: Clocks, Nazis, Russian Mobsters And More In ABC's New Dramas
A mother of three, Marta has spent her entire life trying to shield her children from her family's mafia past. But when her husband is murdered on their front driveway — in front of their youngest child! — Marta is forced into the cocaine-fueled crime world to protect her family and uncover the secrets surrounding her husband's demise. Mitchell explains, "[Marta is] dragged into a brutal reality that she really doesn't want to be a part of, but discovers that she has talents that she didn't know she had."
Although fans will see Marta excel in this dark world, her family remains her main priority "First and foremost she's a mother, and the rest of all of this is just to protect her children." Mitchell says. "She'll be in the middle of a drug deal but she's got to get home and cook dinner for the kids, so she'll be on the phone talking about ordering pizza."
If you're thinking that our protagonist sounds similar to Weeds' iconic anti-hero Nancy Botwin, who began selling pot to get by after her husband died, you would definitely be correct. "I think that might be a pretty decent comparative," the actress says. "I think the tone of this show is a bit more brutal and the drama is kind of intense but yeah, it's a woman in a world that she didn't expect to be in doing things that most women don't want to do."
RELATED: 'ER' Vet Joins 'Red Widow'
Check out the rest of Mitchell's interview from the Red Widow set to learn all about what's coming up on this dark new drama.
Red Widow premieres with a special 2-hour event on Sunday, March 3 at 9 PM on ABC.
Follow Leanne on Twitter @LeanneAguilera
[Photo Credit: ABC]
---
From Our Partners:


Justin Bieber Celebrates 19th Birthday, Loses His Pants (Vh1)


60 Celebrity Bikini Bodies: Guess Who! (Celebuzz)