Remote Control: What to Watch on Dec. 5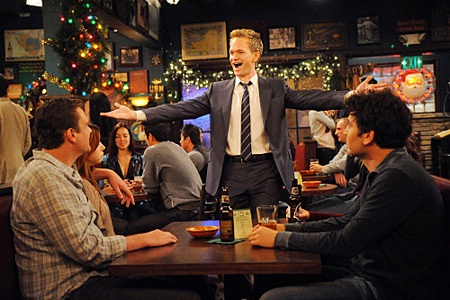 Monday, Dec. 5
Note: Terra Nova is a rerun tonight.
Top Tier
How I Met Your Mother
8 p.m. ET/PT on CBS
"Symphony of Illumination"
It's a How I Met Your Mother plus Christmas…so, there's really no losing here. Robin decides to hide some bad news from the rest of the gang, while Marshall takes the lead on what will most likely be an ill-fated hanging of decorations.
NFL Monday Night Football
8:30 p.m. ET/PT on ESPN
San Diego Chargers at Jacksonville Jaguars
For me to recommend watching any professional sporting event says something: it says that there is very little else on television. Seriously. I'm the kind of guy who watches sitcoms on my laptop during Superbowl parties. So that should tell you just how slow tonight will be in the television spectrum.
Prep & Landing 2: Naughty vs. Nice
8:30 p.m. ET/PT on ABC
Back to the glory of Christmas, once again, with the added majesty of animated elves. This ABC special, starring Dave Foley, Rob Riggle and Chris Parnell (who we interviewed about making it) might not exactly seem like the most exciting night time entertainment, but it's getting closer to the holiday season, and we need to start getting in the mentality.
Alternates
Honestly, that's pretty much it. How I Met Your Mother, a Christmas cartoon special or football. If none of those appeal to you, catch up on your Netflix queue. Read a book. Maybe reconnect with the family members and friends you've been neglecting in favor of television. As blasphemous as this might be coming from a TV blogger, sometimes fate just seems to be telling us to take a night off.