Remote Control: What to Watch on Nov. 16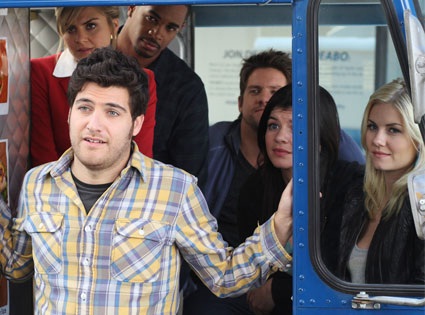 Wednesday, Nov. 16
Top Tier
Happy Endings
9:30 p.m. on ABC
"The Code War"
Television's secret treasure chest of comedy always fares well when it delves into its characters' colorful pasts. Tonight promises to continue the pattern, when openly gay Max's old high school girlfriend comes into town and meets all of his friends for the first time…stirring up a good deal of trouble. Meanwhile, the powerful comedic team of married couple Brad and Jane get into one of their many hilarious wars when Jane finds out about Brad's "work wife." Plus, look out for the Cougar Town cameo!
Up All Night
8 p.m. on NBC
"Hiring and Firing"
Guest star Molly Shannon is more than enough reason to watch Up All Night, as if the already surprisingly funny comedy wasn't doing enough to keep us tuned in already. Reagan has got a few troubles on her plate when she is overcome with the responsibility of firing her incompetant new assistant (Shannon) and finding a babysitter with her husband Chris.
9 p.m. on ABC
"After the Fire"
We caught a glimpse of this upcoming Modern Family last week, and it's got all of the ingredients of a good MF episode: an overwhelmed (but somehow still upbeat) Phil, a grumpy Jay, a high-strung Mitchell…the series may not be up to par lately, but we always get some good fun out of the Pritchett/Dunphy/Delgado/Cam clan.
Alternates
8 p.m. on Fox
It's down to the final ten performers. Even if you haven't been watching up until this point, you've got to admit that this is where the excitement comes in.
10 p.m. on ABC
"Treachery"
Everyone's secret guilty pleasure amps up the thrill when Victoria is pushed further away from her family, and Lydia's failing memory causes harm to those around her.
10 p.m. on Comedy Central
"The Poor Kid"
I'm not the world's biggest South Park fan, but seeing as tonight is the finale of the show's pretty eventful fifteenth season, I'd say that catching this episode wouldn't be a bad idea. After all, it's a Kenny-centric episode (he gets put into foster care), and how many of those have we seen lately?