Remote Controlled: Brutal Bikers and Nerds That Make Us Laugh
Let's face it, the next best thing to gorging on Thanksgiving leftovers is doing it while plopped in front of the TV. Need a show to watch while stuffing your face? Here are five that will surely have you reaching for second helpings.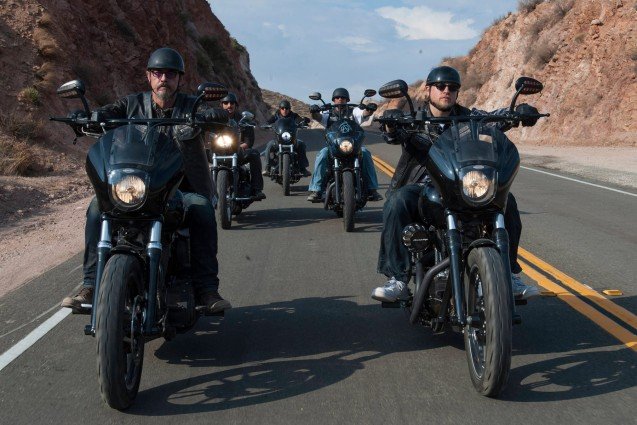 FX
Sons of Anarchy
Well, fans of FX's widely popular pseudo-Shakespearean biker drama are currently mourning the fact that after six long seasons, the show's chief evil dude Clay Morrow (Ron Perlman) is now dead. What's next for the boys of SAMCRO? I guess you'll just have to watch. The second to last episode of Sons of Anarchy airs tonight at 7 PM ET on FX.
Chicago Fire
Why should you be watching Chicago Fire, NBC's gritty action-drama about a crew of heavily-accented firefighters battling blazes in Obama's adopted hometown? Put it this way, when the glut of current network dramas have all seemed to soften after season one, here's a show that continues to set the bar high. Chicago Fire  airs Tuesdays at 10PM ET on NBC.
The Big Bang Theory
First they landed their very own successful movie franchise, and now nerds are the stars of TV's most popular sitcom. That's right, for seven hugely successful seasons and counting, Sheldon, Leonard, Penny and the gang have been entertaining viewers with their hilarious views on love, life and most importantly, Mr. Spock. A new episode of The Big Bang Theory  airs Thursday, December 5 at 8 PM ET on CBS.
Bonnie & Clyde
Emile Hirsch stars in this two-part TV movie about the lives (and deaths) of two of the most notorious criminals in American history. By now the story of Clyde Barrow and Bonnie Parker is well known, having been told in countless books, movies, TV shows, and songs (seriously, Serge Gainsbourg and Brigitte Bardot's "Bonnie and Clyde" is just the coolest song ever). Nonetheless, it will still be interesting to see what the History Channel's take on it is, seeing that the network has gone above and beyond to promote it. Part one of Bonnie & Clyde  airs this Sunday at 8 PM ET.
Restaurant: Impossible
In what's sure to be one of the more heartwarming episodes of the season, the crew of Restaurant: Impossible  spends a couple days renovating two Jersey Shore locations that were devastated by last year's Hurricane Sandy. Thanksgiving may be over, but at least the holiday spirit is still alive on TV Land. Restaurant: Impossible  airs this Sunday at 7 PM ET on the Food Network.