Remote Controlled: Funny Fatties and Rihanna Brings the 'Style'
Halloween is over and Thanksgiving is less than a month away, meaning you have three solid weeks to catch up on TV before the holiday madness officially sets in. In the meantime, here are five insanely watchable shows you need to be DVRing.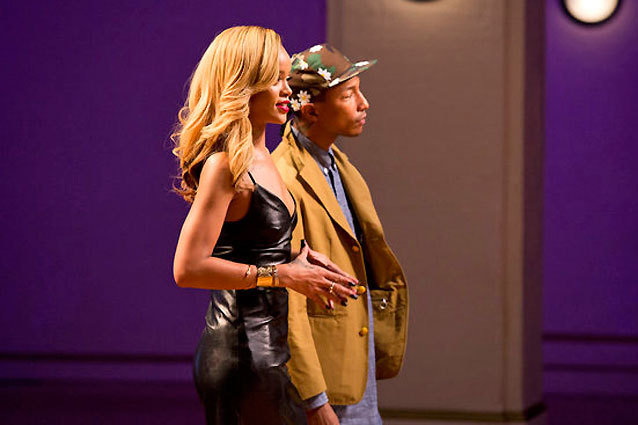 2013 Bravo Media, LLC
Styled to Rock
I know what you're thinking:  she's a multi-platinum selling pop star, so why on Earth does Rihanna need a fashion show on Bravo? Well, it turns RiRi is just as comfortable in front of the camera – judging the hottest outfits from up-and-coming designers a la Project Runway – as she is singing before a crowd of 30,000. Of course it always helps when you have hip-hop super-producer Pharell Williams filling in as a fashion mentor. Maybe just a little. A new episode of Styled to Rock  airs Wednesday, November 6 at 1PM ET on Bravo.
Baggage Battles
If you're a frequent traveler, odds are you've had some kind of issue with baggage claim, only to leave the airport like a slightly less manic version of Charles Bronson in Death Wish. But did you know that there are actual people in the world that bid on your lost items at auction? Apparently the good folks over at Travel Channel did, which is why they've based a new reality show on them called Baggage Battles. People fighting over the lost goods of others – it doesn't get more American than that! Baggage Battles airs Tuesdays at 6PM ET on the Travel Channel.
Real Husbands of Hollywood
Chris Rock guest stars on Kevin Hart's hilarious faux reality show, which follows several real-life Hollywood househusbands – Nick Cannon among them, although first season co-star Robin Thicke has bailed on the show – on their desperate attempts to climb Hollywood's social ladder. Hey, if the ladies of New Beverly County  can show what human beings look like at their lowest, most despicable form – and be successful at it – why can't a few funny dudes poke fun at them? Real Husbands of Hollywood  airs Tuesday at 7PM ET on BET.
Guy's Big Bite
Guy Fieri may be the most annoying TV chef on the planet, but man, that dude sure knows how to whip up some of the most visually appealing meals on the tube. This week the platinum-haired cook makes grilled skirt steak with peri-peri sauce topped with champagne vinaigrette. Sound delicious? Guy's Big Bite  airs Sunday at 10:30 AM ET on the Food Network.
Mike & Molly
A show about two overweight people living in one of the thickest parts of the country: Chicago. Now why didn't I think of that? Of course, before Melissa McCarthy catapulted to superstardom with her turn as a shoot-from-the-hip sister-in-law in Bridesmaids, she was a loveable teacher struggling with her weight on CBS's Mike & Molly. The show kicks off its fourth season tonight at 9 PM ET on CBS, and the promos are making a point of calling it "The New Mike & Molly," so expect some changes.