Revealing 'Mad Men' Poster Teases Season 5 Drama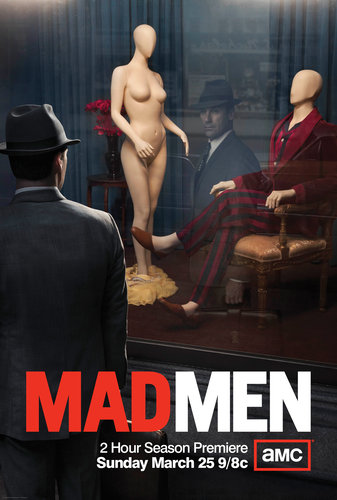 There are few things that hold more excitement for TV viewers than the long-awaited return of AMC's Mad Men, and with the release of the Season Five key art that excitement only has one place to go: to the moon. 
For the past few weeks an image of a falling ad man, stolen from the iconic opening credits, was the only visual indication of Season Five — the premiere of which was delayed about seven months thanks to budget and contract disputes. Now, with this new poster, we not only get a look at our damaged hero, Don Draper (
Jon Hamm
), but we get a plethora of other factors to mull over. He looks in on a scene of a man and a woman at home as acted out by mannequins: the man is relaxed in slippers and a robe Hugh Hefner would envy while the wife character stands almost presenting her nakedness with her dress puddled around her ankles. This could just be a riff on Draper's effect on women, but showrunner and creator
Matthew Weiner
had a few prescient comments for the
New York Times
regarding the revealing image.
Weiner says the image is "a nonverbal representation of where my head is at and where the show will be," adding that "by the end of the season, I guarantee you'll know what it's about." So, the almost surreal image not only amps up hungry viewers for the upcoming two-hour season premiere on March 25 — a first for Mad Men — but it also serves up some food for thought. The enigmatic image gives us clues to decipher, but has Don Draper taught us enough about the advertising world for us to unwrap the meaning of this ad? Or are we doomed to suffer that insatiable sense of curiosity that Mad Men piques so well?