'Revenge' Gives TV Another Carl, But Does the Name Have a Bad Pop Culture Rep?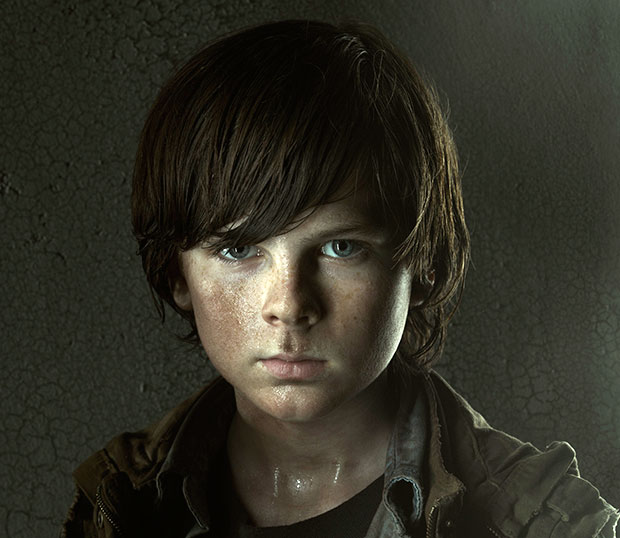 TV has one more Carl. ABC's Revenge saw the birth of a brand new baby boy, son of the woman pretending to be Amanda Clarke and her baby-daddy, Jack Porter, and the glowing mother named her bundle of joy (the one that has dictated much of the direction of the season thus far)… (drumroll please)… Carl.
Now, revealing the tyke's name the same night that The Walking Dead aired a new episode naturally begs some comparison. TV's other noteworthy Carl is, of course, Rick Grimes' ever-missing son on the AMC series. This season, Chandler Riggs' controversial character has put his mischievousness to good use (even killing a handful of zombies himself), but considering the fans' great anger over the Carl of Seasons 1 and 2 it makes us wonder why another Sunday night show would be so quick to christen another child with the same name. To solve the mystery, we look to a few other notable pop culture Carls to see what's in a name:
Carl Winslow on Family Matters
He was Steve Urkel's nemesis and sometimes father figure on Family Matters and a Chicago Police officer plagued by a love of donuts and a lack of physical fitness. The problem was that his constant exasperation was sometimes more obnoxious than Urkel himself.
Carl Points: -3
Carl Grimes on The Walking Dead
I've already defended little Carl, whose wayward ways are really his ineffective mother's fault (let's be honest, Lori is way worse than her son), but the buzz is bad. Season 3's Carl 2.0 is working on turning that around, but it's a tough sell. He's still got some improving to do.
Carl Points: -5
Carl Carlson on The Simpsons
Carl, of the duo Lenny and Carl (Homer's friends from the Nuclear Power Plant and Moe's Tavern), is a pretty cool dude. He's an easy-going science wiz and also (apparently) one of the most attractive men in Springfield. Add to that his surprise Icelandic heritage, an element which rears its head sporadically (and often hilariously) and you've got a pretty cool Carl. Plus, he's voiced by Hank Azaria, which gives him four automatic bonus points.
Carl Points: 6
Carl Brutananadilewski on Aqua Something You Know Whatever (the artist formerly known as Aqua Teen Hunger Force)
Carl is kind of the worst, but that's what makes him hilarious. He's got a beer belly, a bald head, and his favorite outfit consists of blue sweatpants, flip flops, a white tank top, and a gold chain. He has hair on the bottom of his feet and is obsessed with… pleasing himself. This is not a good Carl. But, he does host his own totally awesome sports web series Carl's Stone Cold Lock of the Century of the Week, which evens things out a bit.
Carl Points: -1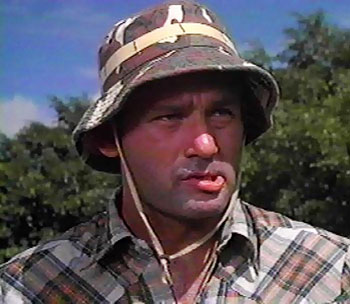 Carl Spackler in Caddy Shack
Bill Murray's classic gopher-exterminator is already the best Carl on this list because he's played by Bill Murray, but, if that's not enough, let us recall how he helps the good guys win in the end by trying to nab the wiley gopher with a series of plastic explosives whose detonation knocks a golf ball into the hole, giving our hero the push he needs to win. And if that's not enough, he's got the power of infinite quotability. Here, we've got ourselves a quality Carl.
Carl Points: 8
Carl Hanratty in Catch Me If You Can
FBI Agent Carl Hanratty spends most of the film chasing down the charismatic Frank Abignale Jr. and dangit if he isn't a pain in his rear. But as the film progresses, we see that Frank and Carl have a mutual respect for one another, and an unorthodox, but real friendship. Plus, he's played by the impossible-to-abhor Tom Hanks.
Carl Points: 5
Carl Bernstein in All The President's Men (and, you know, real life)
This all-American hero helped uncover one of the greatest scandals in our nation's history as the scrappy sidekick to Bob Woodward's sleek, ivy league-educated reporter. And when Dustin Hoffman brought this reporter to the big screen, he went from legend to screen heartthrob (for some of us, OK?).
Carl Points: 7
Carl Point Total: 17
Well, newest pop culture Carl, it would seem that you're in better company than you might have thought. Perhaps your mother, while likely a little loopy after being in a coma after getting pushed off a balcony at her baby shower (that always happens!), wasn't all that crazy after all. Welcome to the world, baby Carl. Just refrain from teasing any blood-thirsty zombies, growing a beer belly, or being generally stereotypical and obnoxious. Deal?
Follow Kelsea on Twitter @KelseaStahler
[Photo Credits: AMC; Orion Pictures]
More:
'Revenge' Recap: Get Down To The Heart of the Matter
From Our Partners:

Tom Cruise's $50m Defamation Suit Over Suri Abandonment Claim: What Are His Chances of Winning? (INSIDE STORY)
(Celebuzz)

Levi Johnston Marries Sunny Ogelsby in Alaska
(Celebuzz)