'Revenge' Recap: So [SPOILER] Finally Dies. Do We Care?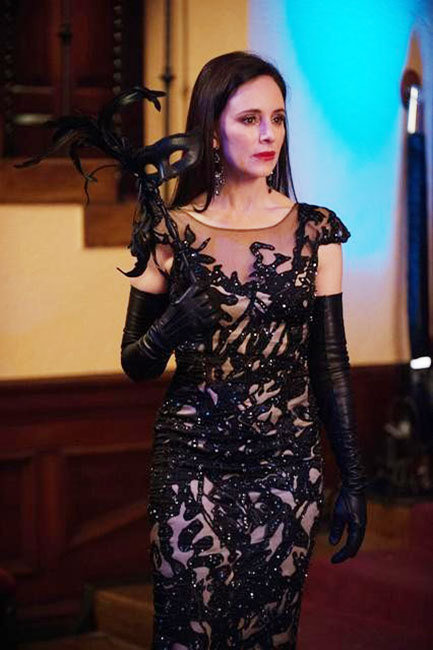 The opening moments of "Masquerade," Revenge's last episode before going on a monthlong hiatus that will rob it of whatever uptick of viewers it's achieved the past couple weeks hearkened back to the very best thing about Season 2: The Gift of Revenge. You know what I'm talking about. Victoria's fancy schmancy party invitations, wrapped in boxes with red ribbon, was the kind of thing that would have fit in perfectly with ABC's holiday season experiment of using the show's actors to promote products from their sponsors. It was the most DVR-proof form of advertising we've seen yet…and aired at a time we still thought Revenge might get back on track. Yeah, so much for that.
It's a shame, really, because Victoria's Halloween masquerade party should have been as icily creepy, as full of malice and suspense, as the orgy masquerade in Eyes Wide Shut. But, as with everything on this show lately, it was inert. Even with a six-week jump through time to kickstart Revenge's sagging plotting.
"Masquerade" opened with Nolan going full John Nash on us. You know what I mean: writing equations on the glass panels of his office window. Six weeks had passed since he last saw Padma getting spirited into the back of a van in the clutches of Trask. Six weeks also since Daniel broke things off with Emily after receiving bullets in the mail, along with a picture of the two of them. And most (or least) importantly, it had been six weeks since Emily had first discovered that Victoria had given birth to a secret son when she was 16. Why she thinks this revelation will do more damage to her than her complicity in terrorism or the many other crimes she's been involved in is hard to fathom. It's really not any more shocking than finding out that Charlotte was David Clarke's child, not Conrad's. So Emily decided to send back an RSVP in response to Victoria's masquerade party invitation with the postmark Oct. 21, 1973 and the signature, "From Your Loving Son." Victoria seemed genuinely unsettled by that, for reasons that would be made only slightly more clear later on in the episode.
'Revenge' Recap: Ultimate Victory or Ultimate Defeat?
Victoria was also unsettled by how Emily tried to invite herself to the masquerade ball. "It may be Halloween, but some ghosts are better left outside," she told Emily about why she hadn't sent her an invitation. That's one of the better bitch-isms we've gotten from her in quite awhile. So Emily sent her 11 black roses with a card indicating that her son would be wearing the 12th, to spook her even more.
And the only reason Emily didn't get an invite from Daniel was because he'd broken off their renewed relationship after getting those bullets in the mail that were seemingly meant for the two of them. Guess who sent those? Victoria, of course. When Daniel confronted Trask about the treat, Trask replied, "We don't threaten in two dimensions, we act in three." Daniel knew immediately it had to have been his mother who sent those slugs. Guess who just got a re-invite to the masquerade ball!
Jack had helped Conrad close in on his opponent in the governor's race by 4%. If Joe the Plumber himself had given John McCain that much of a bounce, 2008 might have played out differently. But as much of an electoral whiz as Jack had revealed himself to be, he was still plotting Conrad's inevitable downfall. First up, he'd sabotage his town hall debate. And by town hall debate, we mean a highly-controlled press conference at the Stowaway. It was the only thing that could shake Conrad's Clinton-esque cool. I also loved that snarky campaign adviser who said, "And once you've tapped your inner Clinton you tap nothing more, am I right, Miss Davenport?"
When the Stowaway campaign event happened, an ordinary joe who had been pre-screened to ask a question, went off script, saying he was "a friend of Amanda Porter's" and was wondering what Conrad had done to call for an investigation into the jury tampering of David Clarke's trial. Conrad was flummoxed but immediately pivoted and said that he wanted to reopen the case and call for a posthumous presidential pardon of Clarke if necessary. Not exactly what the Republican candidate's base wanted to hear.
'Revenge' Recap: Return of the Evil Foster Brother
It was time for the masquerade ball to begin. As you could imagine, each character's carnivalesque mask corresponded to their personality. Nolan's was like the mask worn by Jim Carrey's Riddler in Batman Forever—because he's witty! Ashley had a cat mask. Conrad's was as florid and decadent as he is. Emily's dress matched her feathery mask to give a white swan look. And of course Victoria was sporting the black swan look. She had already invited another girl there to lure Daniel, and was more than dismayed to see that her son had invited Emily behind her back. Conrad made it clear to Ashley that she was one cat who didn't have nine lives—and he'd be jettisoning her as soon as he won the governorship. He did not appreciate that she let that town hall participant ask that David Clarke question, spawning frantic phone calls to his doners to let him know that David Clarke won't be a first-term priority. Daniel meanwhile handed those two bullets back to Victoria and said she'd have one for each of her two faces. So clever!
The real action, though, was taking place away from the party. Aidan had lured Trask into a trap and forced the Initiative goon at gunpoint to lead him to where they were holding Padma. They got to the warehouse where she was being held, and Padma was there laying on a table, stiff as a board. Considering how stiff Dilshad Vadseria's acting always is, I didn't really detect much unusual about this at first. Except that it turns out, she was really dead. The Initiative had killed her and her father that morning. Aidan was too late, once again. So he snapped Trask's neck in payback. He showed up to the party and gave Nolan the bad news. His beloved was gone, to his grief and our rejoicing.
Nolan totally flipped out and had a full-on meltdown in the middle of the fete. Wearing a mask made it all the more surreal. He said Padma's death was on him, but also on Emily. That makes him, by our count, the third man to say just that to Emily, after Aidan and Jack. Little did he know that Victoria was having a meltdown of her own, thinking that any dark-haired fortysomething guy there might be her son. She collapsed.
'Revenge' Recap: Return of the Evil Foster Brother
Conrad interpreted her collapse to mean, rightly, that she had not terminated her pregnancy after all, but that this other son could pop up Whac-a-Mole style at any time. She denied it, but ended up meeting with a nun to whom she had obviously given up her son for adoption decades ago. The nun said her son was alive and well and had even come to visit her looking for his birth mother years ago. She protected her identity and told the guy nothing. Victoria seemed pleased, then left. Then Emily showed up and told the sister that she was pregnant and had nowhere else to go and needed help. Look who just decided to con a nun to find out dirt on Victoria.
Do any of you have an idea where this is going? And is anyone actually said that Padma died?
Follow Christian Blauvelt on Twitter @Ctblauvelt
[Photo Credit: ABC/ Colleen Hayes]
---
You Might Also Like:


Topanga's Revealing Lingerie Shoot: Hello '90s!


13 Most WTF Fan Tributes