'Revenge' Recap: Victoria In the Crosshairs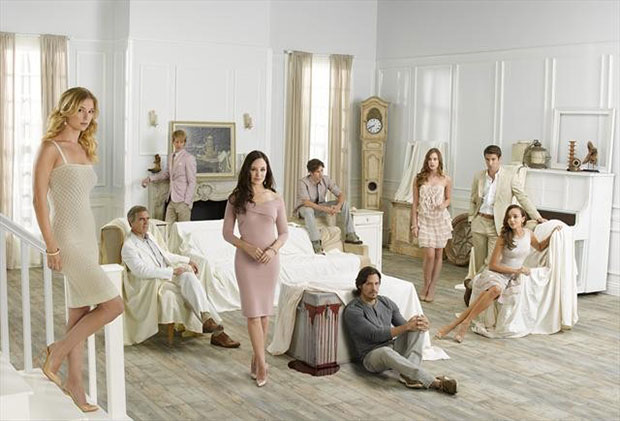 Welcome back to the elaborate hedge maze formerly known as Revenge. It's a hedge maze increasingly thorny and from which the story of our nighttime soap seems less and less likely to emerge without a few scrapes.
"Collusion" began with Emily seeing Aiden on the beach. Her old boyfriend has been a bit lost ever since finding out from the Initiative's Helen Crowley that his sister, Colleen, is still alive. And he's been even more lost ever after seeing Emily kiss Daniel. Wasn't Aiden the one who was supposed to prevent her from getting emotionally compromised? Physician, heal thyself! She tells him that Daniel has invited her to lunch at a new oyster bar. "Oysters," says Aiden. "Subtle." Daniel just happened to forget to mention to Emily that said oyster bar is located in Los Angeles, because he wants to invite her to accompany him as he bids to acquire the disaster-relief organization Stonehaven United.
Helen Crowley, however, thinks that Aiden is working with Victoria to undermine Daniel's stewardship of Grayson Global. He tells her he's working alone. So she shows him new video of Colleen on her phone. What does he have to do to get his sister back? "Kill Victoria Grayson," Helen says. "You have 24 hours."
If Daniel were to acquire Stonehaven, his cache among the Grayson Global investors would raise significantly. So that's why Victoria flies out to Los Angeles herself…to help Daniel's arch-rival Jason Prosser win the bid. If Daniel were forced out of the company, the Initiative would lose interest in him, and he'd be safe. Conrad signs off on this idea. But the would-be politician does introduce his wife to his new communications director before she leaves: Ashley. This prompts one of the more Dynasty-worthy exchanges Revenge has given us in awhile. Victoria says to Ashley, "Well, it seems that the cat has dragged itself back in. Don't you know that politicians tend to keep their concubines in the closet?" To which Ashley responds, "Spoken like a woman that no one is sleeping with."
Victoria knows that Jason Prosser has a thing for her. Not only is he one of Conrad and Daniel's biggest rivals in business, he wants to steal away their wife and mother as well. She knows that she might be able to get him to bid on Stonehaven just to impress her.
Unfortunately, her swift departure meant leaving Charlotte in the lurch for her 18th birthday. No trip to the ballet this year! Poor Charlotte. She's abandoned on her birthday, her boyfriend works at a bar that's become a mob front, her boyfriend's brother is fighting drug charges, and her sister Amanda is caught in the middle of it. Funny. Don't you think either of them should have mentioned by now how odd it is that both the Clarke sisters should be drawn to the Porter brothers?
NEXT: Daniel invites Emily to feast on oysters with him. But in the least sexual way possible.Since Conrad got Jack released from prison last week, Fauxmanda decides to open up to him about what's really going on. She reveals that the real killer of the Ryan brothers' father is Matt Duncan, not Daddy Porter. She then gives Charlotte a handprint of her baby, Carl, for her "sister's" birthday. Charlotte's all down on her family once again, so Amanda cheers her up by saying she's more a Clarke than a Grayson really. Because being the daughter of a notorious terrorist is better than being a part of the familial looney-bin that is the Graysons.
Daniel reveals that his idea of lunch is in fact a six-hour flight to Los Angeles! All the better for Emily to help him acquire Stonehaven. She agrees, but no sooner does she check in to her LA hotel, who should call from the lobby but Aiden. He's now seriously gunning for Victoria after he got that directive from Helen Crowley, and basically that means he and Emily are working at cross purposes. So Emily tells Aiden to get to Prosser and dissuade him from pursuing Stonehaven. Of course, if he just kills Victoria, that would probably solve that little problem too. But, he does as his girlfriend asks and tells Prosser that a friend of his at the Department of Justice said Donna Carlyle, the daughter of Stonehaven's founder, was looking to unload the company in advance of a lawsuit. A lawsuit that the lucky winner of the bid would then inherit. But will his fear of litigation overcome his horniness? No! Victoria shows up at Prosser's hotel room and says that the people who went after David Clarke are after her son, all but begging him to bid on Stonehaven. To quote Rock Hudson's Rex in Pillow Talk: "Ma'am, that is a direct question. It deserves a direct answer." And Prosser's direct answer to her request? "All I want is you." Little did either of them know, that right at that moment, Aiden had Victoria in his sniper-rifle sights, ready to pull the trigger. Except he hesitated, Prosser pulled the curtains, because Victoria's reply to Prosser? "Do what I ask, and I'm yours." Prosser's back in the game and the saddle, yo!
Of course, Daniel isn't going to give up his own bid without a fight. So he gets Nolan to dig up a little dirt on Prosser. Emily tells him to do it, and she'll buy him a house for his efforts. (Yeah—Boring Subplot Alert!—Nolan's trying to find a new 50,000 sq. ft. Hamptons home. Getting assaulted and tied up by white-haired assassins can really make you want to leave your current digs.) So he agreed. Meanwhile, Padma's been looking for the carrion program in NolCorp. She came up with an excuse for being in his office—that she was going to hide a new set of "Avatar" keys (because he's a geek!) for his house and see if he could find them—to search for the program. But, remember, she's dealing with Whale-Cam Guy, who knows all about making excuses for covert surveillance.
So Nolan's talking to Padma and just happens to mention that Marko, who told him Padma was bad news, wanted him to use an old computer program. Padma's like, "Oh yeah! Carrion!" Now, mind you, Nolan had never mentioned it by name. You'd think an undercover agent working for a terrorist organization as powerful as the Initiative wouldn't be so stupid, right? Wrong! Nolan reveals Padma's villainy to Emily and says, "Carrion has the ability to knock Manhattan off the power grid in less than a millisecond." So…what? It's the GoldenEye device? He developed it for Gen. Ouromov, the corrupt head of Russia's space program, in the early '90s? What would be the point of developing such a code? I just really hope that Nolan will shortly make a grand, Bond-villainesque statement that his plan in his youth was to bring about "economic chaos in the West." Of course, Nolan only keeps the final sequence of Carrion in his head, so the Initiative won't be getting it anytime soon. "Play her like she's playing you," Emily says, referring to Padma.
NEXT: Charlotte finally gets her birthday party. It's pretty bad. But at least Tyler isn't there brandishing a gun. Oh, and Aiden gets some really bad news about Colleen.Oh yeah, there's the whole Montauk mob scene subplot that I know you don't really care about. Jack tells Matt Duncan that Joe Ryan's murder is going to be pinned on him, implying that Matt should do the right thing, come forward and take responsibility for his crime with the Ryan brothers. Maybe then they'd finally go away, the Porter boys could be rid of them, and, more importantly, we could be rid of this lousy storyline. So Duncan does the right thing, and Conrad shows up at the Stowaway. In addition to his drink order — "I want your oldest Scotch. Neat." — he brought Matt Duncan's signed confession to the Ryans and offered Ken $50,000 for their swift departure. Ken takes the offer. Only problem is, that means the Porters are now business partners with Conrad Grayson! And. Nate Ryan didn't exactly want to go along with his brother Ken and sell his share. Nate wants to buy Ken's share back from Conrad, and says to the would-be politician that he could have roulette wheels spinning in months. We all know how communities love the revenue-raising power of roulette wheels. Call this "Montauk: Or How I Learned to Stop Worrying and Love Legalized Gambling."
Anyway, Nolan digs up the dirt on Prosser for Daniel, and, oh, it turns out Prosser colluded to inflate gas and oil prices after 9/11. Naughty boy! So Donna Carlyle was definitely not going to accept his bid. She would be going with Daniel instead. The Grayson scion knew there was only one way to celebrate: a trip to the Azores to renew his romance with Emily. They may be friends, but they're not resuming their romance just yet, Emily says. Daniel tries to put on this whole thing like "I was using you as much as you were using me," but it was all just macho bulls**t.
In his spare time, however, Nolan's been tracking Emily's other boyfriend, and saw on Aiden's phone a video of Colleen being forced to shoot up. That makes Emily realize he's been tasked to kill Victoria. A life for a life and all that jazz. Aiden has Victoria in his crosshairs a second time, except this time Emily appears and asks, "Why didn't you tell me?" She wants him to find his sister on their own terms, not the Initiative's, and hey, they should be happy that Daniel landed Stonehaven. Aiden relents. Nolan also decided to take Emily's advice and play Padma. He invites her in his office to look for his platinum card—the perfect opportunity for her to steal the Carrion Code! But when she sticks it into her iPad, it displays "Welcome to Carrion!" Now she knows that Nolan's onto her. But how dangerous will she be?
So everyone gets back to Home Sweet Hamptons for Charlotte's belated birthday party. "We're celebrating you, sweetheart, not the Gregorian calendar," Conrad snarked. Fair enough. Also fair then? Charlotte's changing her name to Charlotte Clarke. Jaws are slacked.
The only thing more shocking to end Emily's night was to find a distraught Aiden. He showed her another video the Initiative had left him: this of Colleen supposedly dying. And Aiden was none to happy that Emily's advice had led to this. "If she's dead, this is on you," he said.
Damn. A lot happened in this episode. Do you think Revenge is getting back on track? Or is the show about as sunk now as we know the Amanda is going to be?
Follow Christian Blauvelt on Twitter @Ctblauvelt
[Photo Credit: ABC]
More:
'Revenge' Recap: Revengers Assemble!
'Revenge' Recap: Absolute Power Corrupts Absolutely

Craziest Celebrity Swimsuits (Celebuzz)