'Revenge' Cast Tease Dark Times, Lost Love, and Violence Ahead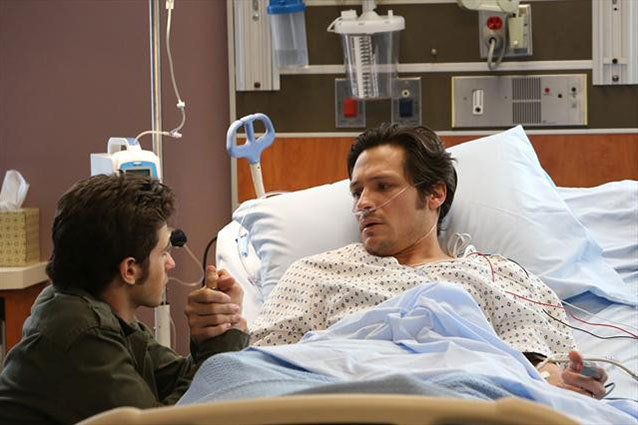 It's been a couple of weeks since Amanda (Margarita Levieva) met her shocking end on Revenge, and when the show returns with tonight's new episode, "Retribution," we'll see our favorite Hamptonites grieving in their own way. While we already know that her widower Jack (Nick Wechsler) is out for blood, he isn't the only one facing a tough, dark path in the wake of Amanda's death. 
Ever since Charlotte (Christa B. Allen) found out she was David Clarke's daughter and the half-sister of Amanda, she's enjoyed a special bond with her "sister."  So besides Jack, Charlotte is affected the most by Amanda's death. "We saw Charlotte lose her mind a bit in Season 1, and I think we might be heading a bit in that direction again," Allen says. "She's losing it. It's going to manifest itself in a bit of violence." 
And of course Charlotte's mental descent is going to affect her boyfriend Declan (Connor Paolo), who already has enough on his plate with trying to help his brother. "Declan had really grown to care about Amanda," Paolo says. "She was the mother of his nephew. Things come to light through their own fractured way about who Jack and Declan think is responsible for what's happened, [and that] changes things as well." Could they possibly find out that Conrad Grayson (Henry Czerny) gave the orders to kill Amanda?
While that remains a mystery for now, Czerny was eager to reveal how Amanda's death will affect Revenge as a whole. "It gets better. It gets deeper," Czerny says. "There is a deeper hurt with Amanda's passing, and the stuff that comes out of that hurt is intriguing."
RELATED: 'Revenge' Season 2 Spoilers: 'S*** Is Going Down,' Promises Creator Mike Kelley
One result of Amanda's death is that it makes Emily (Emily VanCamp) focus once again on taking down the Graysons. "Amanda's death [has] given Emily a focus to drive through to the end now with a clear goal," says Barry Sloane [Aiden Mathis]. "So it's also given Aiden a clear goal, of 'Well, I lost my sister, I'm going to help you not lose your goal.' All of his energies are going towards keeping Emily happy, and making sure that this works."
But what does that mean for Emily and Aiden as a couple? "We have to see how he fits within what she needs him to do in the next few weeks," Sloane says. "Obviously the key thing is that Emily and Aiden will work together to bring down Daniel, and do whatever it takes." 
That's right, instead of focusing on Conrad and Victoria (Madeleine Stowe), Emily's Revengenda is all about Daniel (Josh Bowman) now that he has fully committed to being a Grayson. And after seeing his mother kill Helen Crawley, he is no longer in the dark about his family's actions. "He's been brought into the world more," Bowman says. "Pulling the wool from your eyes and actually seeing death, actually seeing what life is all about in this society that he's grown up with… I think he's brought the chips to the poker game and he's playing the game now. The apple doesn't fall far from the tree. He's picked up the apple and taken a big bite out of it."
So say goodbye to any warm, fuzzy feelings that Emily might once have had for Daniel. "Any love that she had for Daniel in the first season has just vaporized into thin air," Bowman says. "She's just hell bent on revenge, and uses me as an access key to carry out her mission. She's definitely a lot more calculated than she was in the first season. She's a lot more ruthless."
With the stakes the highest they've ever been, and Emily more ruthless than ever, is there any chance for a happy ending for anyone? Are they all doomed? Stowe seems to think so.
"I [want to have] have some kind of suicide because Emily has driven [Victoria] so insane," she says. "And Emily is sitting in my chair in Grayson manor, and she's turned into Victoria." We could definitely see that happening!
Revenge returns Sunday night at 9 PM ET/PT on ABC.
Follow Sydney on Twitter: @SydneyBucksbaum
[Photo Credit: Danny Feld/ABC]
---
From Our Partners:


Kim Kardashian's Maternity Style: So Wrong? (Vh1)


60 Celebrity Bikini Bodies: Guess Who! (Celebuzz)