'Revenge' Season 2: Charlotte is Back, Daniel Has a New Lady… But Where is Madeline Stowe?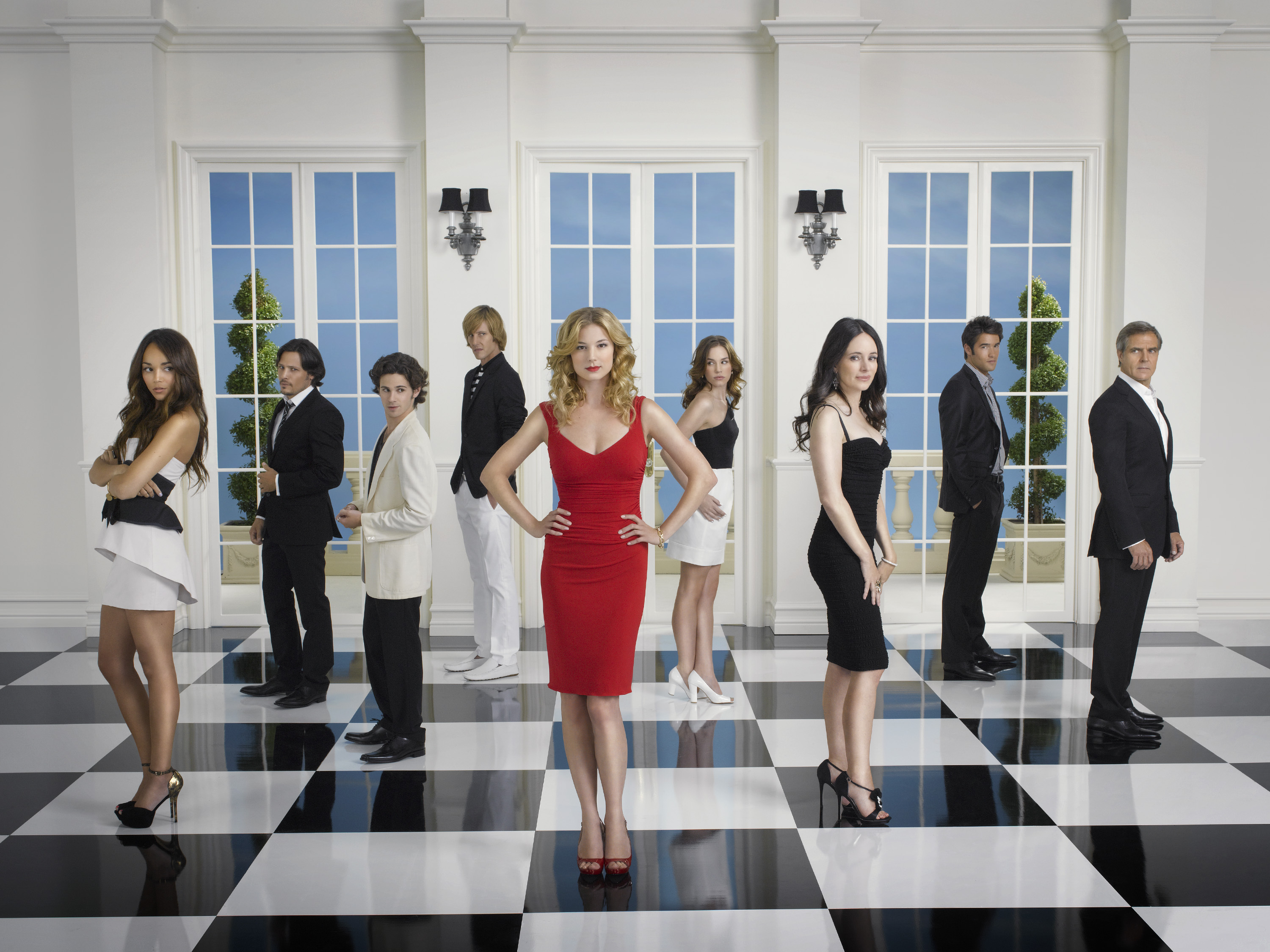 As actor Gabriel Mann (Nolan Ross) said during Hollywood.com's visit to Grayson Manor (err, the Revenge set) on Thursday, "It's summertime in the Hamptons again, and everyone is returning." Everyone, that is, except for Victoria Grayson (Madeline Stowe). Revenge is back in production and looks to be better than ever, but it was hard not to notice that one of last season's potential casualties, Charlotte (Christa B. Allen), was on set, and Stowe was not.
"We don't know much at this point," Mann said. "I'm friends with Madeline, but she's not saying anything. She hasn't been around; we haven't seen her. That's about as much as we know at this point. It will definitely change the dynamic of the show if she isn't actively involved in the Revenge-y things going on. But [creator] Mike Kelley is the mayor of Flashback City."
Say it ain't so! Something tells us the matriarch of the Grayson family will somehow survive the season finale's fiery plane crash, but no one's talking. And though Allen wouldn't tell us exactly how Charlotte will fare after her suicide attempt, the fact that she alluded to some kind of future for her character makes it pretty obvious that Charlotte will survive. "Well, I'm around," she teased. "It could be a coma." Thankfully, people can come out of comas, and Allen said that Charlotte will have some serious Grayson family problems to tackle. "She's still struggles a bit," Allen said. "But [her plot] spirals into her family, and how they treat her. I think she's going to end up on a good path, but she's going to have more obstacles to deal with beyond her own demons."
Like, maybe, her newly evil brother? Josh Bowman (Daniel) assured us that on the season 2 premiere, which picks up a couple of months after the finale, Daniel will still be "Drinking the Grayson Kool-Aid. His whole compass is a bit f***ed, to be honest."
Bowman also said that the premiere will largely resemble the show's pilot, showing a future event and then a flashback to present day, and that Daniel will be Emily-less. In fact, there may be room for someone new in his life —Ashley (Ashley Madekwe). "That's what [the producers] are looking at right now for the first part of the season," he said. "Whatever they've got going on."
Thankfully, Emily (Emily Van Camp) — who has now lost both Daniel and Jack (Nick Wechsler) — will have someone new to play with as well. When asked about Daniel's long-lost paternal half-brother, who will make his debut later this season, Bowman replied, "I think first they're going to be bringing the love interest, or whatever the guy is to Emily's character." No word on who that is, but it certainly won't be Jack. "[Jack] has not been in communication with [Emily], at all, since the night that she came and found out that Amanda was back and preggers," Wechsler said. "They're distant, but of course now the floodgates have opened in his heart. He still feels things for her, but now he's bound to obligation."
Margarita Levieva, who plays fake-Amanda, was sporting an 8-months-pregnant belly on set. She said that her strong feelings for Emily will always be there, but now Amanda has developed genuine feelings for the ever-beleagured Jack. "The connection that I have to Jack certainly makes me want to be there, and be a part of his life, and make a stable family for myself," she said. Still, she might have to work for it. "I don't know if Jack 100 percent believes me. I'm going to have to work a bit for his trust."
She'll also have to deal with Nolan, who Mann says will confront Jack about the pregnancy "fairly quickly." But don't necessarily expect their budding bromance to continue. "As much as Nolan loves his friendship with Jack, there were quite a few things that happened last year as a result of Nolan and Emily's interactions that really did some damage to the guy," Mann said. "I just don't think he's got the capacity, Nolan, to figure out what it really means to be a real friend."
But we will finally see what Nolan looks like as a boyfriend — when asked about a future love interest, Mann excitedly replied "Yes, yes, yes, yes. [We're] moving forward in the love interest department, [in the] present day. [The love interest] is coming our way very, very quickly."
Revenge will move to Sunday nights on ABC on Sept. 30.
Follow Shaunna on Twitter @HWShaunna
[PHOTO CREDIT: ABC]
MORE:
Finally! ABC Fall 2012 Premiere Dates: 'Revenge,' 'Once Upon a Time,' & More
'Revenge': How Could You Leave Us Like This? 16 Frustrating Unanswered Questions