'Revenge' Season 2 Spoilers: 'S*** is Going Down,' Promises Creator Mike Kelley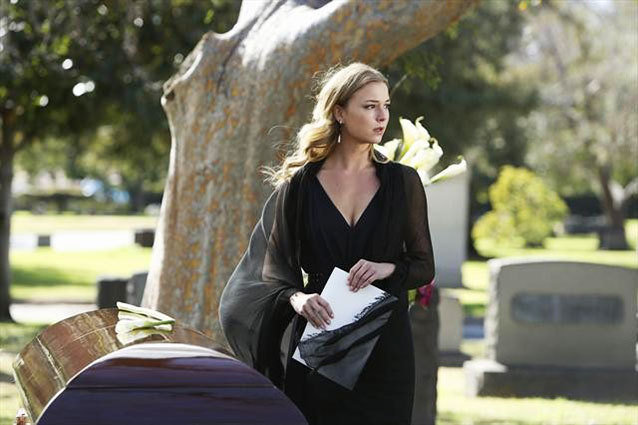 Jack Porter is out for blood. When Revenge returns on Sunday, March 10, the new widower will retreat to a dark place following the death of his wife, Amanda, at the hands of Nate Ryan (and on the orders of Conrad Grayson). Nick Wechsler, who plays the grieving husband, told Hollywood.com at The Academy of Television Arts & Sciences "An Evening With Revenge" panel that Jack's grief will take him down a dark path in the new episode, "Retribution."
"He's f***ing heartbroken," Wechsler says. "And that causes him to go do some dark, adult stuff that he's never considered before — certainly things we've never seen him do before. So he's setting out to set this right… He's going dark. He's wising up and being more active in his own life, because he's always been a more passive participant in his own story. He's starting to set out and do some things and seek information and try to make some bad things happen to bad people."
Creator and exec producer Mike Kelley also confirmed during the event that Amanda's death will definitely change Jack going forward. "In the next episode, Jack is a changed man," Kelley says. "A lot of sh**'s going down and he's going to start punching back." Seems like Jack Porter is out to get some revenge of his own!
RELATED: 'Revenge': Did This Show Just Get Good Again?
As if Emily Thorne (Emily VanCamp) didn't already have enough on her plate at the moment (taking down the Graysons, destroying the Initiative, avenging Amanda's death, etc.), the changes in her soulmate Jack will raise the stakes for her. And VanCamp tells the panel audience that the emotional aspect of the story is what will bring the rest of Season 2 back to the basics of what made Season 1 so great. 
"The [writers are] really trying to refocus the show so it's about the emotional aspects of the characters we love versus introducing all these new people. I think we got lost a little bit in that," VanCamp admits. "Now we have this great opportunity to refocus as we start to dig a little deeper into everyone's past. It's more about emotional twists and turns versus explosive ones, and we're going to find out a lot of things about all the characters."
One character we will learn more about is the Queen of the Hamptons herself, Mrs. Victoria Grayson (Madeleine Stowe). Kelley revealed during the panel that we're about to get a deeper look into what happened after Victoria's mother kicked her to the curb when she was just a young girl. "We will see how Victoria came from basically the streets to how and where she is now," Kelley says. 
And as for that pesky Initiative arc that fans and critics haven't exactly been enjoying this season? You can rest easy, because Josh Bowman, the man behind Daniel Grayson, assures Hollywood.com that we won't have to suffer through it much longer. "The Initiative storyline is going to come to a conclusion, which I think everyone is more or less looking forward to," Bowman says. "We're going to come back to what the first season was about, which is the original cast and and where are they going — why is Emily there? — and you're going to see that over the next few episodes."
RELATED: 'Revenge' Recap: Victoria in the Crosshairs
But what does that mean for Daniel, since he is firmly under the Initiative's thumb as the CEO of Grayson Global? "He's definitely onto the scent of what everyone around him is doing, and he doesn't trust anybody," Bowman says. "He is a lot more ruthless and probably a lot more successful, and with that comes power and with that comes the ego, and that stems from his vulnerability of actually not knowing what the hell is going on."
Romantically, however, things are looking up for Daniel. "You'll see a return to romance with one of two people," Bowman says. "It's going to be a little bit more possessive." Does that mean Daniel is rekindling a romance with Emily or Ashley (Ashley Madekwe)? We're placing our bets on Emily, but not for any real romantic reasons. "Any love that she had for Daniel in the first season, any possible love she had for Daniel has just vaporized into thin air," Bowman says, "and she's just hell bent on revenge now and uses me as an access key to carry out her mission."
As if the Hamptons weren't already filled with enough drama, don't be surprised when one more scandal breaks. "Someone had an abortion," Bowman reveals. "That's always fun to hear about."
Cue the dramatic music, and tune in to Revenge this Sunday night at 9 PM ET/PT on ABC.
Follow Sydney on Twitter: @SydneyBucksbaum
[Photo Credit: Danny Feld/ABC]
---
From Our Partners:


Seal Is Dating the Pink Power Ranger: Report (Vh1)


60 Celebrity Bikini Bodies: Guess Who! (Celebuzz)