Victoria Grayson's Shadiest Moves (So Far) On This Season Of 'Revenge'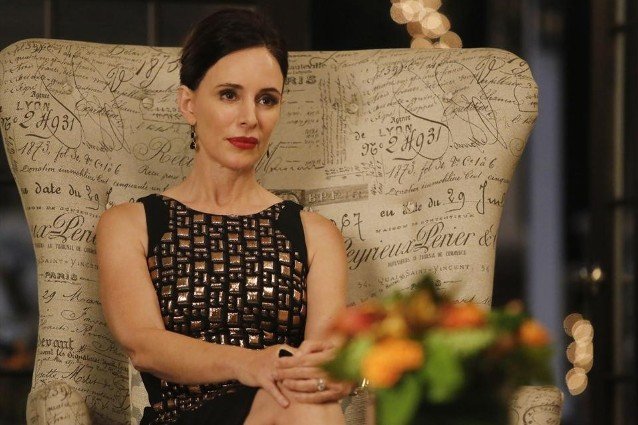 ABC
Emily Thorne may be the protagonist of ABC's Revenge, but few characters on the show have shocked and awed us like Victoria Grayson (played by actress Madeleine Stowe). The matriarch of the notorious Grayson family, this woman runs the Hamptons and — let's face it — we're all kinda scared of her. Emily has been trying to take this woman down for a while now, but Victoria has proved to be a worthy opponent. In fact, in this third season she's pretty much made it her mission to take down Emily, who's engaged to Daniel Grayson (Vicki's son). Victoria has pulled a lot of shady stunts since the show premiered, like faking her own death, hiding a son she had while in her teens, and orchestrating all kinds of drama between Emily and Daniel. Here are her top five shadiest moments of season three.
Sometimes You Gotta Hire Your Son's Fiancée's Ex-Boyfriend To Stir Up Some Ish
This woman so loathes the idea of Emily Thorne joining her family (and is so suspicious of the whole engagement…rightfully so) that she started off the season enlisting Aiden Mathis for help. As Emily's ex-boyfriend, she wanted him to rekindle the flame and pull Emily away from Daniel. The concept of minding your own business is something Victoria has never really embraced, but isn't that why we love her?
The Shadiest Art Gallery Coup Ever
When it looked like the Graysons were going for broke, Victoria did the unthinkable and – wait for it – got a job. Madness! But when she didn't like the way the gallery owner was treating her she teamed up with her long-lost son Patrick to blackmail the woman into leaving town and handing the keys to the fancy-schmancy gallery over to her. Why? Because even when she's broke, Victoria Grayson works for no one!
Sometimes You Gotta Fire Your Son's Fiancée's Ex-Boyfriend
Later on in this season Victoria basically got bored with Aiden. Sure, he'd found her missing Grayson fortune, but since he failed to drive a wedge between Daniel and Emily he was useless to her. On the Fourth of July she hilariously and appropriately informed Aiden that she was declaring her independence from the British, and promptly told him to bounce.
And Sometimes You Gotta Team Up With Your Son's Ex-Girlfriend Even Though You Ruined Her Life Back In The Day
It takes a very special kind of shade to team up with your son's ex-girlfriend a few years after you ruined her life when your son caught a DUI charge and injured her in a car crash. True story. Daniel's ex-girlfriend Sarah is back in the picture this season, and Victoria has every intention of using that to her advantage. Because when you're a true blue opportunist, any situation at all can be used to your advantage. Vicki knows this, and Vicki acts accordingly.
Throwing Shade At Emily's Bridal Shower
When your future mother-in-law invites your super-secret ex-husband to your bridal shower…you're probably in the world of Revenge. Even though Victoria's plan to ruin Emily and Daniel's big day with the introduction of the man Emily had "married" years ago was actually all a part of Emily's plan, you gotta give it up to Victoria for being shady enough to do it. She was so psyched to play "This Is Your Life" with Emily, and we can be sure that she's not finished trying to uncover secrets from Emily's past. Here's to another season of unparalleled shade from Victoria Grayson!