'Revenge' Star Barry Sloane on Em's 'Love Square,' The Initiative, & the Ashley Issue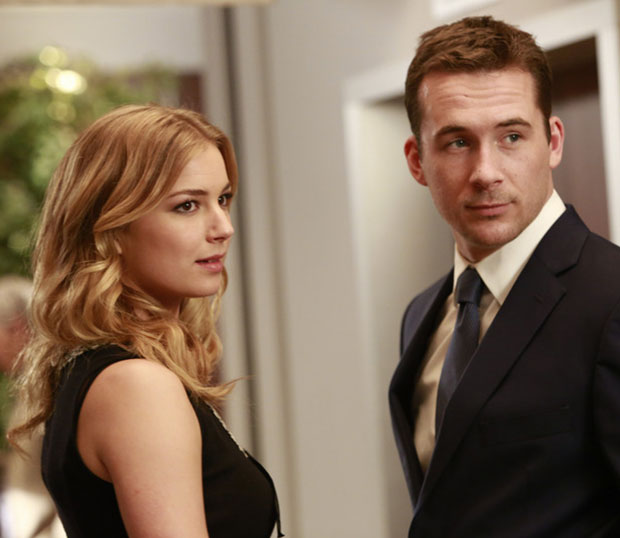 In the battle of Daniel shippers versus Jack shippers, there are no winners.
Revenge
seems hell-bent on letting that question fester. But in Season 2, a third suitor sauntered into the picture, and he's winning a few supporters for himself. Naturally, we were compelled to get
Barry Sloane
, who plays the debonair revenger Aidan, to give us the dirt on his inaugural season on the ABC soap. And the burning question has to do with the final moments of the
series' winter finale
, in which Aidan caresses Emily (
Emily VanCamp
) while Victoria (
Madeleine Stowe
) plans to push Daniel (
Josh Bowman
) back into Emily's incredibly complicated life. "It's now turned into sort of a love square," he says. But last we checked, Emily was perfectly happy with Aidan – could it all come crashing down? It could, according to Sloane. Because Aidan's plan to be Daniel's right-hand men fell through, the only way for he and Emily to get at the Initiative is to send Emily in to make an alliance. And as we saw on Sunday night, Daniel's still carrying a sizeable torch for his ex. "The only way they're going to push a little closer is if Emily can get that information and gain his trust, which is going to be very, very difficult for Mr. Mathis to keep calm during," says Sloane. But it's not about staying calm, it's about keeping his anger in check too – and after Daniel burned him with the Nolcorp deal, Aidan's already got a chip on his shoulder. Adding Emily to the mix certainly isn't going to easy that tension. "He's got a lot of feelings for Emily, and if Daniel is going to get in the way and power play him like he did last episode, Daniel's not aware of how much of a dangerous man Aidan is, so I think he could land himself in some hot water. He's got a bit of a temper; he's not the kind of guy to try to get one up on," he says. And "I think Jack is going to involved at some point as well," he adds, which means things could get deliciously messy soon. If that love square isn't quite sufficient, there's also the issue of Ashley, who's been making some serious eyes at Mr. Mathis, all the way up to the moment she betrayed him and turned Daniel against him. "There's something there between those two. There's something going on. I think that maybe in the future things will get a little clearer, you know they both met Emily on the same day … that in and of itself is an interesting coincidence," says Sloane. It's clear that Ashley consistently wants what Emily has – maybe due to the way in which Emily saved her from a Russian prostitution ring back in 2006 – and now that she's lost Daniel, what's to keep her from going after Aidan while Emily enters into a reconnaissance relationship with Daniel? It's just one of the pieces of the puzzle of Season 2's second half, which Sloane says has "a dark energy." And it certainly will for Aidan, who's going to get wrapped up in the Initiative, big time. "Aidan himself is getting mixed up with Initiative a lot and getting himself in a lot of danger … I think some of those questions [about the Initiative] are going to start getting answered soon … [Daniel's] now the go-to guy, and I think with Daniel being so young, it's kind of like candy from a baby," he says. But feat not. It won't be a totally bleak, dark winter in The Hamptons. The hilarious, "bitey, mild bitchiness" between Aidan and Nolan (
Gabriel Mann
) is going to continue (thank you, writers). "There's a lot coming up in the next few weeks of them finding a working relationship, because obviously they're both very loyal to Emily so they're going to have to find a way to work together," Sloan says. "He's already calling him a few nicknames." It seems that in January, Aidan's character gets a little more dangerous, dashing, and even a little droll. What more could a girl want? Just don't swoon too hard. You'll need to be conscious when the show returns January 13.
Follow Kelsea on Twitter @KelseaStahler
[Photo Credit: ABC]
More:
'Revenge' Recap: I'm Everything I Am Because You Spurned Me
'Revenge' Recap: She Moves in Mysterious Ways
'Revenge' Recap: And We're Back In the Game

Kate Middleton Pregnant: A Look Back at Famous Royal Baby Portraits (PHOTOS)

Pregnant Kate Middleton Leaves Hospital After Four-Day Stay