The Rewind Button – 'Home Improvement'
How could you not remember Tim "The Tool Man" Taylor? Throughout the '90s, Tim, his excellently-bearded Tool Time co-host Al, and his well-groomed suburban family were as much a part of our collective consciousness as Monica Lewinsky's blue dress. Here's a look back at the very show that redefined the possibilities of the sitcom. Oh wait, that was Seinfeld. Still, let's hit the rewind button and revisit Home Improvement.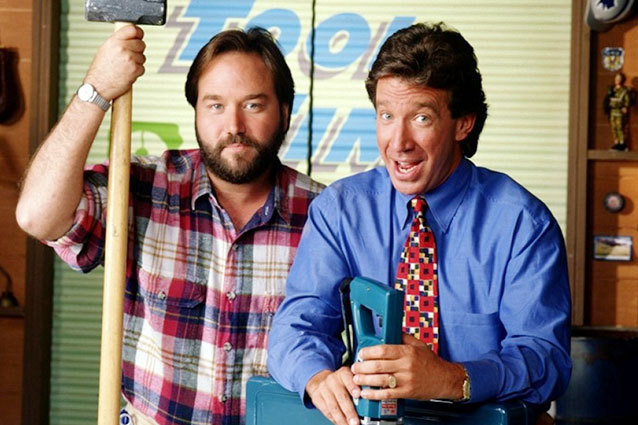 ABC
Detroit Was a Safe Place
Nowadays, Detroit-set TV shows often feature deadbeats, criminals, and dirty cops, as AMC's new drama Low Winter Sun can clearly attest. But once upon a time, a proper Midwestern family named the Taylors resided rather normally in the Motor City's suburbs. To Home Improvement's writers, Detroit was not only a great place to raise a family, it also came with a bodiless neighbor named Wilson. He gave great advice too! 
Three Letters – JTT
Before there was Justin Bieber and those dudes from One Direction, the majority of the country's prepubescent teenage girls had posters of Jonathan Taylor Thomas plastered across their bedroom walls. Thomas, who played the middle child Randy, left the show during the eighth season to attend college and focus on different projects. He has since starred as Customer #3 in a 2005 short film called Tilt A Whirl, so you can see how well that worked out.
Pam Anderson Was the First Tool Girl
Before she was starring alongside Tommy Lee in a widely circulated sex tape, the buxom blond starred as Lisa the Tool Girl on the show's first two seasons. Of course Anderson would leave Home Improvement to really delve into her craft as C.J. Parker on Baywatch. Now there was a demanding role! 
Tim Liked to Grunt
Rich and manly-sounding, Tim's grunt played as prominent a role on Home Improvement as the ubiquitous laugh track that incessantly told viewers when something was funny. There was never any rhyme or reason as to why he grunted like an idiot all the time (the verbal tic had been a part of star Tim Allen's stand-up act), but that was okay. What more can you expect from someone who's nicknamed The Tool Man?
More:
Excerpts From Tom Haverford's Book of Love
Why Ben Affleck Is Better Behind the Camera
Top 5 'Breaking Bad' Memes
---
From Our Partners


Stars Pose Naked for 'Allure' (Celebuzz)


20 Grisliest TV Deaths of 2012-2013 (Vulture)