'Revolution': Where Did We Leave Off Before Tonight's Power Grab? And Who May Die?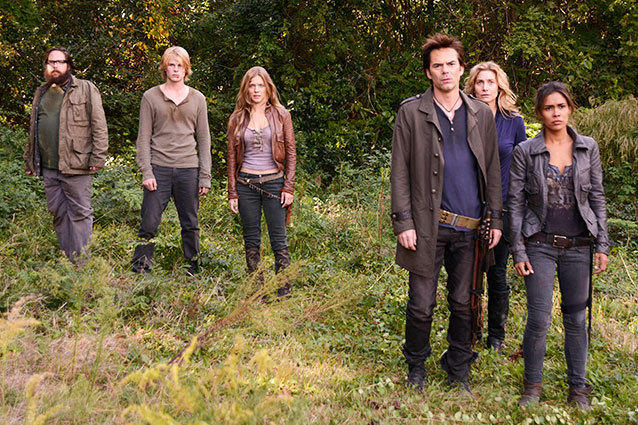 It's been four months since NBC's one and only breakout hit of the 2012-13 TV season last aired a new episode. That changes tonight when Revolution comes roaring back with the first of 10 episodes that will air back-to-back, without repeats, until the season finale at the end of the May. Considering that the J.J. Abrams-produced show, about life in America years after the fall of the United States following a worldwide blackout that sent humanity back to the 19th century, was averaging 8 million viewers in the fall, that's great news for the Peacock. But will viewers find it hard to pick up the story again after four months? Well, lucky for you, we're here to catch you up.
'Revolution' Midseason Finale Recap: It's Always Swordfighty in Philadelphia
When we last left off, Miles & the Gang were in Philadelphia, a place even more dangerous with the power off than with it on. Aaron, Nora, and Charlie were kidnapped by the Monroe Militia. That really put things in perspective for  Miles (Billy Burke), who, in his previous Led Zeppelin-fueled hallucination about former BFF Sebastian Monroe (David Lyons) revealed that he would consider rejoining the militia. With his relatives captured, though, such thoughts went out the window. Miles quickly retaliated and took Monroe's wife hostage to get Aaron, Nora, and Charlie sprung. In the flashbacks we saw just how close Miles and Monroe had been throughout the years, and how the "M" logo of the Monroe Republic goes back to their childhood. But Miles helped his friends escape, even despite the offer of forgiveness from Monroe, and they were just about to escape due to one of Nora's trusty pipe bombs when a Monroe Militia helicopter fired up and pointed its chaingun at our group. Not good. 
Tonight on the spring premiere, titled "The Stand," Miles has to lead the group out of Philadelphia, in spite of the vast arsenal that Monroe has arrayed against them. Early buzz is that a character may even die in this episode. So who do you think might be a goner? Take our poll!
Follow Christian Blauvelt on Twitter @Ctblauvelt
[Photo Credit: Brownie Harris/NBC] 
---
You Might Also Like:


Topanga's Revealing Lingerie Shoot: Hello '90s!


13 Most WTF Fan Tributes