'RHOA' Recap: The Hunt for the Golden Ratchet (Season 6, Episode 1)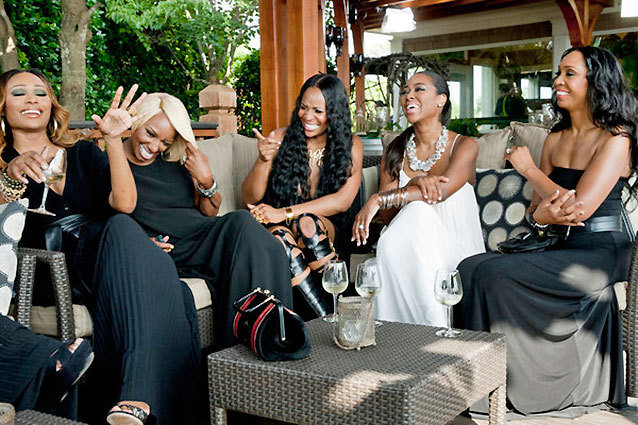 Bravo
In 2008, The President of Bravo crafted an object of untold power – a magical golden ratchet. To appease the country's hunger for blood, a competition was created to win this magical object. Six combatants women were chosen from the district of Atlanta to snatch wigs, develop taglines, and brag about being wealthy seconds before they start a bare-knuckle brawl.
Only one of the originals remains — Nene Leakes. Fresh from her wedding publicity stunt spin-off, Nene checks out her presents and introduces the storyline for the episode – Porsha Stewart's unfortunate spelling of her name divorce. Porsha luckily tragically received news of her divorce via Twitter and secured a spot on the show and a chance at the golden ratchet. A simple girl, she loves to gab with a girlfriend on the way to a deposition for her divorce proceedings. With the ignorance innocence only a child can muster, Porsha gives her lawyer a list of terms for what she would need to try and work it out with future ex-husband, Kordell. Porsha, sweetie, not to be the bearer of bad news but he is divorcing you. She did muster up an Emmy award worthy performance in her lawyer's office. Do they give those for reality shows?
Meanwhile, on the other side of town, Cynthia Bailey is getting evicted swapping offices for The Bailey Agency. Her husband, Peter, has purchased a new building across the street from struggling Bar One called, Ratchet Industry Studios. Kenya Moore invades the storyline studio to gab with Cynthia about getting evicted and why she didn't attend Nene's wedding. Clearly, Kenya has realized there is a hit out on her and she must stay relevant if she ever hopes to get the golden ratchet, or as she calls it "my precious…based on the novel Push by Sapphire." Poor Kenya. She is the Maleficent to Porsha's Sleeping Beauty because everyone is talking about how poor Porsha is doing and giving her support. Do they give Emmys for most successful fabrication of a storyline for a Reality Series, Competition or Comedy? If so, Porsha deserves one already for this season-wide divorce arc!
Mrs. Donky Booty, Esq. aka Phaedra Parks has a new house, a new baby, and a new horrible nickname for her child, Mr. President. Kandi Burruss is engaged to her boyfriend. They like to take time out of their day and do some product placement for Aunt Jemima Quick Grits and address discuss rumors of her being a "sugar mama." The episode soon degrades into everyone pushing their storyline. Porsha continues to cry to whoever will listen about her divorce, including her mother. Her mother offers a haunting vision of Marlow in 7 years. Remember Marlow? Neither do we.
Cynthia has a party at her new studio, located conveniently in a strip mall. Everyone is wearing white and excited because the building still smells just like the Cinnabon that just vacated. Kenya continues to try and stay in last season by repeating, "Gone with the wind fabulous" and starting fights about her mythical ex-boyfriend, Walter. Nene is not having it and reads her for trying. Kenya proceeds to start an altercation with Nene by grabbing her ear and arm and refusing to let Nene leave gracefully. Good Luck ladies…may the shade be ever in your favor!
Best Lines of the Night
"He whisked me away from that beauty queen on bath salts." — Phaedra about Kenya
"Bye Kenya, I gotta pee…do you want me to pee in your glass?" — Nene
"I wrote 'No Scrubs' Hellur!" — Khandi
Finally, the most effective use of shade against a dead person, "Well he is just as pale as Michael Jackson, child." — Phaedra