'RHOA' Recap: Shade to Order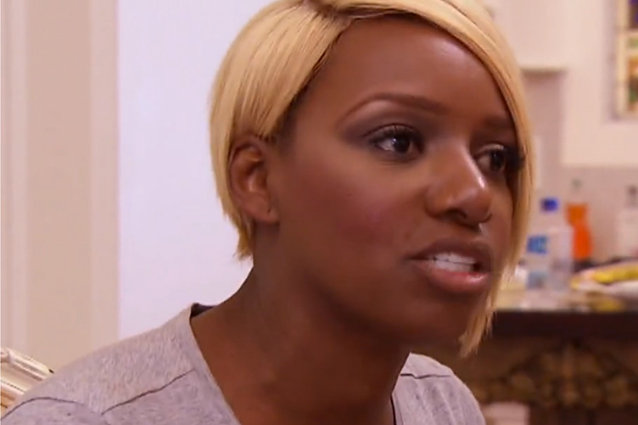 Bravo
This episode has everything you'd want from an episode of Housewives: drama, crying, shade, and drag queens. There has never been so much drama and designer clothes in one mansion since Dynasty. The ladies were reeling from their binge drinking fighting the prior day. They decide to make breakfast and have a little light conversation. But really, they are just playing storyline volleyball. Because, after all, what kind of housewife are you if you don't have your own storyline for the reunion?
Mynique Smith, angling to be a regular on the show, asks everyone really graphic questions. Mynique, do you really need to know if Kandi Burruss is having phone sex? Somehow phone sex brings up a whole bunch of secrets about Porsha Stewart's life … she has a tattoo and had a piercing on her hello kitty. She also had a miscarriage. Way to keep it light for brunch, ladies. Not to be undone, Mynique brings up NeNe Leakes' cancelled sitcom The New Normal. Then Cynthia Bailey makes the biggest mistake of her life: she interrupts NeNe. Cynthia, don't you know she will try and kill you like she's murdered the English language all episode? The producers have thrown their own shade by providing subtitles for NeNe's dialogue.
NeNe does not like to be challenged, so starts yelling at Cynthia and mocks her parenting. She mentions teenage girls twerking which sends Phaedra Parks into a cackle. Cynthia bursts into tears and heads to her room. That's what you get when you try to steal the spotlight, Cynthia! Kenya Moore pops in to console her and quickly changes the subject to her absentee mother. The crying daisy chain continues as Porsha becomes overwhelmed about missing her lost stepchildren and ends up crying in her room. NeNe consoles both Cynthia and Porsha but not before throwing a little shade first. She even convinces Porsha to text Kordell, the man who alerted his wife about their divorce on Twitter. NeNe is proving to be a mastermind. If she is going to stay on Real Housewives of Atlanta, she wants to make sure she's the show runner so it doesn't get canceled.
The girls prepare for a night out and … a southern feast? What goes better with drag queens than a five-course southern meal? The ladies gussy up, drink, forgive each other, drink. NeNe sends Kenya to go make peace with Phaedra. Phaedra ignores Kenya and just continues pumping her breast. It looks like Phaedra is matching Kenya's flip fan with her breast pump because she is definitely throwing mother's milk shade.
The ladies check out the drag show featuring Mother Chablis and a very drunk NeNe. Miss Chablis teaching Mynique a lesson in reading. Then the ladies return home to binge eat. Not to be undone by everyone else's drama, Kandi asks everyone if they would be interested in starring in her musical. It's met with jeers and then an uninvited houseguest enters. Is it Kim Zolciak? Is it a ghost? Nope, it's a roach. The ladies lose it and Kenya and Porsha have a détente and kill the roach together. NeNe tops off the night by attacking Porsha's character and then the ladies hug and celebrate their love.
Shades of Glory
You just don't need to come face to face with a vagina like that … it's not cute. – Porsha on nude webcam sessions.
Nene has had issues with her oldest son, so this is a do not judge lest you be judged situation. – Phaedra Parks on NeNe's parenting.
Maybe you shouldn't be having a conversation about her daughter? – Kandi to NeNe
I don't know if they think in their minds this [crying] makes a good trip but it actually sucks. – NeNe
I don't need to troll around the prison yard for a man. – Kenya
NeNe is with all of her girls tonight. She looks like them. She has the adam's apple, the big knees, the big feet … but I don't think she tucks though. – Kenya
I've done some plays … it was a lot of work. – NeNe on starring in Kandi's play.
Oh yes … Liquid Gold. – Phaedra about her milk.
You got to bury her chile, because she's going to die over Noelle. – NeNe about Cynthia