'RHOA' Recap: The Greek Gods of Olymp-butts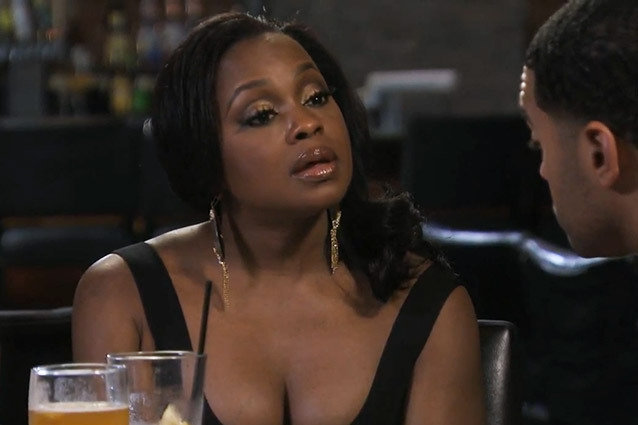 Bravo
The episode begins with Kenya Moore, The Goddess of the Bedroom, taking an aerialist class to firm up her booty. Kandi Burruss, Goddess of the Side Eye, shows up and refuses to participate because she doesn't want to twisted her ankle. Kandi takes it upon herself to bring up the Apollo/Kenya texting debacle. Later, NeNe Leakes, Goddess of Shade, stops by the Worst Best Western to pick up Kenya and take her on a tour of real estate properties she can't afford.
Porsha Stewart, Goddess of Victims, decides to revisit her therapist because she still has two more sessions on her Groupon. Rather than telling her that gold-diggers never prosper, her therapist, bearing a striking resemblance to "The Chief" from Where in the World is Carmen Sandiego?,  tells her that Kordell sounds more like a father than a husband. Revelation! It's also a great break from the borderline-homophobic accusations. Then Porsha re-enacts Pandora's box, by telling all the girls at lunch that she was the basis for Sleeping with the Enemy, that her husband made false promises and was a control freak.
Cynthia Bailey, Goddess of Elective Surgery, is still in recovery from her outpatient surgery which means lots of bed rest but plenty of time to do her make-up. She turns down a shopping invitation from NeNe. She also forces casually engages in conversation with her daughter about boys. Because, her beautiful daughter doesn't need to be with a verbally abusive, insensitive, controlling man like Peter.
Meanwhile, Kandi decides to stuff her face with yogurt and ruin a marriage. Phaedra Parks, Goddess of Ambulance Chasers, has to continue talking about "Textgate." Adonis Apollo greets his wife with a kiss and a genuine discussion of his wants and needs. Phaedra responds with pointed allegations questions about Kenya and Apollo's casual sex meeting in Los Angeles. Meanwhile, the worst waitress in history, keeps interrupting them at inopportune moments. Then Phaedra, showing the great legal eagle skills that made her a Z-list celebrity lawyer, threatens her husband multiple times on television. The conversation bubbles up until the couple have a truly roughneck conversation in the car with their mics still on. 
Hopefully, Titan Shereè Whitfield doesn't escape from Tartarus and engulf them all.
Phaedra Parks Hall of Fame…for this episode
"With the stress I'm under the last thing I want to do is give her saggy diaper booty any more energy."
"Apollo was not looking for an old beauty queen with scrambled eggs; when he wants that he goes to The Waffle House."
"He's married to an older woman; he doesn't want to be with the old-est woman."
"Kenya Whore-more."
"You are about two seconds from me cutting out your tongue."
"I might have to kill him with this damn steak knife. "