'RHOBH' Recap: Faint Chance (Season 4, Episode 2)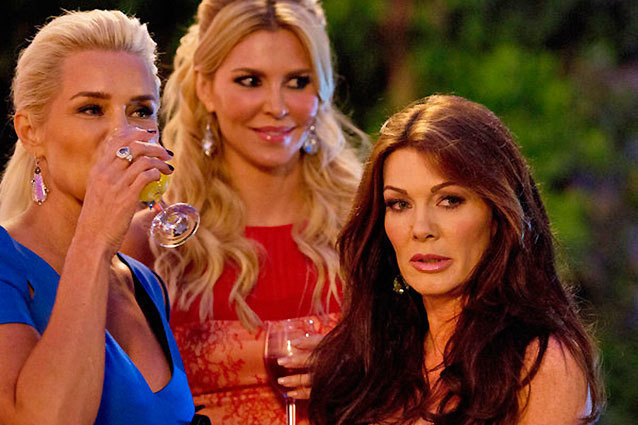 Bravo
The drama slowly (think molasses) unfolds in the 2nd episode of this season.
Yolanda has her pump removed from her body, which she considers a brave step towards her healing from Lyme disease. Lisa's cameo on Dancing With The Stars gets almost as much attention as Taylor's visit from Colorado. Kim's dog attacks the trainer and even with her and her son's best efforts, the dog doesn't learn to sit on command.
Lisa decides she wants to start a gay club and call it "Pump." The discussion centers around urinals, where and how many. After more than a couple shots of can't tell if they're attractive or not construction workers tearing down the previous structure, it becomes clear this is the perfect location for a gay bar. Urinals or not.
The projected new favorite Carlton is much more active in this episode. Her husband had their daughter — Mysteri, Destini, or Cross, who can be sure with those names — running through a swing set for exercise. It becomes clear when she attends Kyle's lunch that Carlton should have been at Lisa's. There was no bee killing, breast milk leaking, or boring 'how we met' stories at Lisa's lunch. Just good old-fashioned gossip.
Brandi's incredibly normal-looking mother helps her move into her new house, because as Brandi eloquently states, when people say they can help you move, well they can't. She insists her mother cash her paychecks even though Mom and Dad are doing more then fine with their finances.
Kyle and Lisa are still friends, the past is the past and that's where they have left everything. Kyle's such a dear friend to Lisa that when she faints on Dancing With The Stars, instead of concern, she does a reenactment with Kim, who has clearly had more practice fake fainting then Lisa.
Projection:
Kyle and Lisa maintain their healthy best friendship.
Carlton moves to Lisa, Brandi, and Yolanda side.
Kim fake faints when her dog barks at her coming through the door, 5 minute dog licking scene ensues.
Joyce, sitting alone in Kyle's backyard, still gushing about 'mercy makeup' and the man of her dreams.