Real Housewives Of Beverly Hills Recap: Star of The Family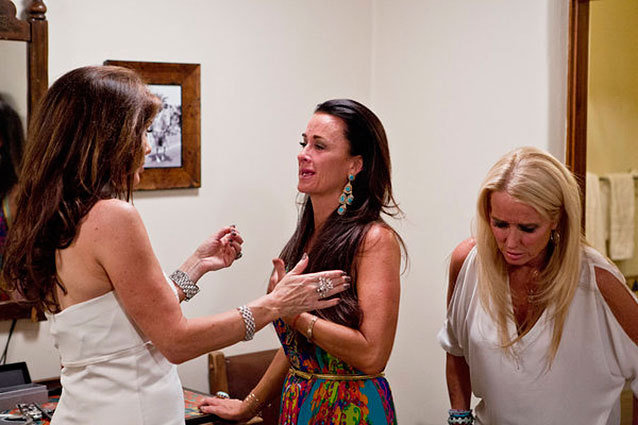 Bravo
Brandi, Brandi, Brandi. She does it again. Sure, we'll make those of you that haven't been watching read through before we tell you, but trust us. It's another good one.
Yolanda's brother and mother visit from Holland. The reason? Her husband gets himself a real Hollywood star. Movie stars step aside, David Foster is moving in and moving up.
Kim's daughter graduates high school but she's still not old enough to decide what she wants to wear, so, shopping spree!
Kyle still doesn't believe the rumors about her husband. Apparently neither does Lisa's husband. Lisa is still smarter than the bunch, stating that you just never know. Apparently Carlton's cat gets just as good treatment as she does, getting to enjoy the benefits of acupuncture.
In the dressing room during tonight's show, Brandi admits to Lisa about her sordid (sigh) love affair with Carlton. The two have previously made out, in a hot tub nonetheless. Lisa, sticking to her good form asks, "Why would you do that?" The look on Lisa's face is utter confusion. And as much as we are confused alongside Lisa we have a few guesses. Loneliness. Curiosity. Did we hear you say attention? Yea, we didn't think so.
Projections:
Kyle still doesn't believe her husband cheated. And we still don't care.
Lisa decides New York is the next best place to be and sends her husband to live there.
Brandi does something we claim to hate but secretly love.