'RHONJ' React: The Rosie and Milania Show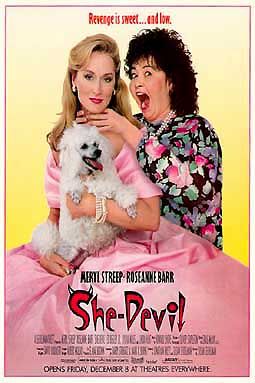 So, we can all agree that last night was the best night of Teresa Guidice's life, right? Not only did her star-making vehicle, The Real Housewives of New Jersey, return to Bravo, she could also be seen on Bravo's big bro NBC in Celebrity Apprentice 12: Judgment Day. In my head, the Gorga/Giudice family is currently in turmoil, because Teresa wanted everyone to play at her house because her face was on TWO big shows on the TV. Melissa only had one show (A sentence which the Teresa in my brain repeated many, many times). Cookies were thrown in the garbage. Gia recited Latin verses in the corner. Joe Gorga was crying. Joe Guidice broke three teeth and hit a deer with his car, while Milania waited with lighter fluid and a match, ready to watch the whole thing BURN! You stupid mouse. Yay yay yay, welcome back to Jersey!
We began in the summer, which, according to Kathy, people from New Jersey just LOVE. People hate summer everywhere else. But this summer would be a difficult one for the Gorga/Giudice/Wakile/Manzo/Laurita bunch: Teresa's cookbook, "Cooking With Pasta and Passive Aggressive Insults" was a best-seller, and the other ladies all had varying theories as to why they were attacked. Just kidding! "She's jealous of me because she has an abusive, alcoholic jailbird husband" was the overall consensus. I mean, she even made up a front porch to attack Melissa. Things were getting serious.
At this point, it already seemed that this season of Jersey was going to be a total repeat of last season: Gorga vs. Giudice: The Reckoning. But then, from an inconspicuous patio chair, an angelic voice spoke up: "I'm not a good reader. I'm like all stupid." She's back! Rosie, Kathy's take-no-prisoners, sweatpants and hat lovin' lesbian sister, was back to put things in perspective for the rest of those middle-aged Bratz dolls. "It pisses me off a little bit," she said of the cookbook. "Because if anybody I love and care about is attacked, I'm going into freakin' protect mode, and I will rip your heart out and eat it." She's going to make this season so, so much better.
Unfortunately, before we get back to the Bratz dolls and their fun little outing to the Jersey Shore, something needs to be addressed: That horrible soul-sucking hipster, Ashlee/Ashley/Ashleigh/Whatever. Henceforth she will be called Useless. So, Useless was already physically preparing for a move to Los Angeles, stocking up on blonde hair dye, piercings, and bad decisions. (If this b**ch ever goes west of Doheny, I'll be waiting.) Jacqueline moaned and Chris fumed, until they eventually sent her to that magical place where all wanton children go to learn about morals and good decision-making: Las Vegas.
Back to the action: Right after Caroline created a rainstorm with her eyes to get Teresa to stop talking, the Gorgas, Giudices, and Wakiles headed to Toms River, a magical, untouched Garden of Eden on the Jersey Shore, where you can't even tell you're in Jersey anymore. (Not true.) Milania, my love, made packing a little difficult: "Yeah you stupid pooper!" she screamed at Gia, when Gia was commanded to help the boring one find her Ipod Touch. When Teresa told her to apologize, she responded with a definitive "I'm chewing gum."
Everyone had problems on the way: Teresa had to deal with her miserable husband pseudo-bragging (in front of their children) about his business trip with "ladies," Melissa was upset because Teresa said she'd leave Joe for a richer man, and Kathy had to figure out how she could have a decent vacation with all of these loons in her house. When the Giudices pulled up to their tiny shore shack that would undoubtably cause Camille Grammar to say, in horror, "There isn't enough space here for us," they faced yet another tiny dilemma. There was a mouse in their pool slide thing, which isn't really important but it led to Milania freaking out screaming "You better not come up here you little stupid mouse," so I was a fan of this scene overall. I was not a fan of the following scene, which had Joe Gorga saying "There's going to be lots of orgasms happening," so let's skip that and move on to the inevitable drama.
Teresa finally confronted Joe about the fact that he might be going to jail and was probably having affairs, and all of this gossip was appearing in national magazines. "That's the life you chose," he said with a disinterested scowl. You guys, I'm clearly no fan of Teresa, but her home life is heartbreaking. Of course, the rest of the family discussed her problems behind her back for the rest of the episode, until Grandma screamed "Enough!" Thank you. Enough. Rosie also offered some words of wisdom: "I always get along, because I'm not a threat to her. I'm chubby, she's skinny. She's got beautiful long hair, I've got short hair. She's got her big f***king glamourous house, I live with my mother." Bravo: MAKE ROSIE A HOUSEWIFE! 
The next day, the gang hit up Jersey's beautiful white sand beaches. Joe Gorga and Teresa ruined the day by having one of those nonsensical, Housewives-brand arguments where no one ever really listens to each other, nothing gets done, and both parties leave worse for the wear. See: Any argument between Ramona Singer and Jill Zarin, ever. The Jersey housewives and husbands typically end these fights with a passive-aggressive "Let's move on" or "Let's just go forward," but everyone know that this is never going to happen. Bravo Andy has no time for happy people.
What did you think of the RHONJ premiere, you little stupid mice?
Follow Shaunna on Twitter @HWShaunna
Photo Credit: Bravo
MORE:
Real Housewives of New Jersey: The Most Epic Fights
Six Reality Television Fighting Words I Never Want to Hear Again
Real Housewives' Danielle Stab Says Series Made Her Consider Suicide