'Rihanna 777': 7 Things We Took Away From the Concert Special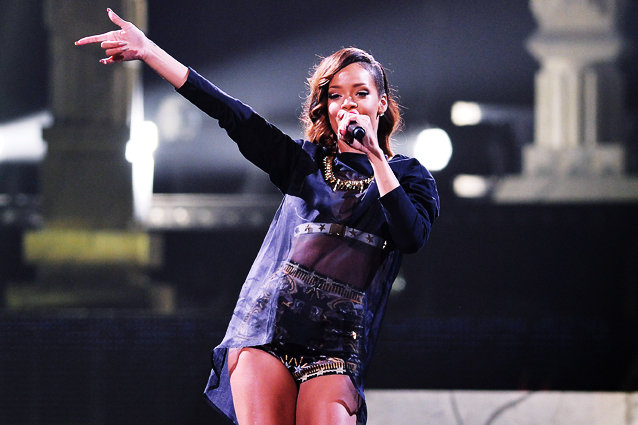 Seven shows. Seven countries. Seven days. 777.
When Rihanna decided to fill an airplane with press and take them along for the ride as she toured seven different countries in seven days with no breaks in between to promote her album Unapologetic, most thought it was a crazy and possibly bad idea. And no surprise there: it was. 
The poor journalists who got invited on the 777 Tour started getting restless and understandably grumpy once the lack of proper rest and respect started to take its toll as they bounced from Mexico, to Paris, to London, to the final stop in NYC with little time to actually get to know the star. That said, even with the discomfort, there were still moments of free booze, flirting, partying, nudity, and the occasional Rihanna sighting. Still, we're glad it wasn't us on board, because… 
Here are the seven things we took away from Fox's concert special "Rihanna 777":
1. Everything was done at the last minute. T-minus an hour-and-a-half before the first show was supposed to begin in Mexico and the hair, makeup, and equipment still hadn't arrived. The bags didn't end up arriving until five minutes after showtime. Now that's some poor planning. 
2. This looks like it was actually the worst vacation ever. Everyone had to sleep on the plane, because all waking hours during the week were spent traveling to and from shows, setting up and taking down shows… and the shows themselves. We were exhausted just watching!
3. Speaking of exhausted…during the second show in Toronto, Rihanna was already tired. She couldn't even sing the full chorus to "S&M" without pausing to take a breath.
4. The flight attendants chose tour stop no. 3 in Stockholm to also partake in the partying. One of them even acknowledged that waking up early the next morning for work was going to be quite the difficult task to achieve, but the next morning she was all smiles, claiming to have chugged enough water to ward off a hangover. Party on!
5. For Stockholm and Berlin's concerts, Rihanna chose to go bra-less underneath a skin-tight white t-shirt and black mesh tank, prompting Fox to blur out the nipular area.
6. After her Paris performance, Rihanna acknowledged that she should forgo any partying and sleep to save her voice and energy, but her reasoning to go to the club? "I don't know, it's Paris." Wait, we thought that logic was only applicable to Rome. 
7. An Australian DJ with an amazing head of hair who was desperately flirting with another journalist decided to drop trou and streak through the cabin while everyone chanted. It seemed to temporarily lift everyone's spirits when the jet lag was starting to take its toll. Before the last show in New York, he wound up going on the news (naked, again) to discuss his nude jaunt. Like we said, we're glad we weren't there. 
Follow Sydney on Twitter: @SydneyBucksbaum
More:
Rihanna Unapologetic for 777 Tour Shenanigans – GALLERY
Rihanna's Controversial Tweet: In Bed With Shirtless Chris Brown
Chris Brown Talks Relationship with Rihanna: 'I Just Got to Move Forward' 
---
From Our Partners:


Watch Justin Bieber Attacked in Dubai (Celebuzz)


33 Child Stars: Where Are They Now? (Celebuzz)