Goodbye, Edna Krabappel: A Tribute to 'Simpsons' Star and Sitcom Veteran Marcia Wallace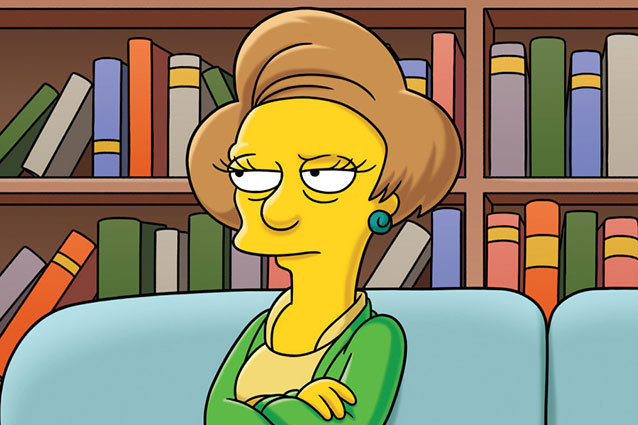 FOX
Actress Marcia Wallace died this weekend, marking the first major member of The Simpsons' talented voice cast to depart in 25 seasons. Wallace's only recurring character on the series was Edna Krabappel, Bart's perpetually frustrated fourth grade teacher. While Harry Shearer and Hank Azaria may dazzle with their many voices, Wallace's consistent performance as Edna kept her a major part of the voice cast. Mrs. Krabappel was a great foil for Bart and a perfect example of just how hilarious a pathetic character can be. Over the years, Mrs. Krabappel went from simply a stressed out teacher to a booze-soaked, aggressive, oversexed cynic married to Ned Flanders (though we all know her true love was Principal Skinner). From her smacking of Bart to her becoming a Comic Book Guy-loving runaway bride, The Simpsons would have never been the same without Edna Krabappel. Like almost all Springfield residents, she was hilarious, but the inherent tragedy behind her character made her empathetic even when she was drunkenly wreaking havoc during an assembly:
There are many distinct laughs on The Simpsons, but none can pack as much derision into a single syllable as Mrs. Krabappel's "HA!"
The character was responsible for plenty of classic visual gags, too — like her burlesque act. 
And she alternately helped and hurt Bart in class, both delighting in coming up with punishments for her most annoying student and yet also, deep down, a decent teacher. 
And if that's not enough evidence of her comedic talent, Wallace also played Bob Newhart's secretary in The Bob Newhart Show:
The writers and producers of The Simpsons have decided to retire Edna Krabappel for the remaining run of the show. Although we'll miss the character, we know that this is the right choice, as few could uphold the character with the same lively despair that Wallace pumped into her week after week for 25 years.