Rob Lowe: From Drew Peterson to Casey Anthony. What Else is in His Lifetime Future?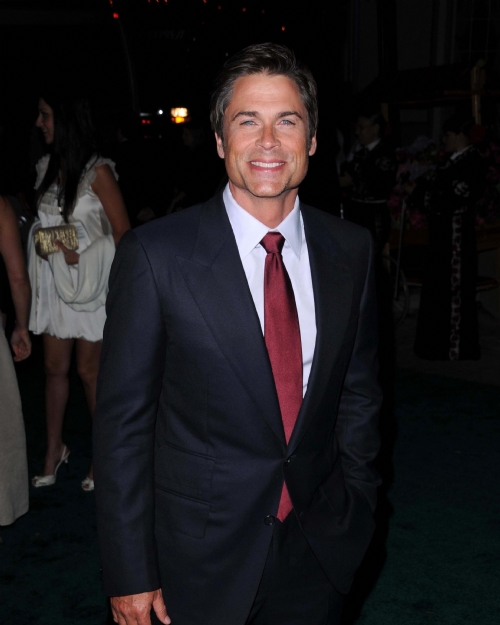 Just a few months after Rob Lowe and Lifetime turned the horrific story of convicted wife-killer Drew Peterson into an unintentionally hilarious made-for-TV movie, the team responsible for the ultimate guilty pleasure (guilty being the operative word here) Untouchable will tackle another controversial case. As Deadline reported Thursday, Lowe will appear in Lifetime's upcoming movie about the Casey Anthony trial as the prosecutor in the highly publicized trial.
Based on Jeff Ashton's best-selling book Imperfect Justice: Prosecuting Casey Anthony, the movie will reportedly be shot "from the prosecutor's perspective in the controversial case." In other words, you more than likely won't be rooting against Lowe this time and he probably – hopefully – won't have this mustache again.
Now that the 48-year-old actor seems to have the market cornered on headline-grabbing tragedies-turned-TV movies, we think it's high time the handsome Parks and Recreation star tackle some lighter courtroom fare. Lifetime has yet to give a treatment to:
– Lindsay Lohan v. the e-Trade Baby. Rob Lowe could voice the creepy, talking e-Trade baby! ("I'm a milkaholic, bitch.")
– Fear Factor viewer v. Fear Factor. The actor could either played the disgusted viewer who inexplicably found himself sick watching a show in which people eat bugs ("I feel nauseous, bitch") or Joe Rogan. I vote Rogan.
– And, of course, revisiting the landmark case of Ann v. Sewage Joe. It would literally be the best Lifetime movie crossover ever, bitch.
Which court cases should the Lifetime network and Rob Lowe take on next, bitch? (Sorry. Blame Untouchable!) Sound off in the comments section below.
[Photo credit: Dave Edwards- © 2008- DailyCeleb.com- All Rights Reserved]
More:
Rob Lowe Channels Drew Peterson for Lifetime Movie: Watch the Trailer Here
Rob Lowe and Jeremy Piven on Popping Pills and Getting Naked in I Melt With You