Rob Lowe in 'Prosecuting Casey Anthony': Feeding Our Addiction to Gruesome True Life Tales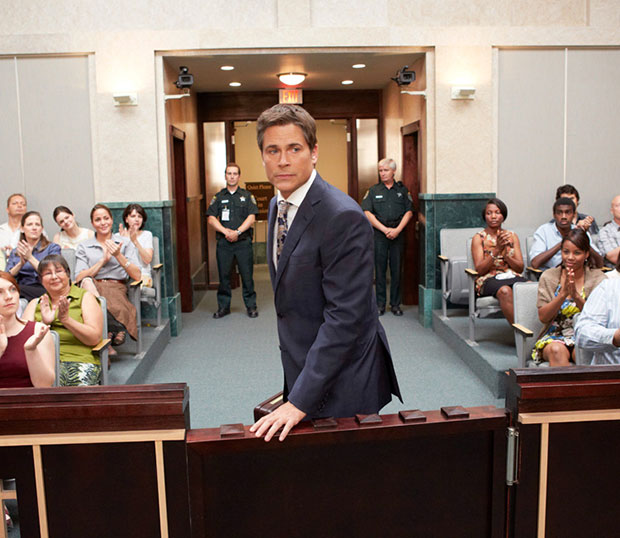 Rob Lowe's commitment to accepting starring roles in Lifetime movies hasn't always made sense to me, but after taking on the villain role in Drew Peterson: Untouchable, taking the role of the would-be hero as Jeff Ashton, the prosecutor in the Casey Anthony trial in Prosecuting Casey Anthony, which aired Saturday night, seemed understandable. The trial ended just over a year ago, in July 2011, so the made-for-TV flick is tinged with the only mildly dulled pain of watching the mystery unfold on a nationwide stage. The tagline of the flick is "When I get done with her, she'll be the most hated woman in America," and after watching the movie, it's clear the wound is still fresh. Watching Prosecuting Casey Anthony brings up every painful feeling of injustice most Americans felt when Anthony went free after standing trial for the murder of her daughter, Caylee Anthony.
But why are we doing this to ourselves? Why do we want to relive this horrific chapter of history all over again? Somehow, it's not hard to sit through the two-hour program, hoping upon all hopes that you remembered that fateful summer day incorrectly, and that Ashton actually managed to convict Anthony, who was basically deemed guilty in the eyes of the public. But it's all for nought. The case is built against Anthony, and just as it happened in reality, Anthony goes free. There's an overwhelming feeling that justice has failed. Again. And our hearts break. Again. Seeking these stories in entertainment is a sick cycle, and Prosecuting Casey Anthony is feeding it.
The movie pays closest attention to Ashton's journey, giving Lowe a chance to flex his knight in shining armor muscles, and succeeding because, well, he's Rob Lowe and his charm is infinite. We'd follow him into a dark cave with a growling beast inside and pointed sticks and warning sides at the entrance. We see little of Anthony (relatively unknown actress Virgina Welch, whose main lot in the flick is mastering Anthony's courtroom meltdowns), which is fortunate because the depiction of the formerly-accused is a grisly one.
Ashton goes through all the steps of the investigation, from Day One, when his colleague Linda (Elizabeth Mitchell, who will be familiar to Lost fans) convinces him to take the case because of his expertise in prosecuting based on shreds of forensic evidence. He takes the task and we go through the gruesome journey once more, with endless news updates as reminders of the fact that we lived with this case in our faces for years only to endure it again in this movie. Only by looking at the case through this lens we're closer, and uncomfortably so.
The toughest scene comes when little Caylee's remains are discovered. The dialog spares no one, with brutal commentary about the "little halo" of hair still remaining on Caylee's skull when the medical examiner inspects the retrieved remains. Ashton later adds the heartbreaking detail about Caylee's t-shirt, which had washed away in the swamp so that only the decal letters remained: they spelled out "Big trouble comes in small packages." But that's just a small sample of the movie's constant gut-punches. Sure, it's compelling, but it can't be healthy. Prosecuting Casey Anthony is feeding an American addiction to real-life drama and scandal, and in a big way. But that doesn't seem to be stopping us.
<a href="http://polldaddy.com/poll/6841624/">What did you think of 'Prosecuting Casey Anthony'?</a>
Follow Kelsea on Twitter @KelseaStahler
[Photo Credit: Lifetime]
Lance Armstrong's Oprah Confession: 28 Revealing Quotes From the Interview
A Lance Armstrong Movie Being Crafted by J.J. Abrams — Because You'll See It, That's Why
Oprah to Talk to Lance Armstrong. What Are Her 10 Most Awkward Interviews Ever?

Craziest Celebrity Swimsuits (Celebuzz)