Robin Roberts' Inspiring Return to 'Good Morning America'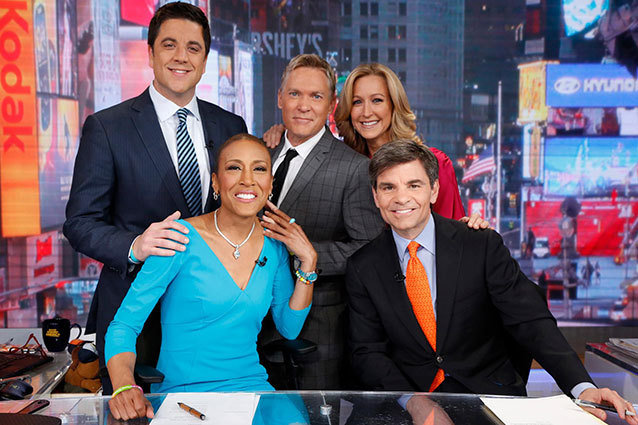 Now, this is how to start your day and feel inspired. After a 174-day leave of medical absence to undergo a bone marrow transplant to fight a life-threatening rare blood disorder, Good Morning America co-host Robin Roberts has returned to her post at the ABC news program. Looking healthy and happy as ever, Roberts was cheered on by her friends, family, colleagues, and adoring fans out in New York City's Times Square for her warm, welcome return. 
RELATED: 'GMA' Anchor Robin Roberts Has Bone Marrow Disease 
Roberts, who has endured medical setbacks in the past (the 52-year-old was diagnosed with breast cancer in 2007), continues to be a fighter and a beacon of hope and inspiration to all those who work with her and watch her every morning. Roberts told her co-anchors George Stephanopoulos, Josh Elliott, Lara Spencer, and Sam Champion, the GMA studio, and viewers at home that "faith, family, and friends have brought me to this moment and I am so full of gratitude." 
The GMA anchor thanked her doctors, nursers, family, and colleagues for their help and support and said she had to keep pinching herself about her long-awaited return. "I don't have my froggy slippers on," Roberts joked, adding, "Or do I?" Hey, if anyone has earned the right to wear froggy slippers on national television, it would be her. 
RELATED: 'Good Morning America' Beats 'Today' Ratings Streak
"As my mother said, 'We all have something.' Everyone's story has purpose and meaning and value and I share this morning, this day of celebration, with everyone," Roberts said during the opening of the broadcast, which also featured footage from celebrity well-wishers and a candid behind-the-scenes chat with Roberts and her GMAcolleagues. You can watch the first minutes of Roberts' wonderful return here: 
But perhaps the most inspiring thing of all about Roberts first live episode back on GMA, wasn't just her wise, humbled words, but that she rolled up her sleeves and got right back to work. Roberts is not only a great journalist, but an unstoppable, inspirational force of nature. It's good to have her back. 
RELATED: 'GMA' To Launch A Daytime Spinoff: 'Good Afternoon America'
[Photo credit: Heidi Gutman/ABC]