Two Thumbs Up, Indeed: 10 Great Roger Ebert Moments from 'At the Movies' — VIDEO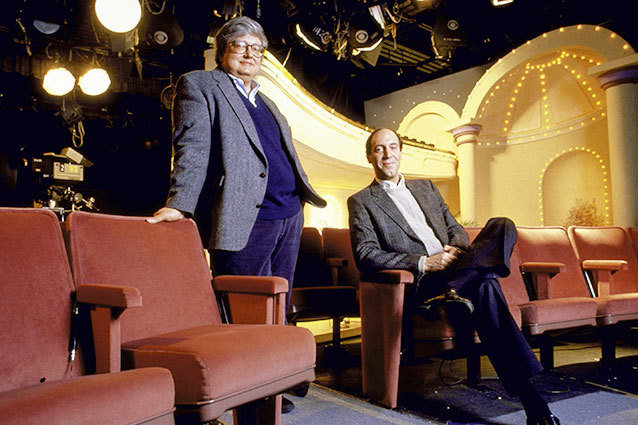 It's hard to believe that, with Roger Ebert's death at 70, the balcony is now closed for good. From 1975 to 2006 Ebert appeared on television as an on-air movie reviewer, in addition to his day-job duties as the film critic for The Chicago Sun-Times. Ebert and co-host Gene Siskel, critic from the archrival Chicago Tribune, sparred with each other from the balcony of a movie theater and passed judgment on each week's new movies with their zero-sum, gladiatorial ratings system of "thumbs up" and "thumbs down." (Siskel & Ebert would later trademark the Thumbs. For real.) Sometimes they agreed with each other. Sometimes they were at each other's throats. But they were almost always insightful…and usually pretty funny too. It's why their show Sneak Previews became the highest-rated entertainment series in PBS history. By the time it rebranded as At the Movies in 1982 and moved into broadcast syndication, Siskel & Ebert were truly a dynamic duo.
RELATED: Remembering Roger Ebert: Film Critic, Pulitizer Winner, Internet Troll
As much as their personalities drove the show, Siskel & Ebert's true success may have been due to how they didn't let their egos overshadow the movies they were reviewing. Not to mention that, in terms of sheer word count, many of their on-air reviews rivaled or outmatched film reviews in newspapers or magazines. So as we're paying tribute to Ebert, let's remember what an amazing institution At the Movies was in its heyday. Here are 10 moments from the series that show Ebert (alongside Siskel and several other cohosts) at his very best.
1. The Takedown of Leonard, Part 6 
There was nothing more satisfying than a Roger Ebert pan. That's because he cared so much about the movies. He genuinely wanted stinkers to be good films. Witness his critique of Leonard, Part 6, a movie starring Bill Cosby, for whom Ebert has obvious affection. It's because he knew Cosby was capable of so much more that he accused him of "prostituting himself" in this "cynical exercise" of a flick.
 2. Ebert Feels for the Actors in Blue Velvet 
Don't get me wrong. Ebert could be as wrongheaded as any critic. While Siskel recognized David Lynch's Blue Velvet for what it was as a spiritual heir to Psycho, Ebert saw only nihilistic trauma. In fact, his reaction to the film mirrors famed New York Times' film critic Bosley Crowther's horror upon first witnessing Bonnie & Clyde, a film Ebert went against mainstream critical opinion to champion, twenty years earlier. But, again, his reason for dismissing Blue Velvet is fascinating. He actually suggests that Lynch's actors, especially Isabella Rossellini, were exploited by their director in the making of the film. It's an incendiary charge, and totally unfounded, but shows the deep streak of humanism that informed his critical worldview.
RELATED: Roger Ebert's Many Pop Culture Parodies from 'The Critic' to 'Godzilla
 3. Siskel & Ebert's 500th Episode Retrospective!
Despite being famous for getting paid to sit in a darkened movie theater and watch much more famous people onscreen, Siskel & Ebert developed a flair for showmanship, having a rotating roster of canine assistants during their segment "Dog of the Week," a spotlight on their pick for the worst movie of the week, sporting an incredible variety of facial hair, and even telling showbiz tall tales about why they're called "Siskel & Ebert" and not "Ebert & Siskel." (Siskel claimed they flipped a coin.) Both of them showed their stage presence when filming before a live audience for the first time in 1989 for their 500th episode.
 4. Siskel & Ebert Play a Videogame
During the '80s and early '90s, they'd have an annual show called "The Video Gift Guide," focusing on movies from the previous year, along with a few classics, worth adding to your home entertainment collection. They'd cap these shows by engaging in another home entertainment pastime: playing a videogame! This clip from 1993 has them virtually boxing each other via an early ancestor of Kinect. They have to stand inside a metal hoop and it'll sense the movements of their fists and feet as they trade pixelated body blows!
RELATED: Pres. Obama, Steven Spielberg, Howard Stern Remember Roger Ebert
 5. But, In all Seriousness, the Show Really Could Be Legit As Criticism: The Decalogue
Just check out this 15-minute segment from the early 2000s of Ebert reviewing Krzysztof Kieślowski's The Decalogue for its DVD release. A shorter version appeared on the At the Movies telecast, while the full 15-minute clip ended up on the DVD box set. Ebert basically gives us a shot-for-shot analysis of several scenes, going into a far greater level of detail than you really could in a print review. It's a clip like this that shows Ebert could be a kind of college film studies professor, with his TV viewing audience as his students. As if he didn't already have enough jobs, he really did teach a class or two a year at the University of Chicago before his battle with cancer.
NEXT: The Blistering Takedown That Actually Inspired a Book. And Ebert Gets Siskel to Change His Mind!



 6. The Takedown of North

One thing a film professor doesn't have to do, though, is subject himself or herself to the vast majority of new movies that are released in order to make a tight deadline for a review. Ebert had to do that. And that meant having to see movies like Leonard, Part 6, or what for him was even worse, Rob Reiner's North in 1994, a film he called the worst he'd seen in the almost two decades that he'd done the show and "one of the most hateful movies in years." In  fact, his TV and print reviews of North would give birth to one of Ebert's most popular books: Your Movie Sucks, a collection of his one-star reviews.

 7. That Time Ebert Actually Got Siskel to Change His Mind

Only one time did it ever happen. Siskel & Ebert were reviewing John Woo's Broken Arrow in 1996. Siskel thought the movie was dumb but enjoyable, and he gave it a thumbs up. Ebert hated it, and in the span of a couple of minutes he got Siskel to change his mind and give the movie a thumbs down.

 8. Ebert Says GoodFellas Is One of the Best Movies of the '90s…to Cohost Martin Scorsese

After Gene Siskel's death in early 1999, a succession of substitutes filled his seat in the balcony opposite Ebert. Some were critics from other publications. One, Richard Roeper, was a critic from Ebert's own publication, the Chicago Sun-Times. He'd eventually get the permanent gig. Other subs, though, were filmmakers. For the "Best of the '90s" listathon special that closed out 1999, Ebert tapped Martin Scorsese as his co-host, meaning that he could tell the director to his face that he thought GoodFellas was the third best film of the decade. (FYI: Hoop Dreams was No. 1.)

 9. Scooby-Doo Deux

Ebert never really went in for the puns like fellow TV critic Gene Shalit — if you're not following @FakeShalit on Twitter right now, what are you doing with your life? — but when he did, they were epic. Like his imagining of what 2004's Scooby-Doo 2 would be called in France, which also conveyed precisely what he thought of the movie.

10. How Exactly Is Herbie "Fully Loaded"?

Some of Ebert's best writing didn't occur just when he was mining subtext from Kieślowski films or dissecting Alfred Hitchcock's lighting choices in Notorious. It happened when he let his geek flag fly and ask the really meaningful questions. Like when he asked during his review of Toy Story 3, "If Mr. Potato Head lost an ear, would it continue to hear, or if he lost a mouth, would it continue to eat without a body?" Or how he devoted much of his review of Zack Snyder's Watchmen to a discussion of Dr. Manhattan's ontological status. Or, best of all, this gem from 2005 when he asked, while reviewing Herbie: Fully Loaded, if sentient cars are capable of having sex.

What's your favorite moment from At the Movies?

Follow Christian Blauvelt on Twitter @Ctblauvelt

[Photo Credit: Michael L. Abramson/Time Life Pictures/Getty Images] 
---
From Our Partners


Hayden Panetierre Bikinis in Miami (Celebuzz)


Every Jurassic Park Dinosaur Ranked From Best to Worst (Vulture)